On the basis of price alone, Mercedes' new all-electric SUV is out of the reach of most. And for those who can afford it, the logistics of running it can be challenging, to say the least.
It wasn't so much a test drive as a logistics challenge. Ireland may be warmly embracing electric cars (the search figures on Carzone.ie alone are a testament to that) but the reality of owning and running an electric car here is quite a daunting one. And it doesn't really matter whether you are opting for a top-end Mercedes or a more ordinary Nissan Leaf, because right now our charging infrastructure is a challenge guaranteed - in many places - to practically induce range anxiety on its own.
"Of course, having a home charging point makes life a lot easier (Mercedes will supply and fit one for between €1,400 and €1,500 and you get a €600 grant) but when you rely on a public network things become a lot more tricky"
On the basis that most electric cars in Ireland are sold and driven in Dublin and Cork, I thought the ideal test journey for the new Mercedes ECQ would be Dublin to Cork and back. Easy access to fast chargers en route -and presumably easy access in Cork would make it a bit of a doddle - with no risk of range anxiety. Surely nothing could go wrong ?
The car was fully charged and indicated an available range of 286 kilometres as I set off. This struck me as odd, as Mercedes claims the car has a range of between 375 and 417 kilometres. I've never bought into claimed ranges for electric cars - or fuel consumption for petrol or diesel cars - and this was a useful reminder to stick to that philosophy. So, 286 it would be.
"Dublin to Cork was 246 kilometres and as I arrived on the outskirts of the city, the available range was a further 23 kilometres. Plenty of time and range to get charged up in the city, I thought. That was a big mistake"
By the time I reached a charging point (the car's system guides you to the nearest one) I was down to 11 km. Just shading it into the public car park, I gave a sigh of relief. That turned to panic when I discovered there was no electric charging point in the car park. So, on to the next nearest charging point - another car park. There was relief when I connected up at the charge point and the wall box winked reassuringly. Winked it may have, but it was broken. I connected to a second one and it worked - except it told me charging would be complete at 02:00 the next morning.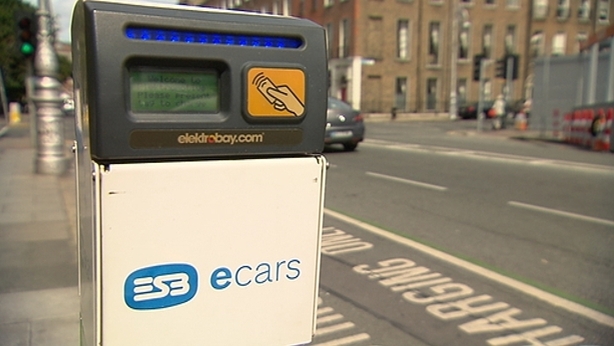 After a few hours charging, I limped on, with another 20 or so kilometres range, to find another charger. The nearest ones in the city were all occupied, as they were two hours later. And three hours later. I drove to a garage and eventually found a fast-charger, which appeared to be faulty. Eventually, it was back to the on-street charger and I left the car overnight, returning in the morning to find the car 100 per charged and myself a bit worn out the by the process.
Things were a lot better on the way back to Dublin. One services stop half-way got me back to 99 per cent charged and on the way again in 45 minutes. The car isn't the problem here - it's the charging network. Incidentally, when I stopped again at the same motorway services recently I noticed an electric car parked in one of the two parking bays - it wasn't even connected to the charger. I've come across more bays where people have just left their non-electric cars parked and others occupied by electric car-driving owners using them as free parking slots, while they use the bus to continue their commute in Dublin City.
My major mistake was not stopping en route to Cork to avail of a fast charger rather than assuming charging in a city with a reasonable number of electric cars would be a straightforward process. It was far from it. While new investment is being made in charging points around the country, it can't come soon enough for electric car drivers or those planning on making the switch. In the meantime, be warned.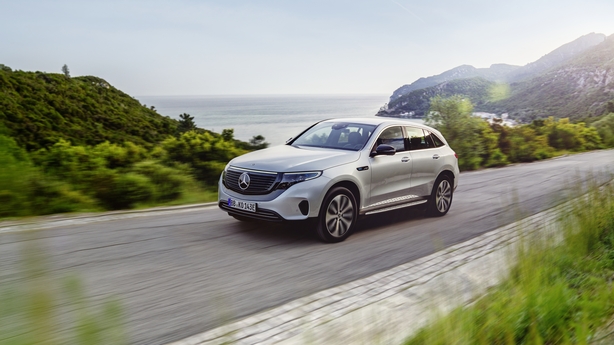 But, back to the ECQ, a rather smooth and expensive electrified version of other cars on Mercedes' current platform. The absence of an engine and things like a radiator have given the designers an opportunity to make it a smooth looking SUV with some very nice, soft lines on the exterior. The rear slopes quite dramatically to give the car a much sleeker profile than would be the case with other SUV's of this size. You will still get five inside in comfort though.
The absence of roof rails makes it even more smooth but the running board below the driver and passenger doors does not make for easy entry or egress.
The car is based on the GLC model, which means dimensions a closely linked to that car, especially on the inside. It has adequate space but it's not overly generous. The battery doesn't greatly impinge on interior space, fitted as it is in the floor space.
And the boot has a capacity of 500 litres, which is more limited than its competitors from Audi and Jaguar. It's worth noting, however, that after grants the ECQ comes in below the comparable Audi E-Tron (€99,750) and the Jaguar i-Pace (€92,895). The Mercedes comes in at €89,450.
It's a very easy car to drive, however. The battery gives it 408 horse power, which is pretty powerful, and allows it to accelerate from 0 to 100 KPH in just 5.1 seconds. Cruising is refined and road noise reduced to a minimum.
The addition of the battery makes it a heavy car, adding over 500kg to its weight. However, there is no noticeable difference in the car's handling or road manners as a result.
What really sets the ECQ apart is the MBUX digital dashboard, a model of clarity, functionality and excellent design, with great graphics. It's a joy to use and, as electric cars are quite homogenous, provides the car with an internal focal point that greatly adds to the driving experience.
Apart from charging issues (you won't have a major problem if a you a home charging point) and they are not Mercedes' problem, the issue here is the cost of the car itself. It's a massive amount to pay, even if you do get everything on board from memory seats to a safety assistance package and heat-insulating darkened glass.
You do, however, produce zero grammes of CO2 per kilometre but that will also be the case with other Mercedes models coming down the tracks - more half of them will be fully electric in six years time. In my case, I'll just have to wait.