Kia has revealed its new new concept car - an all-wheel drive SUV coupe which gives us an idea of what we'll be driving in years to come.
Of course, there won't be an engine - just a full-time four wheel driven system powered by a battery and in-wheel electric motors.
The Futuron Concept made its public debut today at the 2019 China International Import Expo (CIIE) in Shanghai and shows what Kia designers have in mind for cars of the future.
At 4,850 mm in length, 1,550 mm tall and with a 3,000 mm-long wheelbase, the Futuron's elevated ground clearance is matched with the low profile of the car itself.
Kia says a "high-capacity battery is mounted low in the vehicle's body, beneath the cabin floor, providing electrical energy to four powerful in-wheel electric motors. The elevated stance of the car is therefore matched with a low centre of gravity and a cutting-edge e-AWD system which delivers lightning-fast responses to driver inputs".
The car's roof is a diamond-shaped panoramic glass panel designed to flood the cabin with natural light. It also extends down the bonnet to give drivers an unparalleled view ahead, the kind of full view helicopter pilots enjoy. The glass incorporates a network of LiDAR (light detection and ranging) sensors capable of providing Level 4 autonomous driving features, enabling hands-off and eyes-off driving in most conditions.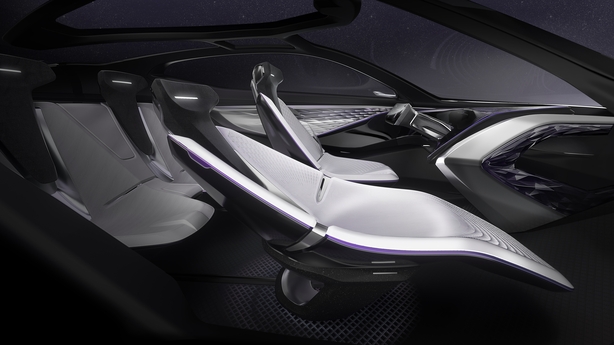 The seats are designed to resemble those of a first class aircraft cabin.
The layout of the electric powertrain and incorporation of Level 4 autonomous driving systems has enabled the creation of a spacious and flexible cabin.
The two front seats are created out of flexible materials and can offer an upright 'driving' position, or a reclined 'rest' position, similar to the flexibility afforded to first-class airline passengers.
With the activation of the Futuron's autonomous driving features, the two front seats recline as the steering wheel retracts. Kia says this 'zero-gravity' seating position thelps to reduce fatigue on long journeys.
The car's designers say the graphical user interface (GUI) of the cockpit flows out of the driver-side door and wraps around the steering wheel in a seamless arc, thus merging the instrument cluster directly with the audio-visual display at the centre of the dashboard, and is linked to the display integrated within the surface of the steering wheel itself. The GUI is operated by artificial intelligence technologies, displaying useful information about the car various autonomous driving, powertrain and navigation features to create a unique user experience".