BMW's revised X1 is staying with its original styling in the main. There are some tweaks though and a plug-in option with a claimed range of over 60 km.
If you were in the market for a good, practical and solid medium-sized SUV then the Volkswagen Tiguan would probably be at the top of your list, followed closely by the Nissan Qashqai and cars like it.
However, at the premium end of the market these cars are probably unlikely to appear on your radar. The difference between one car segment and another is in a name.
Therefore the Tiguan is unlikely to be compared to BMW's face-lifted X1, despite the vailidity of that comparison. What the Tiguan lacks in looks, it makes up for in terms of value for money. What BMW offers is perceived exclusivity and quality and for that its customers are willing to pay a premium.
BMW's lengthy corporate press release on the new X1 could take up half your day, which is quite odd for a car that has been simply face-lifted after four years on the market. In reality, not a great deal has changed.
Apart from BMW's enlarged kidney-shaped grille across its range, you'd be hard pressed to spot the differences between the outgoing model and the incoming one.
There are new standard LED headlights, front bumper has integral LED foglamps and there are larger air intakes.
The driver's-side exterior mirror now projects a two-tone LED 'X1' image when the car is unlocked and there is illumination of the door handle. A nice touch, but hardly groundbreaking.
Other than that, the X1 looks very much as it did. It has to be said, however, that the design would be hard to improve on. Looking like a scaled-back version of the X3 SUV, it has a presence and the styling is subtle and is suggestive of strength. Another reason not to change the car greatly is that it is the biggest-selling BMW X model in the world.
The interior too has always been impressive. This time around you will get an 8.8 inch infotainment screen that sits prominently on the dashboard and is controlled both by fingertip swiping and a central rotary dial. The combination, like that offered on Mercedes cars, is one of the most intuitive and least-distracting for its class. As I've noted before, it's a system that Lexus would do well do look at as it is expected to move away from its touchpad system, which is awful.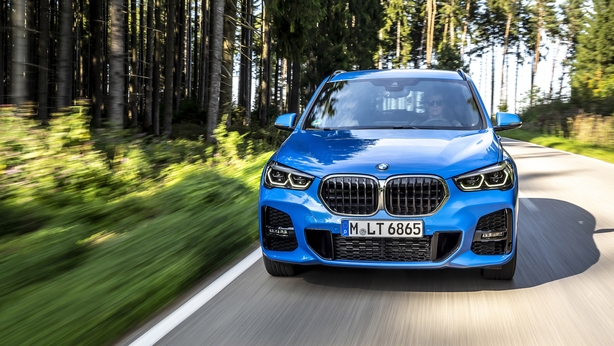 There is a choice of two and four wheel drive on the X1.
The new version comes with three- and four-cylinder petrol and diesel twin turbo engines, and has an optional four-wheel drive system. A new plug-in hybrid version of the car, with a claimed range of over 60 km, is on the way.
Prices for the entry-level 1.8 petrol (140 horse power) start at €38,975. The 2.0 litre petrol (192 horse power) comes in at €43,295. The 1.8 litre diesel (150 horse power) starts at €41,325. Add another €2,500 or so for full-time four wheel drive.
Basic equipment includes a good safety package, the dual zone climate control system and good connectivity for tech. There is an option to move up to a 10.3 inch screen.
As expected from BMW, there is an emphasis on chassis dynamics and the car has a really good feel to it. Do expect some noisy feedback from the tyres though. The eight speed automatic gearbox we tried briefly was very impressive.
Its three strengths are its exterior styling, its interior finish and its name and the changes won't spook the horses.