The third generation of the Suzuki Swift Sport now has a smaller turbocharged engine. But can this perky hot hatch hold its own in a competitive field?
On the back of the Suzuki Swift Sport key fob are the words 'Speedy Blue'. This makes me very happy. Is there a better colour for a car with 140 bhp and a turbocharged 1.4-litre engine?
While this third-generation model remains faithful to the signature Swift body shape, with its imposing grille, flared side skirts, rear spoiler and chrome-tipped twin exhaust pipes, the ripped Sport leaves the puny entry model cowering in the corner. Its preening 17in black and silver alloy wheels also demand respect.
It looks worringly small on the outside and I wonder if there will be enough room in the back for the Isofix seat that accompanies me everywhere I go.
I needn't have been concerned. This latest model has four doors offering increased access but with subtle integrated handles at the rear to maintain a coupé effect. Inside there's an abundance of space featuring inviting grey bucket seats with red trim.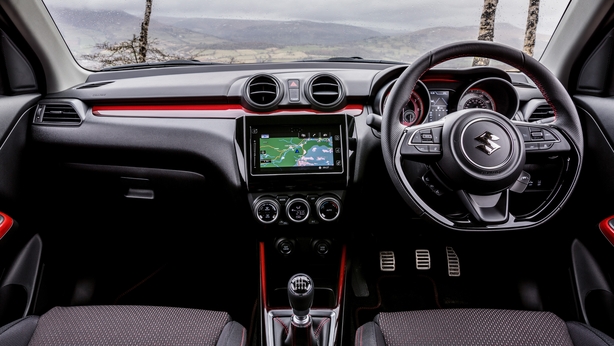 The stitched leather flat-bottomed steering wheel, with a sleek glossy finish at the base, is signed and sealed with a large gleaming Suzuki badge at its centre.
Just behind, two chrome and red dials give the car's dashboard a classic racing feel. In between, a digital driving computer displays torque and power levels, as well as how much turbo you are drawing on, offering a touch of modernity.
To the left a slender horizontal red panel is a classy contrast to the dark dashboard plastic but overall the effect is dull and feels a little bit cheap.
The 265-litre boot is smaller than perhaps you would like, but it's deep enough to accommodate a few bits of luggage or a conservative weekend supermarket shop.
With the engine ticking over, this Japanese pocket rocket accelerates into an anime action adventure. It is low-slung, light, agile, has a punchy gearbox and actually likes being thrown around the place. The ride is taut but comfortable, it corners like a dream and the brakes are highly effective.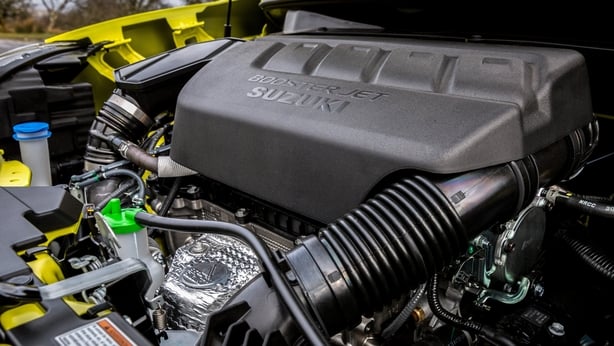 The car's new engine, smaller than its aspirated 1.6-litre predecessor, is more eco-friendly but doesn't compromise on performance. And with a 0-60mph time of 8 seconds you can have some serious fun without a run in with the Garda Traffic Corps.
The abundance of big car tech is another reason why this car punches above its reduced weight. This includes radar cruise control as standard, which automatically keeps you at a safe distance from the car in front.
Unfortunately, it's time to discuss the dubious Suzuki infotainment system again – the same one we encountered on the Suzuki Vitara a couple of weeks ago.
Apple CarPlay and Android Auto as standard are a major plus but neither are the easiest to navigate here, further complicated by touch-sensitive volume control on the left-hand side, which is vague and difficult to operate whilst driving.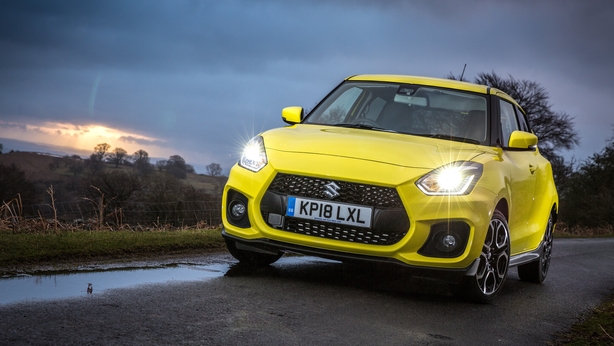 For me, the Swift Sport passed its biggest test as the rain hammered the road home from Portrush after I was lucky enough to see Shane Lowry win The Open.
It might be little, but its four wheels stayed right on track as thundering lorries sprayed surface water on both sides of the border. Thankfully, there was no need to stop for fuel in the appalling conditions – one full tank was more than enough to cover the round trip, reinforcing the car's claimed range of 616km.
So how much will this serious bundle of fun set you back? At €22,995, it might also be worth considering the similarly priced Peugeot 208 GTi or even the slightly cheaper VW up! GTI. The exhilarating Ford Fiesta ST is around 5k more.
If 'Speedy Blue' isn't enough to consider owning this plucky little car, perhaps 'Champion Yellow' might be the perfect alternative.