It's not perfect, but Mazda's new 3 hatchback has certainly shaken up the family hatchback market. It even has a diesel version.
It takes a lot to give the Volkswagen Golf a run for its money or, for that matter, the Ford Focus or the Toyota Corolla. All three have been around for decades - re-inventing themselves as first choice favourites in the family car market. And, so tuned in are the manufacturers of these cars to changing tastes and customer feedback, their position often seems quite unassailable.
Sometimes, though, some of the smaller companies do get a look in, although it's a struggle to compete with the massive development and marketing budgets of some of the biggest companies in the world. This underscores the irony that some of the best cars I've driven this year have been produced by two of the smallest Japanese manufacturers - Suzuki and Mazda.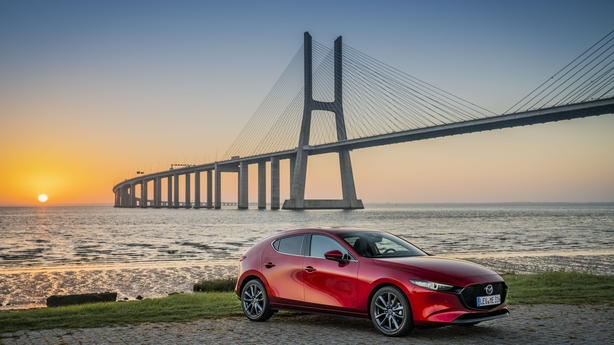 The Mazda 3 is now in its fourth incarnation. It has always had a relatively limited profile yet still it managed to build up a loyal customer base, a good number of whom saw Mazdas as good value for money and found them extremely reliable - as is the case with many Japanese cars that are actually assembled in Japan.
When I first saw the new 3 I was surprised by its inventive design, compared to the boxy Golf or the slightly conservative Focus. The car has been cleverly designed to achieve a sculpted look that incorporates quite sporty lines and a sweeping front to rear look. This allows the car to stand out from the crowd with a rare enough personality not often found in more standard hatchbacks.
The car I drove was the 1.8 diesel, yes a diesel, that Mazda seems confident can withstand the current drift away from oil-burning cars. In fact, Mazda argues that their diesel engine is so clean that it does not need Add Blue formula to help dilute particulates and that its own Nox system makes the car much cleaner than others on the market. Whether that assurance is enough to sway customer sentiment is another matter. There is also a petrol version of the new 3.
Even though it is a 1.8, this diesel engine has a fairly limited capacity of 114 horsepower. Driving it with an automatic gearbox was not a terribly exciting experience and the fact that the automatic gearbox uses a torque converter, instead of a fully automatic system, limited its performance with a slightly unpredictable gearshift. The 0 to 100 KPH time is around 12 seconds, which is not exactly lightning quick. It struggled on steep inclines and when overtaking yet, on the whole, it's a pleasant enough system to use. On the motorway, it cruised very comfortably and efficiently.
The engine, however, can be also slightly noisy compared to other diesels. The steering is a little light too. But both issues constitute irritants rather than major criticisms.
The car was its best on longer journeys, when it returned a consumption figure of 5.3 litres of fuel per 100 kilometres, or about 53 miles to the gallon in old money. That's even better than Mazda itself claims for the car. You'll obviously get less in town but then, diesels don't really belong in town in the first place.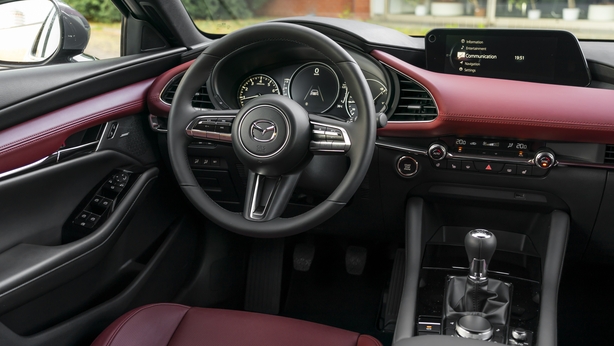 Apart from the exterior design, what impressed me most about the car was the interior cabin finish and design. There is an excellent 8.8-inch screen for infotainment and you control functions on it by using a sensible and practical rotary dial that does not distract you overly.
The driving position is excellent and slightly low. The leather steering wheel with multi-function switches is a pleasant and practical addition. Other manufacturers could learn a thing or two from this car about combining practicality with elements of style and warmth. On a long journey, it was relaxing and comfortable and not at all confined, as the overall exterior design might initially suggest. Instrumentation and dials are also practical and clear.
There is plenty of leg and headroom upfront but in the rear that sloping roofline does take its toll on headroom and rear visibility. Rear seat passengers will also be disadvantaged if they are on the tall side. That design also reduces boot space. You'll have about 350 litres of space to accommodate most things, but cavernous the boot is not if you compare it to the one in the new Skoda Scala, for example.
The 3 is well equipped and comes with an impressive EuroNCAP safety rating as one of the best performing family hatchbacks on the market. Standard equipment includes rear parking sensors, LED headlights, hill control, collision warning, lane-keeping sensors, nine airbags and radar cruise control.
You will also get dynamic stability control, automatic high beam control, Apple Car Play and Android compatibility and a system that will call emergency services in the event of a serious collision. Overall, it's a very good package.
The 1.8 diesel costs 36,705 Euros and has a road tax rating of 270 Euros. With the level of standard equipment, it has the price is competitive and the car offers a welcome alternative to more standard hatchbacks and small crossovers.