Lexus hasn't exactly been first off the blocks with its new compact crossover and the market it's trying to penetrate is already well served, particularly with the very impressive Volvo XC40, whose credentials are now well established.
However, Lexus needed a smaller crossover to try to follow the market and appeal to people who want something different but don't want a conventional hatchback. So, the crossover business is where its at as customers move increasingly away from the conventional and on to something that looks a bit different and interesting.
Lexus also as the advantage of offering a well-developed hybrid system - a system that is finding increasing favour among new car buyers as they move away from diesel.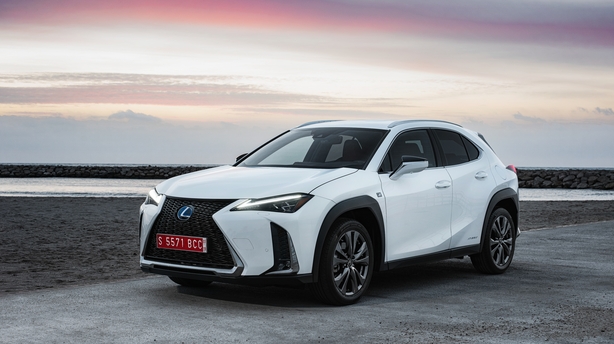 The UX has, as you might expect, a pretty strong Lexus styling identity with lines and creases evident everywhere. It's lower than other crossovers and this may limit its appeal for those to whom the extra height off the ground is important.
It runs on a 2.0 litre petrol engine/hybrid combination that does not need charging. It's ideal around town, running silently on electricity for perfectly reasonable periods of time. When the petrol engine is kicking in, the car may lack the torquey response of a diesel but performs very well.
It does get a bit noisy at higher motorway speeds, though, and the ride quality is also a bit challenging when you hit a few rough surfaces.
The CVT automatic gearbox system has improved from that on previous Lexus and Toyota models and you don't get the same lurch, resistance and whine from it as used to be the case. It's a good deal smoother and more responsive.
I got a high usage rate on electricity around town and managed 6.7 litres of petrol per 100 km on longer journeys (about 42 MPG in old money), which is good but not in any way exceptional.
So it seems like a car with something very different to offer. Unfortunately, it isn't.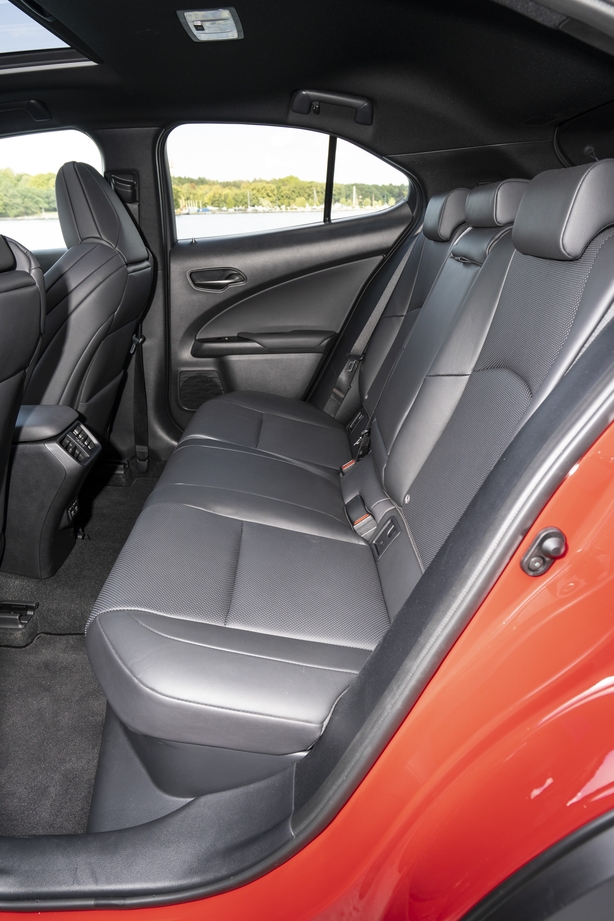 There are a number of problems with it. There is limited rear room. In fact, it's woefully inadequate with extremely narrow accommodation. I had a very hard job trying to get in and out of the rear and concluded this really is a car for two with very occasional and short use of the rear possible for two - but not more - adults. The sloping roof to restricts headroom.
The steering wheel looks like a generic Lexus one and seems too big for the smaller confines of the car. Nor does it adjust adequately for a taller driver.
Then there is the boot. This has always been a weakness and a compromise with small Lexus cars but it seems particularly pronounced in the UX. The battery does eat into space but a pair of golfers are going to have quite a challenge getting what they need into the UX.
In fact, it looks like one set of golf clubs and not much more luggage would take up the entire available space. And people like this are, I strongly suspect, exactly the kind of people Lexus would like to buy the UX.
There is also an issue with the infotainment screen and system. It doesn't recognise Apple Car Play or Android, which is a mystery in this day and age. The screen is frustratingly small and difficult to read and the trackpad system for engaging functions is both distracting and has a mind of its own. It is simply way too sensitive, making its function selection completely unpredictable.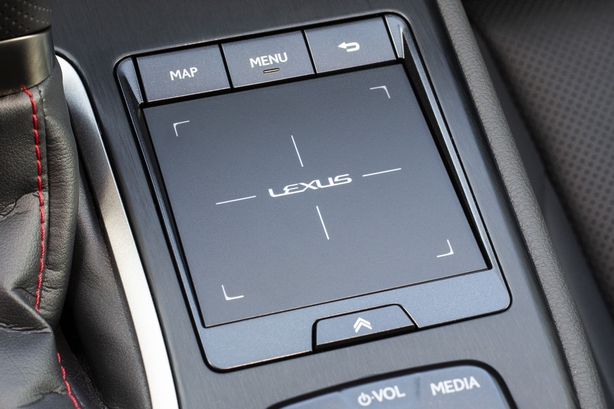 This is a real problem when driving, when you really don't need to be distracted to the degree you are when trying to choose even the simplest tasks. There were times when I just abandoned it to avoid that distraction and longed for a system that even Skoda can get right: simple, easy, logical and with a good display. I understand Lexus is reviewing its use of this system and a replacement can't come too soon in my view.
With a starting price tag of €40,200, the Lexus UX poses a number of questions, the most important being why one might pay that price when the comparable Toyota CH-R is available from €31,640? The Toyota is built on exactly the same platform as the UX and costs some 25% less.
And yes, the UX does have a very good safety system as standard (lane keep assist, active cruise control, road sign recognition and so on) but so too do all Toyota models and this is to their credit.
With the UX, Lexus falls short of its premium status ambitions - at least in terms of practicality - and the car does not have enough to give it the advantage it seeks over other cars. The Volvo XC 40 is a far better car, even if it's not a hybrid, and the Toyota option is a far more attractive one. And much better value too.