Ironically, BMW's electric i3s is being trumped by its MINI electric stablemate, at least when it comes to price. Is the rather more original i3 still worth a big premium?
I've become an overnight celebrity. Excited children wave, while grown adults stare and turn their heads.
As I wait at the traffic lights on a warm summer's evening, an admiring fellow motorist shouts from the next lane. "That's a great looking little car, isn't it? How long does it take to charge? How long does the battery last around town? Great for commuting, I imagine?"
It's no surprise we are getting attention. This sporty, low-slung 'fluid black' BMW i3s with its futuristic design, electric blue trim and dazzling 20in double-spoke alloy wheels, is seriously easy on the eye.
The interior of the car doesn't disappoint either. Rear-hinged back doors allow its four doors to open outwards at opposite ends creating the kind of wide, uninterrupted access you would expect from a larger vehicle. Anecdotally, I've heard complaints that you have to shut the rear doors before closing the front ones. But once aware of this idiosyncrasy it's a minor quibble. More importantly, the generous height of this compact car comfortably accommodates four adults.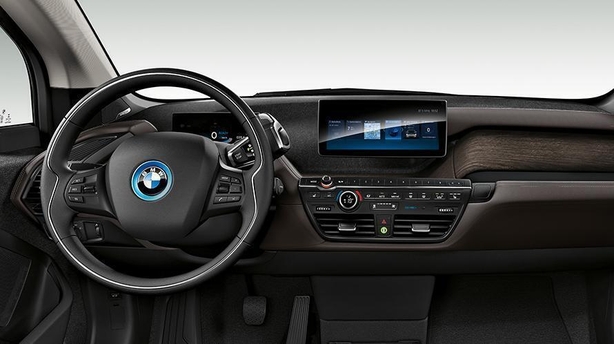 Inside, the delicious 'dark truffle' leather upholstery is a classy backdrop to a pleasing curved wooden dashboard showcasing an interactive media centre where you can dial between sat nav, Spotify, driving modes and phone calls. iPhone users will be relieved to hear the i3s supports Apple CarPlay – given the car's name it would be strange if it didn't. If that's all too fiddly for you, a familiar BMW console with an old school volume button can be turned and prodded.
All the paraphernalia you will need to keep the vehicle charged is neatly stowed under the bonnet where you would normally expect to find the engine. A black backpack contains a thick 'type 2' rapid cable capable of generating a full charge at home in around six hours. A separate cable for charging from a standard domestic three-pin plug takes 20 hours to achieve maximum power. At a quick-charging station the high-voltage battery can reach 80% of its total power in just 42 minutes.
Unsurprisingly, the car's 260-litre boot (the motor is just below) is utterly underwhelming. While it has successfully passed the golf bag test, sadly, on this occasion, the clubs belong to a golf-mad six-year-old. I didn't even attempt to try and squeeze my own set in.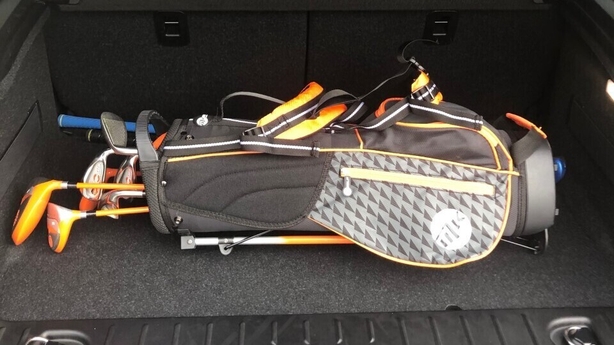 Once over its undeniable good looks, what I really wanted to know is whether this vehicle is the stuff of electric dreams - or an impractical eco-friendly status symbol.
The real story begins with a secondary screen positioned just behind the slim steering wheel displaying four chunks of battery. Meanwhile, to the right, the drive selector lever is a little clunky and awkward to grapple with.
This car has four different driving modes with 'Comfort' as default. The latter set up offers regenerative breaking and, with a little bit of practice, you can virtually drive with one pedal (don't worry, any high deceleration activates the brake lights to deter any unwanted intrusions at the rear).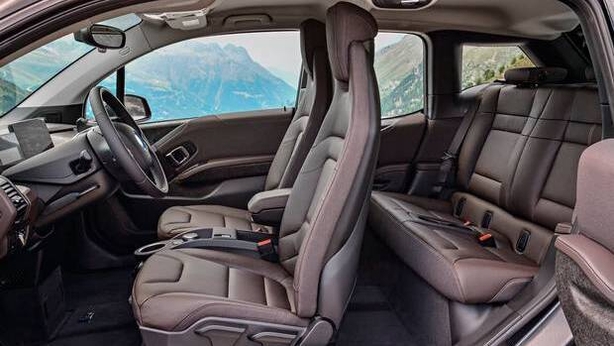 Then there is 'EcoPro', which finds a nice balance between acceleration and deceleration. It also makes it much easier to hit on the 'coasting' zone where the car isn't using unnecessary power. 'EcoPro+' caps the car's speed at 90 kph and blocks the air-conditioning and heater.
Let's discuss Sport mode. This lightweight car may pass as a conservative eco-warrior on the daily commute, but once this more dynamic setting is activated, all of its 182bhp leaves the crowd for dust with the slightest dip of the accelerator.
In fact, the 42kWh high-voltage battery is capable of generating a frightening 0-100km/h in just 6.9 seconds. And therein lies the problem. The car's performance - helped by its carbon fibre structure - is exhilarating, but there is little opportunity to actually enjoy it without making a court appearance.
⚡ Like lightning. The all-new BMW i3s was born electric. #BMWi3s pic.twitter.com/AiZpU5JRcU

— BMW Ireland (@BMWireland) September 21, 2017
There are other matters to contemplate. This car has a claimed range of 260km. In eco-mode, without using windscreen wipers, heated seats and air conditioning (not that you'd be using all these functions simultaneously) the car's performance it is broadly in line with its billing.
It is also exceptionally comfortable, corners beautifully and has a fantastic tight turning circle for town, while an abundance of tall glass offers great views in every direction.
Driving an electric car completely changes the decisions you make on daily basis. On this particular week, I've chosen a barbers where I know there is an ESB point outside. Not only am I enjoying free parking during an uncertain waiting time, it's nice to find the car back at full charge on my return.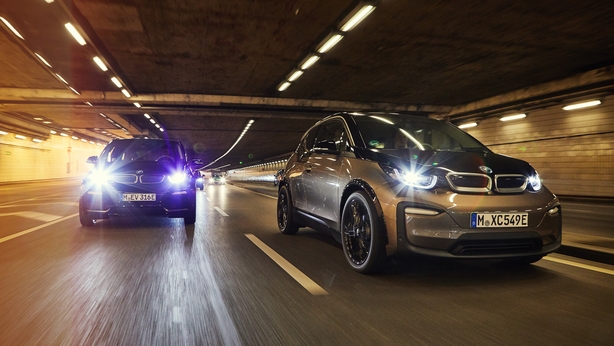 However, the uninitiated should be warned that fast-charging cables for all electric vehicles can be pretty unwieldy, so you will need to build a good five minutes into your plans to find your ESB card and get everything set up. Curling the same dense cable into a circle and zipping the bag back up also takes a bit of practice. Even when mastered, it's not the easiest, particularly when you are standing on the pavement as people try to pass.
You can easily find a 'type 2' fast-charging point at shopping centres or scattered around the place (download a good app). However, that's only when you can find a free space. More often than not, every single one I spotted was taken. And outside of Dublin the same charging points are even more limited, often frustratingly occupied by EV owners looking for free parking long after their car has fully charged. While charging for using these stations might solve the latter problem, it's worth bearing in mind that future plans to impose a levy on them will only add to the cost of running an electric car.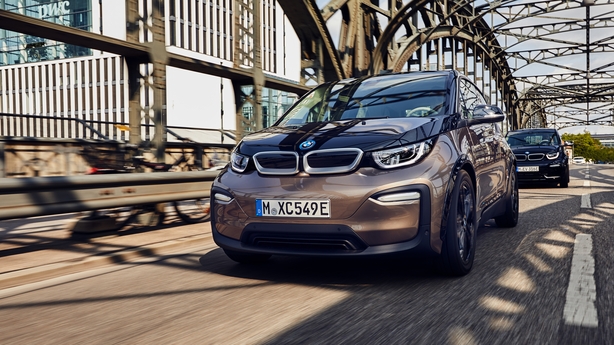 So with all of these factors at play, if you are not prepared to install an 11kW wall box where you can comfortably charge at home, the anxiety of running out of power mid-journey might just be enough to make you consider investing in a hybrid instead.
That point was driven home perfectly during an unseasonably warm day in June with two children seated at the rear, a weekly shop in the boot and the air-con blowing on the motorway. As I pull up on the driveway, the dashboard display tells me that a trip that previously used up 2% of charge, in this instance has shot up to around 10%.
In the end, I managed 218km using around 85% of a full battery. On that basis, I would have hit over 255km on a full charge - in line with the car's claimed range of 260km in everyday conditions.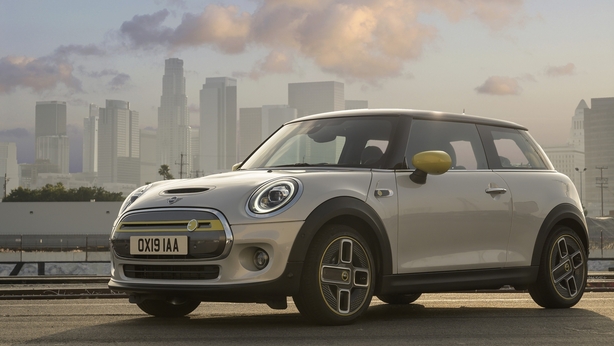 Overall, with a price tag of just over €54k for this particular version of the BMW i3s, you are paying a premium price for a premium name. Regardless of any issues you might have about its range, this highly-charged car is financially draining compared to cheaper electric vehicles on the market, namely the Nissan LEAF starting at €28,690 and the Hyundai IONIQ at €29,745.
When you consider that the price of electric cars can be a huge turn-off, even for those genuinely interested in owning one, the BMW i3s is very much at the upper end of the market.
There is however some respite for wannabe EV owners - BMW's sister company MINI has just launched its very first electric version of the iconic car. At €27,765 on the road, it might just be the answer.