It's a case of extremes when it comes to Mercedes' new A-Class saloon and its substantial four-wheel drive GLE. And the former is not a patch on its bigger stablemates.
No all that long ago there were half a dozen cars on the Mercedes price-list and the world was a rather grey place when it came to premium cars. These days you'll have to plough through a hundred listings to sort out the models and variations on offer from Mercedes. Smaller cars, sleeker cars, bigger cars, saloons, hatchbacks and SUV's - there's something for everyone who can afford the Mercedes premium price tag.
The latest arrival in the line-up is a saloon version of the A-Class hatchback. It's aimed at those tempted by an entry-level price point (€36,635) who might be moving up and away from other cars in the same price bracket. It is not, however, much of a move up in terms of its dimensions (it's longer than the hatchback) because space - particularly in the rear is so limited. You will be OK with four very average-sized occupants but if you have a tall driver or front-seat passenger then the person behind them is going to have a hard time.
Rear space is also limited by the sloping rear of the roof line.
The version I drove carries the AMG Mercedes sports designation. The AMG badge is intended to be a big selling point for younger drivers seeking the driving and chassis dynamics that German manufacturers pride themselves on. For the most part, it's a wasted asset in Ireland. The ride is much harsher and is not suited to our mixed and often challenging secondary roads. The suspension set up is thrashy and will let you feel the full force of a bump or pothole. And riding on 18-inch alloy wheels doesn't help either. In short, a much better balance is needed.
There's a choice of petrol and diesel engines. This one had a 1.4 petrol engine producing 163 horsepower, which is a bit of a contradiction in terms of its AMG badging. The engine itself is fine and refined. It's also economical, returning 6.4 litres fuel consumption per 100 kilometres.
It is mated, however, to a double-clutch seven-speed automatic gearbox that has a mind of its own and does not respond to normal requirements. It has a tendency to lurch at lower speeds as it picks up and then to give a degree of feedback in higher gears that suggests confusion on the part of the chips that control it. In other words, it's jerky, coarse and lacking in refinement unless it is cruising on the motorway and not being challenged. It is certainly not up to scratch for a Mercedes, even at an entry-level price.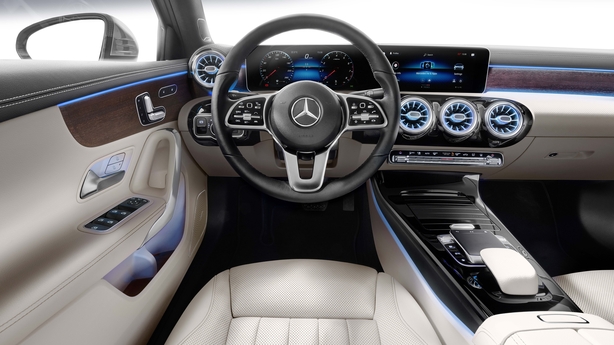 Where the A-Class does shine, however, is with it's on-board technology and entertainment display that makes the cockpit a pleasure. One front and one offset screen are at the heart of what Mercedes calls its MBUX - Mercedes Benx User Experience system. It's simply a treat to look at and operate and everything is displayed and works exactly as it should do. Graphics are excellent and the backlighting is superb. Everything you need is easily accessible and does not involve a great deal of distraction.
The car is also well equipped for the price. You'll get LED lights, cruise control and a good active and passive safety package too. The AMG pack adds about €7,000 to the base price.
It's a pity other aspects of the car let it down and make it just an "ordinary" car. In fact, some ordinary cars, such as the new Mazda 3, would leave it in the halpenny place. This is surely one car that proves the theory that you can over-milk even the best products.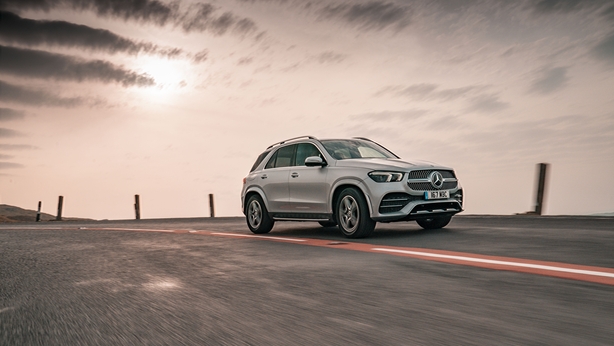 Ever since Mercedes rolled the G-Wagen off its production line, it has had a fair claim to have created the first big SUV. Tank-like as it was, the G-Wagen nevertheless had a solid presence and ability that developed into a very loyal if limited customer base.
Today we have the GLE, a car that does the G-Wagen tradition proud. It's big, it's spacious, it's tough and it's bursting with technology and equipment. It's also big on C0 2 and therein lies the problem. Even if you are comfortable with the €78,395 price-tag and the €570 annual road tax bill, you might be getting increasingly nervous as October's budget looms. Informed sources tell me that tax bands are likely to be widened in the budget and cars like this may get a real hammering with much higher tax and a probable increase in the price of diesel.
All that apart, however, I found the GLE hard to part with. A commanding road position, lots of interior space, great display screens, oodles of technology (it's easier to try to come up with something that's not on it than to remember everything that is, such as leather upholstery, a great traction system, excellent seats, electronic tailgate operation, ambient lighting with a choice of 64 colours (!), interior chrome, a full active and passive safety system, lumbar support for the driver's seat and pretty much everything you need in a car) and an SUV that handles and drives really well, given its size and weight.
And it's economical too. I averaged about 7.1 litres of fuel per 100 kilometres, which is very impressive.
And there's no problem with its gearbox either.