Long-haul travel by driverless trucks has long been seen as an ideal test bed for autonomous cars and buses. The first trucks are already rolling in the US and Europe as the autonomous revolution takes hold.
The first driverless trucks using public roads represent the beginning of a revolution, as long as they are successful and the test runs are safe. They pave the way for reductions in road fatalities, accidents and, eventually, pollution levels when they eventually become powered by electricity. They will also lead to more efficient delivery times. The other side of the coin is that they will also lead to significant redundancies and the end of a trucking culture that has defined a slice of American life.
The U.S. Postal Service has alredy started a two-week test transporting mail across three Southwestern states using self-driving trucks, a step forward in the effort to commercialize autonomous vehicle technology for hauling freight, Reuters reports.
San Diego-based startup TuSimple said its self-driving trucks will begin hauling mail between USPS facilities in Phoenix and Dallas to see how the nascent technology might improve delivery times and costs. A safety driver will sit behind the wheel to intervene if necessary and an engineer will ride in the passenger seat.
If successful, it would mark an achievement for the autonomous driving industry and a possible solution to the driver shortage and regulatory constraints faced by freight haulers across the country.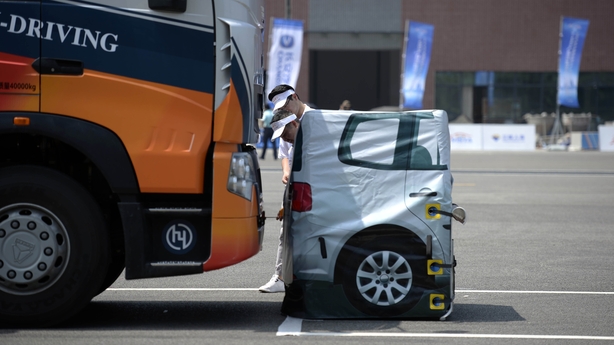 Engineers in China check the response of a driverless truck to an obstacle.
The pilot program involves five round trips, each totaling more than 3,380 km or around 45 hours of driving. It is unclear whether self-driving mail delivery will continue after the two-week pilot.
"The work with TuSimple is our first initiative in autonomous long-haul transportation," USPS spokeswoman Kim Frum said. "We are conducting research and testing as part of our efforts to operate a future class of vehicles which will incorporate new technology."
TuSimple and the USPS declined to disclose the cost of the program.
The trucks will travel on major interstates and pass through Arizona, New Mexico and Texas.
"This run is really in the sweet spot of how we believe autonomous trucks will be used," said TuSimple Chief Product Officer Chuck Price. "These long runs are beyond the range of a single human driver, which means today if they do this run they have to figure out how to cover it with multiple drivers in the vehicle."
The goal is to eliminate the need for a driver, freeing shippers and freight-haulers from the constraints of a worsening driver shortage. The American Trucking Associations estimates a shortage of as many as 174,500 drivers by 2024, due to an aging workforce and the difficulty of attracting younger drivers.
A new safety law requiring truck drivers to electronically log their miles has further constrained how quickly and efficiently fleets can move goods.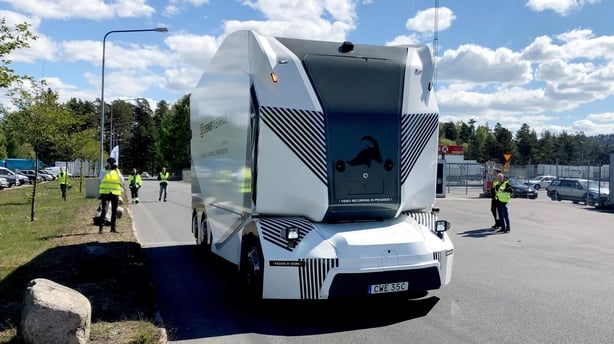 The Swedish "Star Wars" truck.
Reuters also reports that the Swedish test truck resembled the helmet of a Star Wars stormtrooper. The driverless electric truck has begun daily freight deliveries on a public road in Sweden , in what developer Einride and logistics customer DB Schenker described as a world first.
Robert Falck, the CEO of Swedish start-up Einride, said the company was in partnership talks with major suppliers to help scale production and deliver orders, and the firm did not rule out future tie-ups with large truckmakers.
"This public road permit is a major milestone ... and it is a step to commercializing autonomous technology on roads," the former Volvo executive told Reuters.
"Since we're a software and operational first company, a partnership with a manufacturing company is something that we see as a core moving forward," he said, adding he hoped to seal a deal by next year.