As Tesla has done, Volkswagen is hoping to tempt early adapters into putting down a €1,000 deposit for the first model in a new generation of all-electric cars, coming on stream from next year.
The compact car, which will not be seen in public until the Frankfurt motor show in September, will be known as the ID3 and VW is following the example of Tesla in trying to attract early adaptors to the concept from the get go.
Customers are being asked to make a deposit of €1,000 to reserve their car in Ireland to take advantage of the first batch of cars that will have a higher level of specification on launch.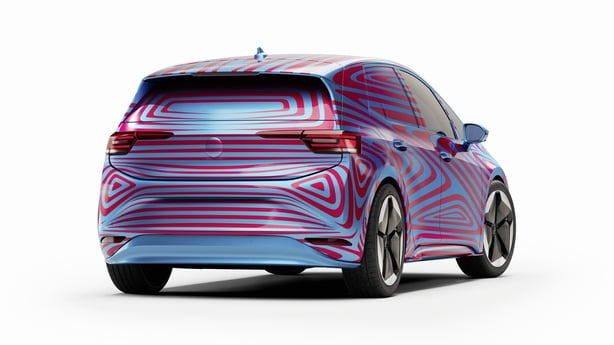 ID stands for intelligent design and the ID 3 will be the first of an expanding family of electric cars from Volkswagen, which has already said it will produce 20 million of them in the next few years.
The range of the car is claimed to be between 330 kilometres and 550 kilometres per charge and the car will cost €30,000 in Germany.
Despite the fact that the car has not yet been priced for the Irish market, VW is obviously confident that some early adaptors at least will bank on a price close to the German one, allowing for grants for electric cars here.
VW Ireland says it has "no details confirmed as yet as to how many vehicles we will get in 2020, and pricing, like in other markets, has yet to be confirmed.
Potential buyers can visit the online ID. hub, which will carry news and developments about the ID.3 and facilitate anyone wishing to order one of the cars.
Jürgen Stackmann, Member of the Board of Management of the Volkswagen, says: "With the ID.3,we are making the electric car fit for mass mobility. Initially, we will electrify Europe with the ID.3 and then other regions with further electric models in the ID. family which are to follow in the near future."
Volkswagen is offering the ID.3 1ST special edition in four colours and three versions. All the versions will feature large wheel rims and comprehensive equipment, including voice control and navigation system. More expensive versions will have things like head-up display.
Following the launch of the ID.3, additional models will roll out, such as those previewed by the concept cars ID. CROZZ, ID. VIZZION and ID. ROOMZZ, and which will in the future also be named with model numbers.