Volkswagen has introduced a new version of the electric Golf aimed at private or business buyers who want something more than the standard car. It has a claimed range of 217 kilometres.
At €29,495 (after grants) the executive edition of the e-Golf comes in under the upper price limit of €50,000 that caps the zero per cent benefit-in-kind incentive for electric cars.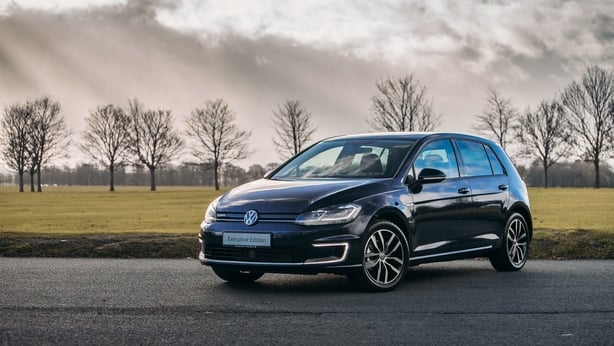 The bigger wheel reduce the car's range slightly.
The car gets 17-inch 'Madrid' alloy wheels that decrease the normal range of the e-Golf by about 13 killometres, so instead of a claimed range of 230 km this car comes in at 217 klilometres range.
Also included are LED tail lights with running indications, a full leather interior with Sports comfort seats in front, active information display, a rear-view camera, heated front seats, tinted rear windows and keyless entry. VW says the added equipment adds up to a total of €4,700 but the car costs just €3,500 over the standard e-Golf. It says that because the car benefits from BIK exemptions and a capital allowance, it suits customers embarking on an electric motoring road.