Audi's new Q 3 SUV has arrived with a number of active safety systems included as standard equipment. It also features Audi's virtual cockpit that accommodates smart 'phone apps.
One of the car's strong selling points is the standard safety equipment featured in the €39,600 starting price.
The Q3 has already been awarded a full five start rating from the crash testing agency, Euro NCAP. The car is fitted with a pre-sense system that issue audible and visible warning in the event of critical situations involving pedestrians, cyclists or other vehicles .
The car also has side assist, which warns of hazards when changing lanes, as well as active lane assist, which will nudge the car into its lane should it wander over white lines. The car can also deploy automatic emergency braking. Progressive steering is also standard.
Audi is more advanced than other manufacturers in developing autonomous driving technology and it is interesting to note how advanced technology developed for bigger cars is now filtering down to more standard models, such as the Q3.
The Q3's design has been tweaked to give it a slightly sportier profile, with narrow LED headlights and the smallest wheels are a hefty 18", which should add to the driving dynamics but may make for a slightly stiffer ride. The new Q3 is longer, wider and higher than the car it replaces. There is also more boot space as a result and the tailgate is now fully automatic.There is also a roof edge spoiler, aluminium roof rails and steeply raked D pillars.
There is a choice of diesel and petrol engines and options of front-wheel or four wheel drive. Power outputs range from 150 hp to 230 hp, with four-cylinder direct injection units, with turbocharging.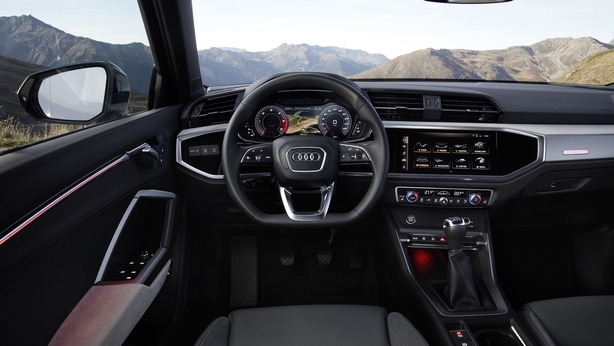 The Q3's dashboard is based on bigger premium models.
Audi's navigation system recognises the driver's preferences based on previous journeys, allowing it to generate suitable route suggestions, along with traffic information, a point-of-interest search function and information on parking spaces and filling stations. Apple CarPlay and Android Auto are also provided.