Volkwagen's new flagship SUV has a big price tag, a big footprint and is perhaps just a bit too big for Irish requirements. Our Motoring Editor, Donal Byrne, reviews the Touareg.
The Touareg has been around a while now and in its commercial guise has been quite popular. It was not a car that made too much of an impression, however. The same can't be said for the latest version, which is about as high-tech as you can get and is perhaps the most advanced VW to date, even when compared to the Arteon executive saloon.
The bulk of it is what first strikes you. It is not as sleek as its Volvo equivalent and seems squat in profile, but it's not far off the Audi Q7 at the same time. And that's not where the comparisons end. The big names in the big SUV game are BMW, Audi, Range Rover and Mercedes and VW is not really a strong competitor - it's all about having the big name, you see, and Volkswagen is better known for more utilitarian offerings.
However, the Touareg is now as technically accomplished as any of them. How many of these luxury SUV's ever make it off road is not even up for question. Most of them are image builders for manufacturers or a profitable entree into a market like China. Tarmac is their territory and road presence the reward for a big investment.
So in order to compete with the big names and even bigger profiles, VW has had to follow suit. The Touareg is big in every way but it's not that practical. It has a huge turning circle that will involve no end of seven-point turns in tight spaces and you will certainly have to size up a parking space carefully before a potentially embarrassing commitment is made.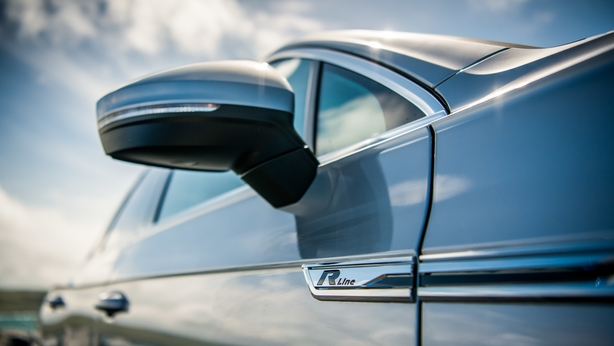 The Touareg is best driven outside a city environment.
It's when you're free of the city that the Toureag comes into it's own. For a two tonne vehicle it handles really well,with little roll or wallowing on tight roads. The engine is a V6 3.0 litre turbo diesel ( another big element of the Touareg's make-up) that is refined and relatively quiet. Again, it's at its best on the open road and also its most economical - you can get consumption of about 7.4 litres of diesel per 100 kilometres when cruising, although consumption is appreciably higher in city conditions.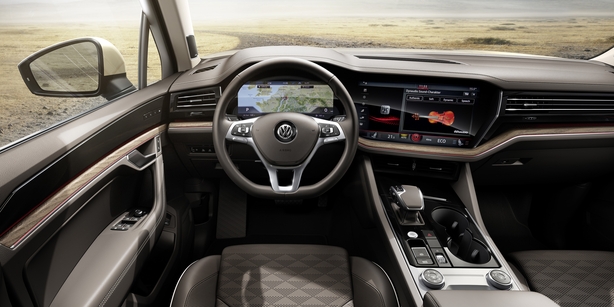 The cabin of the new Touareg is perhaps its best aspect.
The best aspect of the car, however, is it's cabin. It's as good as anything on offer from VW's competitors. Sitting into it is a bit like sitting into Captain Kirk's chair on the Enterprise. Two very big screens show every conceivable detail of information, entertainment and driving data. The satellite navigation system is near perfect in its graphics and detail. It makes driving the car a pleasure and an immersive experience.
Add big seats, lots of interior space front and rear and a boot that has over 800 litres of capacity and you have an impressive machine all 'round.
Now for the big price. The R-Line version of the car car comes in at €86,151, but when you look at the list of equipment it challenges brands like BMW and Mercedes when it comes to overall price. Adaptive cruise control, rear view cameras, daytime running lights, automatic parking brake, panoramic sunroof, forward collision warning, park assist, an electrically-folding trailer hitch, tinted rear windows, a superb infotainment system all make it the best presented VW in a very long time.
The biggest disadvantage is its sheer size, its price (even if it is competitive in relative terms), its impracticality for urban use and its overall footprint. Its biggest advantage is that it's a great car to drive.