Volkswagen, which is in talks with Ford about joint co-operation, has a plan to launch electric cars for less than €20,000. If the plan goes ahead, it could see a small electric VW as the cheapest option on the Irish market.
Volkswagen intends to sell electric cars for less than 20,000 euros and protect German jobs by converting three factories to make Tesla rivals, a source familiar with the plans has told Reuters.
The agency says VW and other car makers are struggling to adapt quickly enough to stringent rules introduced after the Vollswagen group was found to have cheated diesel emissions tests, with its chief executive Herbert Diess warning last month that Germany's auto industry faces extinction.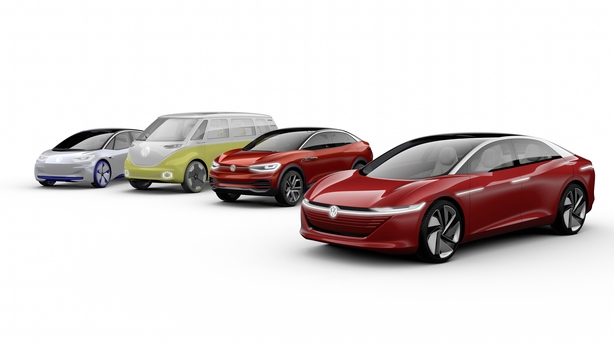 Impressions of VW's future electric car line-up.
Plans for VW's electric car, known as "MEB entry" and with a production volume of 200,000 vehicles, were due to be discussed at a supervisory board meeting this month.
Another vehicle, the I.D. Aero, will be built in a plant currently making the VW Passat, a mid-sized sedan, the source said.
The Wolfsburg-based carmaker, which declined to comment on the plans, is also expected to discuss far-reaching alliances with battery cell manufacturers, the source said.
The strategy meeting will discuss Volkswagen's transformation plan to shift from being Europe's largest maker of combustion engine vehicles into a mass producer of electric cars, another source familiar with the deliberations said.
VW's strategy shift comes as cities start to ban diesel engine vehicles, forcing carmakers to think of new ways to safeguard 600,000 German industrial jobs, of which 436,000 are at car companies and their suppliers.
An electric van, the ID Buzz, is due to be built at VW's plant in Hannover, where its T6 Van is made, the source said.
To free up production capacity for electric cars in Hannover, VW's transporter vans could be produced at a Ford plant in Turkey, if German labour unions, who hold half the seats on VW's board of directors, agree, the source added.
VW and Ford are in "exploratory talks" about an alliance to develop self-driving and electric vehicles and to complement each other's global production and sales footprints, Reuters reported last month.
Ford has strong sales and profits in the United States thanks to its exposure to the lucrative pickup truck segment, while Volkswagen dominates the market for passenger cars in Europe.
The companies are considering cooperation deals in the areas of commercial, electric and autonomous vehicles, although a final agreement will take time to confirm.
The details of a cooperation deal with Ford may take until the end of the year to be finalised, the second source said. The German car maker will mainly focus on debating the merits of converting its VW factories in Emden, Zwickau and Hanover, which all build combustion-engined cars, to electric ones under the plans being discussed by the board of directors, the source said.
Car makers in Germany have already agreed to spend up to 3,000 euros per vehicle to add more efficient exhaust filtering systems to cut diesel emissions, but failed to prevent bans on diesel vehicles by Cologne and Bonn.
EU lawmakers have agreed to seek a 35 percent cut in car emissions by 2030 after a U.N. report called for dramatic steps to slow global warming. Diess said to cut average fleet emissions of carbon dioxide in Europe by 30 percent by 2030, VW needs to raise its share of fully electric vehicles to 30 percent of new car sales.
The shift from combustion engines to electric cars would also cost 14,000 jobs at VW by 2020 as it takes less time to build an electric car than a conventional one and because jobs will shift overseas to battery manufacturers. In Europe there are about 126 plants making combustion engines, employing 112,000 people.