Tesla certainly had an early lead in the production of premium electric cars but, with numerous production delays, some other big names are now in the hunt for the same customers.
Ford's first full electric model is described a "new Mustang-inspired utility vehicle" – the first model from the Ford Team Edison group assembled specifically to develop electrified vehicles for markets worldwide.
The team working on the project has been allowed to operate independently in Detroit way to develop electric vehicles for a new global market. Few details of the project have been revealed other than that the electric Mustang will arrive in 2020 with a targeted range of about 400 km. Ford is investing $11 billion and plans to deliver 16 fully electric vehicles within a global portfolio of 40 electrified vehicles through 2022.
"Electric vehicle customers are buying into the future and our team is 100 per cent focused on not only delivering vehicles they will love but providing an entirely electric vehicle ecosystem that works flawlessly," Darren Palmer, the head of the Ford development team said.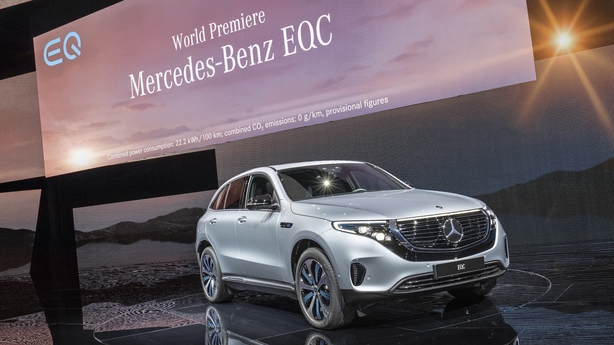 Mercedes-Benz has also moved into the frame with EQ, the initials chosen to represent their move into the electric-powered vehicle sector. It's a five-seat coupe and the car will arrive in Ireland late next year with a claimed range of up to 500 kilometres.
The EQ's electric drive system is driven by two electric motors mounted front and rear, whose system output can be increased. Power output is 402hp/765nm delivering an acceleration figure of 0-100km/h in 5.1 seconds, Mercedes says. The car will also have a permanent all-wheel drive system and "a range up to 500 kilometres". A fast charge system can bring power level up from 10 to 80 percent in just 40-minutes.
A second EQA model introduction is scheduled for 2020 followed by a further eight new models by 2022. In Ireland, EQC and subsequent EQ models will be distributed through a selected dealer network.