Some predictions are that there will be up to 40 million electric vehicles in the world in the next 20 years. The car industry is now very serious about meeting the demand, as the second part of our series shows.
This groundswell of convergent trends has provoked the global auto industry to get serious about EVs. Perhaps the clearest evidence of just how serious came in July 2017, when Volvo stunned the automotive industry with the announcement that, starting in 2019, every new car the company launches will have an electric motor.
Hailed at the time as both the biggest commitment by any major car company to hybrid and battery-powered vehicle technology and a potential death knell to the internal combustion engine, the move seemed almost preposterously aggressive for a company that was on the brink of bankruptcy as recently as 2010.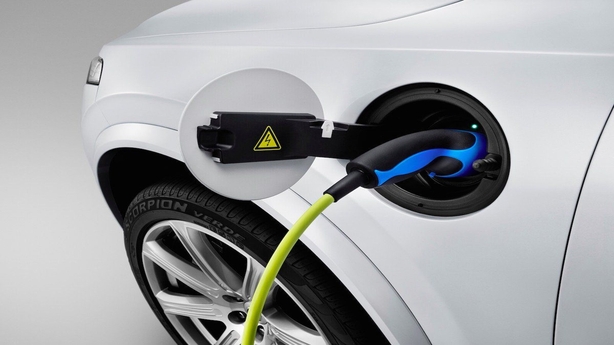 But Volvo isn't alone. The buzz at this year's Geneva International Motor Show was sparked by a flurry of EV and hybrid debuts from the likes of BMW, Jaguar, Mercedes, Porsche, and others. Ford, which routinely claims best-selling vehicle of the year bragging rights with its full-sized, gas-swilling pickup trucks, has announced that it plans to sell more hybrid vehicles than Toyota by 2021. Even its iconic F-150 pickup will get a hybrid engine. Ford CEO Jim Hackett explained his company's rationale at a recent press conference.
"Hybrid technology has gotten much better. The idea is: Can we give customers what they want in the future if fuel goes up? And the answer is in those hybrids," Hackett said. "That gives people the kind of vehicles they desire, and they don't pay in fuel economy."
It's announcements like these, along with a steady pace of EV policy announcements from governments around the globe, that have driven the traditionally conservative International Energy Agency to project that the global stock of EVs will range somewhere between 9 million and 20 million by 2020 and between 40 million and 70 million by 2025. As a point of reference, there were about 97 million vehicles sold globally in 2017.
With the world's largest manufacturers putting such aggressive EV and hybrid agendas in place, is it possible that we'll see a complete shift to EVs in the not-so-distant future?
What if all cars sold by the year 2040 are electric?
A new analysis by Jon Berntsen and Frank Melum from the Thomson Reuters Carbon team depicted below in an interactive visualization by Thomson Reuters Labs, explores what the world would look like if the year 2040 was the end of the road for fossil-fuel vehicles. The thought scenario replaces global sales with EVs and draws on historic passenger car sales trends to project the impact of growing EV adoption on a sliding scale from today to 2050. (Full methodology and assumptions available here).
in 2018, there are approximately 1.3 billion vehicles on the road, a tiny sliver of which are hybrids and EVs. Over the course of the year, there will be roughly 74 million new gasoline-powered vehicles sold, 11 million diesel, 2.5 million hybrids, and 1.4 million EVs. The total amount of electricity required to power that fleet would be around 13 terawatt hours and the current fleet of fossil fuel cars emits slightly more than 3 billion metric tons of carbon dioxide.
The visualization shows that by 2025, we start to see a shift. The total number of new hybrid sales peaks and shares are increasingly overtaken by EVs. While gasoline and diesel-powered vehicles start to trend down, carbon dioxide tailpipe emissions declines and power demand starts to climb.
Almost every major automaker is planning for a shift to electric vehicles and Europe, China, and India are on their way to ban the sale of fossil fuel-powered cars. We're also seeing the peak of the linear growth curve of hybrid sales and the real start to the exponential growth of EV sales. As a result, carbon emissions from transport decline, but power demand and pressure on the grid really start to ramp up.
By 2040, roughly half of the vehicles on the road will still be powered by fossil fuels, but all new vehicles sold will be EVs. As a result, carbon dioxide production from passenger cars will fall to 1.7 billion metric tons, but total energy required to power the increasingly electric global fleet of cars will have grown to around 1,350 terawatt hours.
Melum framed those numbers with some context.
"If we assume that all cars sold in 2040 onwards are electric, we'll see an additional electricity demand of around 3,000 terawatt-hours in 2050," he said. "To put that number into perspective, the European Union generates about 3,200 terawatt hours today. The increased demand will force a significant change in our current power generation mix.
Almost two-thirds of new power capacity comes from renewables, roughly half of which is solar. Solar costs are rapidly falling and we've already seen examples of solar power being cheaper than existing coal capacity. The future fleet of EVs could be fueled by clean power.
Thomson-Reuters.