The most and least reliable cars sold between 2015 and 2017 are revealed in the latest J.D. Power survey of 13,500 owners in the UK. The cars sold there are generally the same cars as are sold in Ireland.
Advanced technology is, it seems, bringing unexpected problems for premium car manufacturers, with volume producers now passing out premium producers in the trouble-free motoring stakes. J.D. Power, one of the world's largest research organisations with a strong record in car research, says cars are becoming more complex - especially premium brands. Hence the relatively poor performance ratings for brands like Land Rover, Jaguar, Audi, Volvo and BMW.
"Automotive systems are more complex than they've ever been and premium brands especially are incorporating autonomous driving building blocks—adaptive cruise control, lane keep assist, automatic braking—into their models," said Josh Halliburton, Head of European Operations at J.D. Power. "It's imperative for manufacturers to address this issue in order to improve the level of consumer trust in the technology."
Their research covers cars sold between 2015 and 2017 but was carried out between February and April of this year.
Overall dependability is determined by the number of problems experienced per 100 vehicles (PP100), with a lower score reflecting higher quality. The top 13 brands for vehicle dependability are volume brands. Hyundai ranks highest in overall vehicle dependability with a score of 78 PP100. Suzuki ranks second with 87 PP100, followed by Kia with 94 PP100. Mercedes-Benz (124 PP100) is the highest-ranking premium brand, and 14th overall.
Škoda has two models (Octavia and Yeti) that receive segment awards. Hyundai i10, Volkswagen Tiguan, Mercedes-Benz E-Class (the highest-ranking premium vehicle in the UK),Vauxhall Insignia and Peugeot 208 also receive a segment award.
The following list contains some surprises.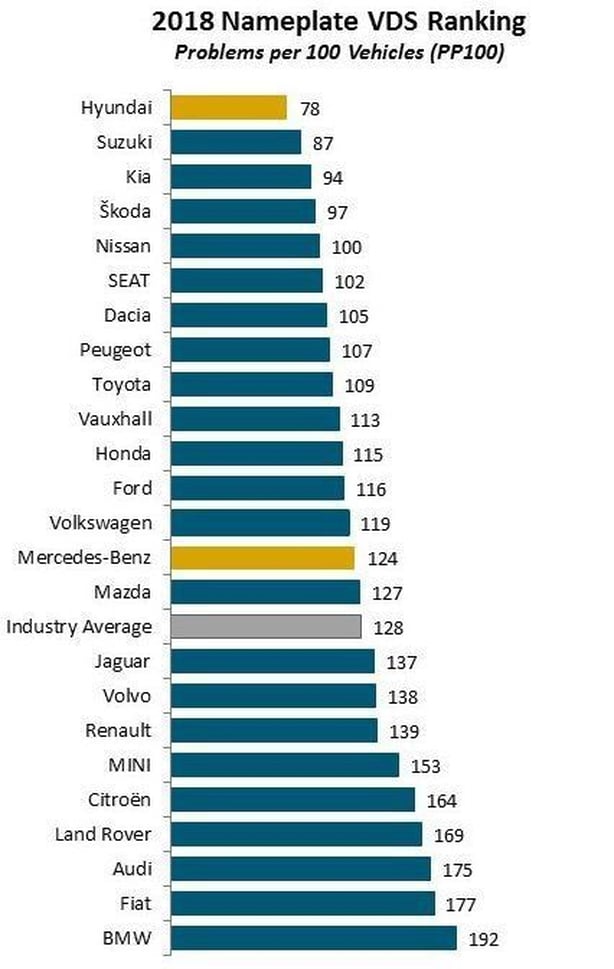 Although new technology is being introduced in volume production cars, the scale of it is not as fast as with the premium manufacturers and this seems to be backed up by the rankings for newer cars.
J.D.Power says technology problems continue to be common for owners after 1-3 years. Bluetooth phone/device frequent pairing/connectivity issues and voice recognition not recognizing commands are both among the six most common problems in the UK.
The survey also shows that "despite advancements in automotive technology, engine and transmission problems remain: Although not common, owners still worry about engine and transmission problems, as they are the most dangerous or costly. Despite advances in technology, the most severe problem in the industry remains an engine failing to start.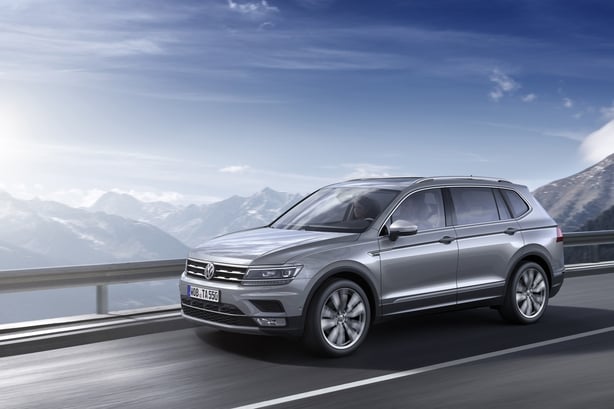 VW's Tiguan was ranked best compact SUV.
The survey also ranked the top three models in each segment of the British market which, again, mirrors the market here in Ireland, except in the case of the Vauxhall Viva, which is sold in Ireland as the Opel Karl.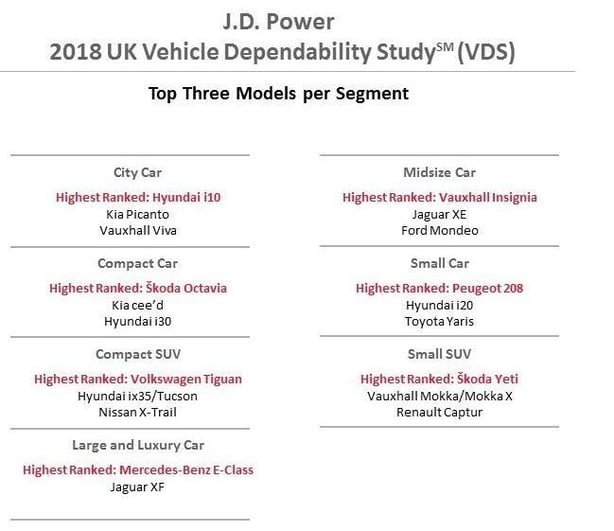 The study, now in its fourth year, measures problems experienced during the past 12 months by original owners of vehicles after 12-36 months of ownership. The study examines 177 problem symptoms across eight categories: vehicle exterior; driving experience; features/controls/displays; audio/communication/entertainment/navigation ; seats; heating, ventilation and air conditioning ; vehicle interior; and engine and transmission.
Among owners who experienced no problems with their vehicle, 54% say they "definitely will" purchase/lease the same brand again. Among those who experienced one of the top 10 highest-severity problems, only 37% say they "definitely will" purchase/lease the same brand again.