Ford's new large SUV is late to an already crowded market place and it lacks the kind of European appeal that it needs. Neither does it have an optional seven seats.
Almost everything about the Edge is American. It's size and scale, its turning circle requiring a lot of effort in a confined car park, its weight and its fuel economy, which is steep because of that sheer size and weight. When you put it beside the newer Land Rover Discovery, the Land Rover wins out for its road presence and its well sculpted lines. The Edge seems softer and lacking in real identity. Another question then springs to mind. With the Edge starting at €50,425 (the Sport version I drove starts at €55,075) , the Discovery five-seater starting at €56,085 and the BMW X3 coming in at just under €60,000 does Ford have the status to compete so directly and will customers pay that kind of money for a brand more associated with good value small and family cars ? I don't think Ford has that kind of cachet and judging from the fact that I've seen very few Edge SUV's on the road - compared to Discovery models - the answer seems obvious.
In fairness, Ford has tweaked the Edge for the European market in terms of ride and handling but neither is as impressive as it might be. The weight this car is carrying makes it heavy in its responses and you can find yourself wallowing in and out of corners when you push it. And push it you have to. The 2.0 litre diesel has to work hard to pull the car the way you want it to.
Fuel economy is also an issue. In town you are running it at about 10 litres of fuel or more for every 100 kilometres and on longer journeys you will have to drive carefully to get it below 7.2 or so. If you were driving an equivalent BMW or Mercedes the figures would be markedly different. Ford's diesel technology has not moved as far or as fast as the German manufacturers and, also, the performance from its 2.0 litre diesel in this car is lacking. And overall driver engagement is poor.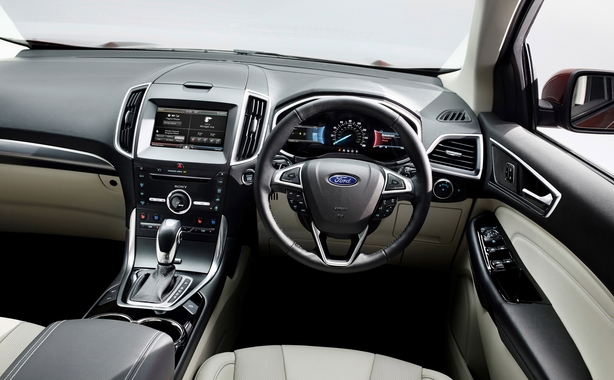 The dashboard and instruments are familiar from other Ford models.
Inside, the Edge is spacious and everything generously proportioned. However, the dashboard and switchgear are straight from other models, such as the Mondeo. This is not uncommon in the motor industry, where parts are interchangeable between different models but the Edge could have done with something to lift its main interior feature beyond that of a saloon car. The dashboards in the latest Jeep range are a case in point, as are the graphics used in their display and infotainment system. They are both modern and very functional. The Ford ones are dated by comparison.
Then there is the issue of the number of seats. The Edge is limited to five seats. There is much interest in seven-seat SUV's at the moment, so appeal is further limited. Considering this, the cost of the car and its fuel economy, I am minded of the fact that you can get a a Kia Sorento with a seven-year warranty, seven seats and even four wheel drive for at least €15,000 less than you would pay for the Edge.
The version I drove had 20" alloy wheels, which did'nt help for a smooth ride and the suspension was set up with sports turning, which made the car aspire to Land Rover Sport ride quality but which I think is unnecessary and an issue on Irish roads.
It also had a hands-free power tailgate, keyless entry, front and rear parking sensors, a Sony DAB Navigation system with 12-Speakers, alloy sports pedals, a rear view camera, and heated half-leather front sports seats.
Extras on it included blind spot technology, adaptive cruise control with pre-collision assist, a front camera with split view, LED adaptive headlights and a removable tow-bar. This takes the price of this version of the Edge ST-Line up to €510 short of €60,000. It's way too much money for a car with such drawbacks. I'd be looking at the Kia option and saving a big chunk of change.