Volvo's first electric performance hybrid - the Polestar 1 - is to make its public debut at the Goodwood Festival of Speed in England next month. Previously only shown as a Volvo concept or in camouflage, orders are now being taken for the car.
Under the Polestar brand, which Volvo has created to develop performance hybrid and electric cars, the first car is set to make its first appearance on the legendary hill climb in the grounds of Goodwood House in West Sussex. It's a place where many car manufacturers choose to show off performance levels and an important global showcase.
Polestar 1 - based on the Volvo S90 - has a plug-in hybrid powertrain with a petrol engine driving the front wheels and two electric motors driving the rear wheels. The combined maximum power from the petrol engine, the electric motors and the Integrated Starter Generator (ISG) is 600 hp and a torque figure of 1000 Nm.
The engine is a high-performance petrol in-line four-cylinder engine supercharged and turbocharged. The mechanically driven supercharger adds torque from low-to-medium engine speeds together with the turbocharger up to 3500 rpm. The turbocharger then takes over and adds power and torque up to maximum rpm.
The electric range is reported to be about 150 km but combines with the petrol engine the overall range is expected to reach 600 km.
"I am really excited to drive the Polestar 1 prototype up the hill at Goodwood," enthuses Joakim Rydholm. "Driving the hill climb at Goodwood has been a long-time ambition for me, and to be able to do it in the same prototype in which we've spent so many months of development time, is truly special, "says Joakim Rydholm, its chief test driver.
First customer deliveries are expected in mid-2019.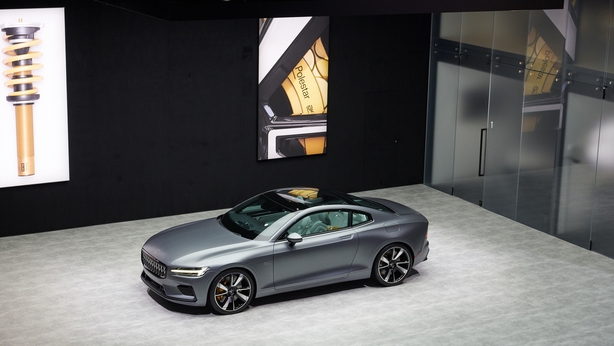 The Polestar is expected to cost about €155,000 in the UK.
Volvo is reported to have taken some 6,000 expressions of interest, with prospective owners paying a €2,500 booking fee on the car, which will cost about €155,000 in the UK.