As the move over to petrol engines continues apace, Subaru's decision to introduce a 2.5 petrol version of its Outback model seems to point to the other end of the spectrum. And just how popular will it prove to be ?
Subaru has a small but dedicated following for its cars - particularly with four wheel drive. The early adapters who bought them when they first came onto the market and subsequently will remember that Subaru was the first company in the world to create the crossover concept - a car that combines car qualities with those of a real SUV. The Outback all-wheel drive estate was launched way back in 1995 and has continued to be a niche choice here ever since because of its capabilities for limited off-road driving, perhaps as much as is ever really needed in a country like this. Subaru also has a very good reputation for reliability and the lasting qualities of its cars but they have never come cheap.
For most people the diesel option is the preferred one here, but Subaru is now chasing the petrol option trend with a revised model that has a 2.5 litre petrol engine that - even allowing for this trend - may just be a little excessive for the Irish market. It's a big engine, particularly when Jeep, for example, is currently launching a version of its Renegade with a 1.0 litre petrol engine producing 120 horse power and a 1.3 petrol engine producing 180 horse power. The petrol Outback has 175 horse power on tap, so there is quite a disparity between what it is possible and what is being offered. Add that the inevitable increase in fuel economy and the option of the petrol Outback over the diesel becomes less attractive. There is also a price premium - the diesel costs €41,000 but the petrol costs between €46,995 and €49,995, depending on which equipment level you choose.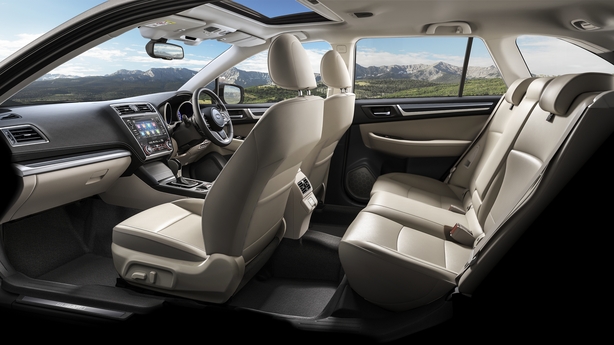 The Outback's interior.
The latest Outback has a redesigned front grille, bumper, door mirrors and headlights.
There is also a new front view camera located on the front grille, which can monitor a 180°-degree area in front of the car that would normally be in the driver's blind spot. These images, as well as visible guidelines, are then displayed on the touchscreen.
There is also a side view camera mounted at the base of the passenger door mirror, allowing drivers to navigate through narrow spaces with greater eas
Lane Keep Assist that corrects a veering steering wheel back into a lane is standard, as are a number of other safety features.
It's well equipped and should be everything a Subaru should be, but as an alternative to the already excellent diesel options from Subaru it's likely to be a minority choice.