Jaguar claims its new I-Pace - its first fully electric car - will outperform a Tesla Model X and have a longer battery range as well. It has its Irish launch today.
It's the car with which Jaguar is hoping to see off Tesla, at least when it comes to performance and range for electric cars at this level. Thus far, Tesla has had a strong solo run at this end of the market and a number of manufacturers have been anxious to prevent it making further inroads.
Jaguar says the new car will charge from 0-80% in just 40 minutes on a fast charger, with 15-minutes charge giving 100km range. Like Tesla, wireless over-the-air updates keep the software up to date. There is an eight year battery warranty and service intervals are every two years, or every 32,000 kilometres
A recent track test by Jaguar suggested the British car was fastest off the blocks. The official 0-60 100 KPH time for the I-Pace is 4.5 seconds, with a 479 kilometre range on the new real world testing cycle. Tesla times for the Model X are 4.9 seconds to get to the same speed, with a range of 389 kilometres.
The price is going to be predictably punchy in Ireland, even allowing for the normal electric vehicle grants.
The S Model will start at €91,585. It will qualify for €7,500 in Grants - €5,000 SEAI and €2,500 Revenue and come then come in at €84,085.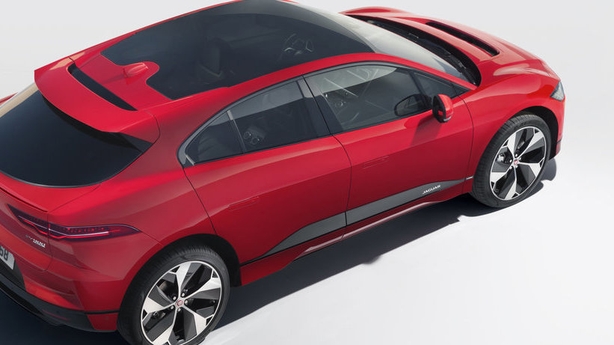 The I-Pace has been described as more a crossover than an SUV. Its interior dimensions have been well commented on, with 656 litres of boot space and increasing to 1,453 litres with the rear seats lowered. .
The battery is located under the floor and equally distant from the motors on both axles, thus ensuring a good weight balance.
Jaguar says a "new EV navigation system assesses the topography of the route to destination and insights from previous journeys, including driving style, to calculate personalised range and charging status with exceptional accuracy for maximum driver confidence.
The advanced system uses 'Smart Settings' technology – driven by artificial intelligence algorithms – to identify individual driver preferences, and then tailors the I-PACE's driving and interior settings accordingly.
There will also be an Amazon Alexa Skill introduced later. "This means owners will be able to ask an Alexa enabled device for information held in the Jaguar InControl Remote app. For example: Is my car locked? What is the charging level? Do I have enough range to get to work?".
The car is being launched at an event in Dublin tonight.