They are light years ahead of the rest of Europe in terms of the use of electric cars. Our Motoring Editor, Donal Byrne, has been hearing how the Norwegians have almost completely reversed out of diesel and petrol.
Its population is about a million or so people more than ours. but the difference between Ireland and Norway when it comes to electric motoring could not be greater. Just ten years ago Norway's car sales were split 75 per cent diesel and 23 per cent petrol - quite typical for a European country. Today that diesel figure has completely flipped in favour of electric. Diesel now accounts for only 18 per cent of sales and petrol remains static at 23 per cent.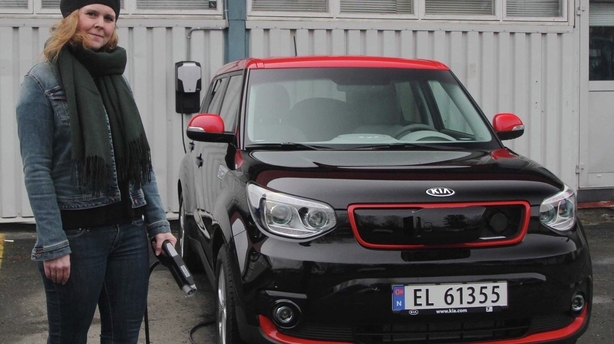 Norwegian electric car owners have strong incentives to abandon diesel and petrol.
There are good reasons to explain the shift. Not only are Norwegians increasingly environmentally conscious but they are increasingly well incentivised. They pay no tax on electric cars - purchase tax or road tax - they don't pay tolls for them, they get free parking for them, companies get a 60 per cent rebate on the price of the cars and, very importantly for Norwegians, people can take the cars on all ferries for free !
Erik Lorentzen of the Norwegian Electric Vehicle Association says there are now over 200,000 battery and plug-in hybrid cars in the country and that by 2025 all cars and light commercial vehicles "will be zero emissions" vehicles.
"The figures are encouraging. Some 58 per cent of people say they are very satisfied with their e-cars, only one per cent are not satisfied and 91 per cent say they are positively Only four per cent say they would go back to petrol or diesel", he says.
Of course, it does help when you have a fast-charging point every 50 kilometres across 7,500 kilometres of roads. Yet there are problems. Lorentezen says they need more infrastructure. "We have one location 25 kilometres from Olso where there are 28 charging points yet there are queues. That is the kind of demand we have now".
"There are more and more charging points being put in to cities and apartment complexes and it has become the normal option to buy an electric car".
In fact, getting hold of an electric car in Norway is now a problem. Volkswagen's e-Golf is the most popular car on the market but there is now a 12-months waiting list for the car. "This is a bottleneck and market demand is ever-growing", says Christina Bu, Secretary General of the Norwegian EV Association.