It will be some time before we see it in Ireland - around the first half of next year - but Toyota has revealed its new RAV 4. In keeping with Toyota's new direction there won't be a diesel option available.
The new RAV 4 has just made its debut at the New York international motor show - the car is Toyota's best seller in the United States, hence the launch location. Cleaner and more modern lines add a new profile to the car, although it is very much in keeping with Toyota's recent design trend that seeks to avoid blandness and introduce a degree of emotional appeal.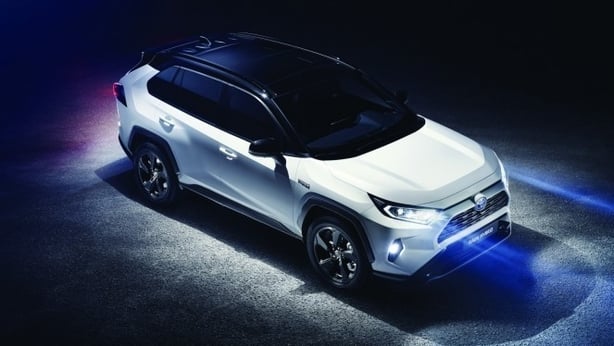 The lengthening of the car creates more interior space.
The car has had its length extended by the introduction of shorter overhangs (where the wheels meet the body) at the front and rear. This adds 30 mm to the wheelbase and creates more interior space. The width has also been extended by some 10 mm, which will add to lateral room inside the car. The boot space has increased too and there's a double load floor.
The main engine on the car shown in New York is a 2.5 litre hybrid and there won't be any diesel any more, as the company phases it out. The engine is described as quieter and with more power and responsiveness, while maintaining fuel and emissions efficiency. It's not clear whether this will be the same engine launched in Europe but it probably will be. A 2.0 litre petrol version is also planned.
The interior of the new RAV4.
The big demand in the States is for full-time four wheel drive and a new second electric motor is being used to drive the rear wheels and increase in pulling power. This will also avoid