It's nearly 50 years since Steve McQueen drove the Ford Mustang in one of the most celebrated movie car chases of all time. Now the Mustang is back in a new iteration and with even more power.
At a time when big gas guzzlers are truly on the wane, Mustang with the biggest engine is a pretty bold - and for some an even unacceptable - statement. Just look at the figures - a 5.0 litre petrol engine producing 450 horse power, a 0 to 100 KPH time of 4.3 seconds, 270 grammes of CO2 per kilometre and a claimed consumption of 12.1 litres of petrol per 100 kilometres. That's a pretty awful figure. There is also a 2.3 engine available but that still pushes out 199 grammes of CO2 per killometre and has a claimed consumption figure of 9 litres per 100 kilometre. However, we will have to wait until the new world standard vehicle test procedure, which fully replaces the current European test in September to find out what the true real-world figures are.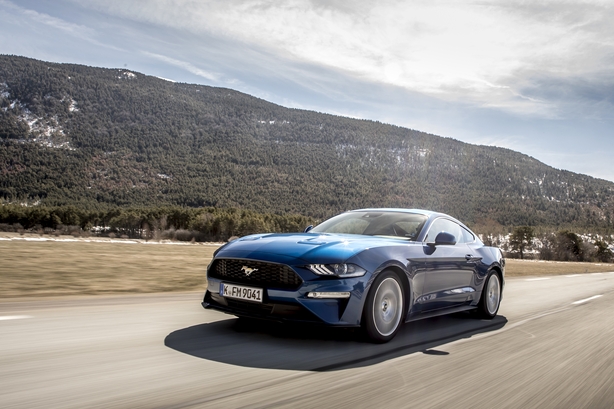 The Mustang's lines are now sleeker.
Yet there are 33,000 Mustang owners in Europe, all obviously happy to drive a car defies trends and is an icon of a rather golden age of American automobile development. The new car still looks heavy and Ford has been addressing a number of issues - the lines are sleeker, there are now LED lights, the characteristic loud growl of the engine has been quietened so the neighbours don't have their sleep interupted and there are now more advanced safety features. The reason for this is that the Mustang did not do well in the Euro NCAP crash testing programme, so adaptive cruise control, lane departure warning and distance alert have all now been added to try to bring the car up to a better safety standard.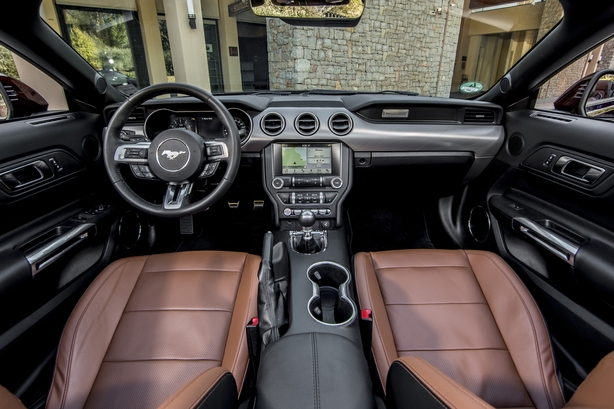 The cabin combines retro switchgear with digital displays.
The cabin has been given quite a makeover but it seems the engineers have been keen to preserve the retro switchgear and blend it with digital displays. There's a 12" LCD key information display cluster that gives the car's driving information in a choice of seven colours. The car also has Ford's Sync communications and entertainment system on a 8" touch screen.
All in all, the Mustang is a big package and that is reflected in its price. Prices for Ireland have not been finalised but even the 2.3 version is expected to cost about €55,000. That's a lot of money to make a statement and a great deal to spend on a car that is both thirsty and big on emissions.
It's ironic that the Mustang does'nt seem to have changed all that much since Steve Mc Queen, as Lieut. Frank Bullit, charged onto the screen all those years ago.