Volkswagen's beefiest SUV is due here later this year with a choice of two diesel engines and the biggest range of technologies of any VW up to now.
The Touareg comes in at the premium end of VW's SUV line-up and is one of the few that is actually designed for serious off-road and towing capabilities. It has just been launched on the Chinese market - an all-important one for vehicles like this - and will go on sale in Ireland in time for July registrations, although prices have not yet been confirmed. Neither has the list of standard equipment being featured.
It will have two diesel engines for the European market - one with a 231 horse power output and one with a 286 horse power output. A plug-in hybrid drive version is being prepared for the Chinese market but a launch date for this car in Europe is "still open".
VW says the car will have the "largest range of assistance, handling and comfort systems" ever to be incorporated into a Volkswagen. Among them is a night vision system that detects people and animals using a thermal imaging camera. Other features are lane assist, automatic safety braking at up to 60 KPH, active all-wheel steering, high-tech LED headlights and electromechnically controlled roll bars.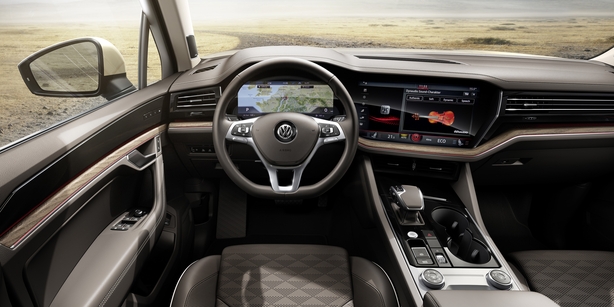 The interior features a 12" screen.
The main display is a 12" screen that forms the centre of a fully digitalised cockpit that significantly reduces reliance on switches and buttons. It may be a first on this car but you can expect to see it on pretty much every new VW - in some shape or form - in the next few years. This digitalisation allows the driver and passengers to adapt the car to their requirements (seat settings, music favourites etc.)
The new car is slightly wider and longer than the current model and the car is 106 KG lighter as a result of the use of materials such as aluminium and high-tech steel. The boot space has also been improved upon, with an overall new capacity of 810 litres.