One of the Irish car market's biggest brands, Nissan, is predicting a very significant fall-off in diesel sales. The company's 2018 pre-sales already indicate that the diesel share has fallen from 51 per cent this year to 37 per cent next year.
Nissan Ireland says the main reasons why people are "falling out of love with diesel" are the "Dieselgate" affair in Germany, the prospect of diesel bans in several cities around Europe and the world and governments' responses to clean air challenges, the fact that the next generation of clean diesels will add €2,000 to the cost of a car (Nissan says this is not a viable choice for customers buying cars valued at up to €35,000) and the fact that manufacturers are reassessing their research and development budgets and are now no longer investing in diesel the way they did until recently.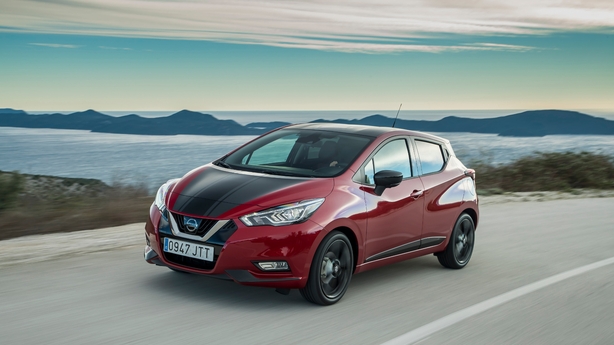 The majority of small cars sold in Ireland are now petrol rather than diesel.
James Mc Carthy, Nissan Ireland's managing director, also says consumer choice is driven by value and customers are asking themselves what represents the best value for money ? They are also "thinking of their trade-in values in three years time" and these factors are determining their choice of petrol or diesel. He also points out that diesel cars have a higher initial price that was traditionally justified by the lower running costs and strong second-hand values.
However, lower diesel second-hand values are now increasing the total ownership cost for these cars. Furthermore, motorists are now beginning to ask whether the mileage they do justifies the extra cost of a diesel car and whether there will be a possible loss on re-sale ?
"Where the consumer has a choice, petrol is winning out", he says.
He points out that diesel sales were down 30 per cent in the UK in November, compared to the same month last year, that in Germany they have fallen from 45 per cent to 34 per cent in the same month and in France they have fallen from 53 per cent to 47 per cent year on year.
Mr Mc Carthy predicts that in 2018 diesel sales will fall to 50 per cent (they accounted for 65 per cent this year) and petrol will increase to 44 per cent of all sales (31 per cent this year) and that alternative fuel options will increase by two per cent - form 4 per cent this year to six per cent.
However, he also predicts that by 2021 diesel will account for only 25 per cent of sales, petrol for 55 per cent and electric and others, such as hybrid, will increase to 30 per cent.