Volkswagen will have a much-expanded electric range by 2020, the company has announced. It says that by 2021 electric networks will be much more advanced and the cost of electric cars will be reduced considerably.
VW's design boss, Klaus Bischoff, told Auto Express magazine that there will be two variants of SUVs in showrooms by 2020. One will be a conventional SUV, while a production version of the I.D. crozz coupe-SUV concept will also feature.
The first SUV follows on from the smaller T-Roc and similarly-sized Tiguan in terms of looks.
"The two SUVs will be offered with both rear-wheel drive - like the hatchback - and a new twin motor set-up with a larger motor mounted on the rear axle and a smaller one powering the front wheels. With a total output for the latter in excess of 300bhp likely, the extra energy required could mean it has a slightly shorter range than its hatchback cousin, which will be capable of about 300 miles to a charge", Auto Express reports.
VW boss Herbert Diess said the firm is considering "more emotional" electric models for early in the next decade, including a sports coupe that could serve as a replacement for the Scirocco. An all-electric Beetle is also being proposed.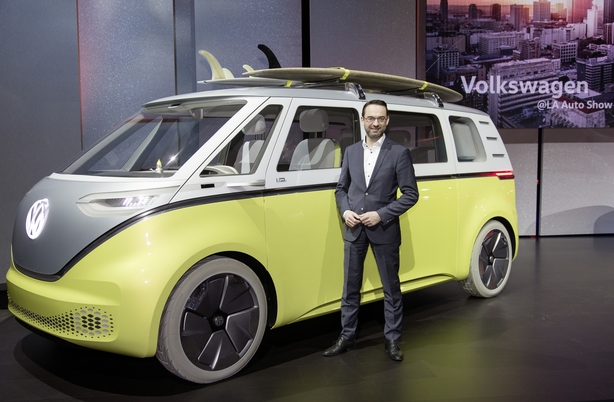 The VW electric microbus concept takes up where the original camper van left off.
"We believe electric mobility is the future," VW CEO, Heinrich Woebcken told CNBC.
"Everybody was begging us, 'When do you bring back the microbus?'" Woebcken said. "And now it's coming."
CNBC notes that Tesla has a wide head start in the electric car market, but Woebcken said the timing plays to Volkswagen's advantage. Electrical infrastructure, he said, will be much more developed by 2021, and electric-vehicle costs are likely to come down considerably by then.
"We believe we need to bring electric mobility for millions, not just for millionaires," he said.