We are increasingly handing over the responsibilities of driving to our cars. We are trusting technology to give us the information needed to start and finish a journey without incident. But what's it like to experience the new technology ?
Recently we got to experience a variety of driver aids, which demonstrated the ability of technology to reduce the number of everyday accidents. Autonomous driving, braking and the glue that holds them all together - high tech tyres are slowly but surely reducing accidents on our roads. You can have all the technology in the world telling the car what to do, but if it can't grip or steer properly in dry and wet conditions, the impact of all that technology is reduced.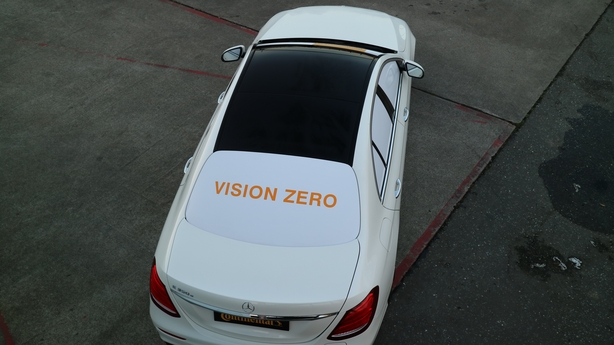 It's not easy driving a car when you can't see out the windscreen or windows
An autonomous driving demonstration was given in a vehicle which had its windows completely blacked out. The only method of piloting the vehicle safely was by using the car's exterior cameras. It's a very disorientating experience leaving you feeling slightly seasick as you rely completely on the information provided by the internal screens. We were relying solely on camera technology to avoid obstacles.
A course was marked using traffic cones and the driver instructed to manoeuvre safely around the outlined course. The only points of reference were a screen on the dashboard and audio warnings. Pressing the accelerator, we moved off at 5km/h. Slowly turning the wheel left and right to full lock as we successfully navigated the course. The short course was designed to replicate the approach to a conventional parking space. Settling into the experience, I began to trust the warning signals and began to feel confident that I wasn't going to hit anything.
This is what the future is about when it comes to trusting technology and when it comes to determining how a car behaves in all situations and speeds.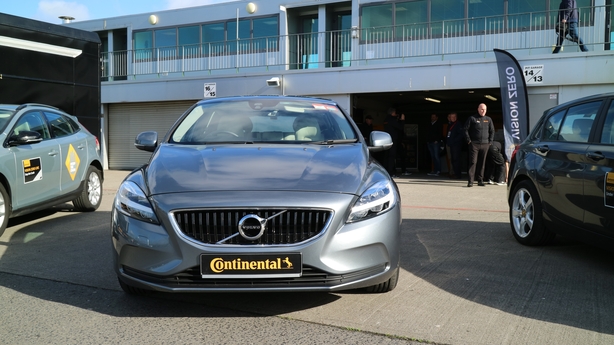 The car that brakes for you.
Next up we tested autonomous braking at low speed. We were presented with a real world example of how autonomous braking could save thousands of people from being needlessly involved in low speed accidents.
Sitting into a Volvo cockpit, we set off at low speed towards an imaginary parked car. We were instructed not to brake as we neared an object in the road. The vehicle's safety systems kicked in and at the last minute it applied the brakes. There was a bit of a jolt. But no one was hurt and the object remained in it's original shape, as did the Volvo. The braking is not exactly smooth, but it worked well - no collision, no problem.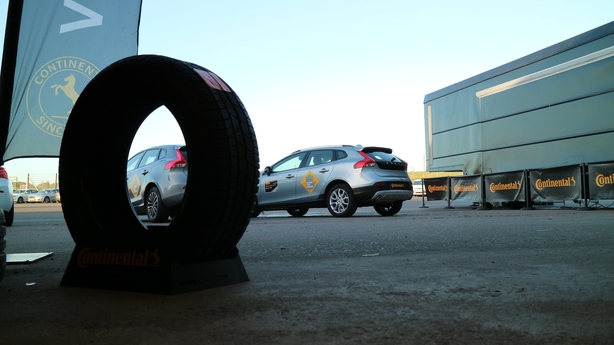 Another demonstration in Continental tyre technology showed us how a tyre (which had been punctured over fifty times) was fully capable of finishing a course that included braking and swerving on a wet track. The vehicle was also competent carrying on through corners at speed.
Unlike run-flat tyres, the technology doesn't require a stop into the local garage for a new tyre. It will continue to live out its service until the thread depth has reached the suggested guideline limit of 3.0 mm.
It was an eye-opening day as we experienced relying on car tech to assist in guiding a driver around 'blindly'. And also how safety technology can take over through autonomous braking.
We learned that autonomous braking has some way to go before becoming the norm. It should not be expected to take over from the driver, but merely assist in cases of inattention.
We need your consent to load this Vimeo contentWe use Vimeo to manage extra content that can set cookies on your device and collect data about your activity. Please review their details and accept them to load the content.Manage Preferences