Mercedes' ultra luxury arm, Maybach, has gone back to the past to embrace the future. The Vision 6 Cabriolet embraces both retro styling and all-electric power. We have images and video to let you dream on.

It's still a concept but Mercedes-Maybach has been testing the water to see how its latest luxury creation might go down with the kind of customers who can afford a car like the Vision 6 cabriolet. Given that the cheapest Maybach runs at about €280,000, the Vision 6 - if it goes into production, and it probably will - would likely cost the best part of €1,000,000.
It's hard to know where to start with its list of features and styling cues. A bit like the custom-built Rolls convertible we featured some time ago, the Vision 6 is tapered towards the rear to mimic the design of a classic yacht.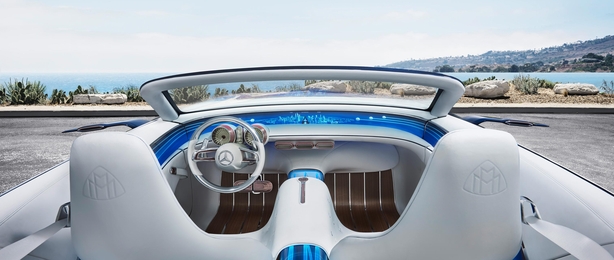 There is no skimping here. The massive 24" wheels have rose-gold trim and the roof has also been threaded with the same precious material. Every detail, it seems, has been hand finished. Even the buttons in the leather upholstery are individually backlit. Mercedes says the car "pays homage to the glorious haute couture of hand-finished exclusive cabriolets.
There is nothing retro about the technology 'though. Thanks to its four compact permanent magnet synchronous electric motors, it features all-wheel drive. The flat battery sits in the underbody. The drive system has an output of 750 horsepower.

This not only allows performance characteristics typical of a sports car (acceleration from 0–100 km/h in under four seconds, top speed electronically governed at 250 km/h) but also a range of over 500 kilometres .
The quick-charge function is also visionary: as a result of DC charging based on the CCS standard, the system allows a charging capacity of up to 350 kW. In just five minutes enough power can be charged to achieve an additional range of around 100 kilometres.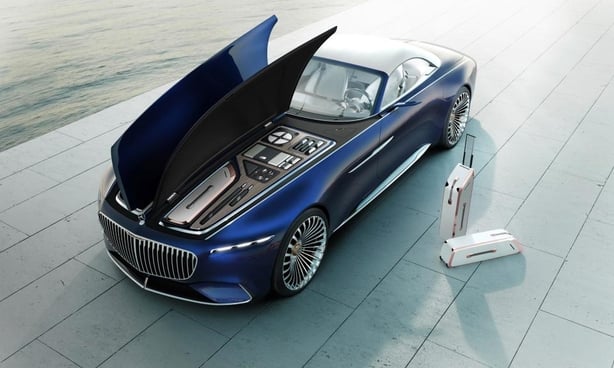 What's under the bonnet. Note the matching luggage.
If you'd like to enjoy the motoring experience that lies ahead for the likes of Roman Abramovich, see it here.