We've had quite a few small car launches in recent months, all of them competing for a relatively small market and most of them competing with each other on the basis of more efficient engines and better levels of standard equipment. Now Suzuki, most of whose cars are small city runabouts, has launched the latest version of the Swift, which is one small car that has stood the test of time. And deservedly so. For one thing, it has aged well compared with others in the same class and owners report very good reliability - Suzuki came in ahead of Skoda and Kia in last year's UK Driver Power survey.
The new version looks like it will stand the test of time too. It has a chunky and solid look to it with no wasted lines to date it too quickly. Its entry-level version starts at €14,495, which puts it €955 behind Toyota's new Yaris - a car that has gone on sale with an impressive list of safety sense technology. And that may be where Suzuki's problem is going to be with pushing the new Swift and achieving the conquest sales it wants.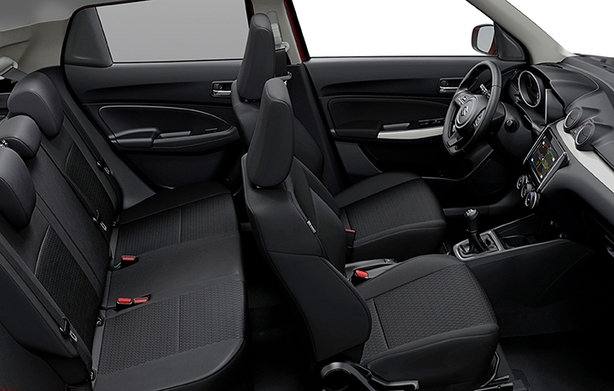 The interior finish of the Swift is not up to the standard of competitors'
For the car is not as well finished as a Toyota Yaris and Toyota and others have a much stronger profile. Driving the new Swift recently, I was struck by the relatively drab interior finish and very struck by the fact that the glove box was small and flimsy. The plastic moulding inside the car is not lifted in any way by either texture or colour - something that is easily and cheaply done by others. In fairness though, Suzuki has gotten rid of the matchstick-like extended buttons for changing information settings.
The boot has been an issue with previous Swift models and it still is. Suzuki says the car has had an increase of 25 per cent in holding space without letting the rear seats forward but it is still small. Even allowing for the fact that this is a city runabout, some people require more than the Swift boot offers. The Ford Fiesta boot certainly offers more space and so do others.
There are two engine choices - a 1.0 litre turbo-charged unit and a 1.2. Both are petrol and no diesel option is available, as is now common in cars of this size. Both are fine for the job of city driving and, while they pull well at lower engines revs., they are not the quietest. However, they are easy to live with and the 1.0 litre three-cylinder is very good in traffic and competent on the open road. Initial fuel returns, however, show that the 1.0 litre does not compete with the new 1.0 litre unit now being used across the Volkswagen range. The VW unit can return about 5.4 litres per 100 kilometres whereas the 1.0 litre Suzuki engine - even with a mild hybrid assist - returned an average of 6 litres per 100 km. However, we will withhold judgement until a longer test run has been completed.
The Swift does come with some good equipment including forward pedestrian and object detection, lane departure warning and automatically adjusting headlight beams. It also has Bluetooth, 15 inch wheels, LED daytime lights and a leather steering wheel.
You have to move up a grade (€16,495) to get extras such as the rear camera and another grade (€18,995) to get the benefit of the mild hybrid system with a small battery. Suzuki says only the VItara SUV now has a diesel engine - another sign of how the times are changing.
The Swift is unlikely to disappoint those who are already fans and the car certainly has much to offer in terms of its looks. As a car engineered to be very lightweight, it should be at at its best around town. We'll let you know.