Not all that long ago it would have been highly unusual to see Skoda mentioned in the same sentence as some of the biggest names in the motor industry, However, with the arrival of the new Skoda Kodiaq, the Czech manufacturer now seems to have completed the circle of its new incarnation as a truly serious challenger for those big names.
The Kodiaq (forget the fact that it is named after an Alaksan bear) comes as it appears the entire car market is moving towards SUV's. They are not necessarily big, gas-guzzling machines people are looking for. Some of them, like the Hyundai Santa Fe or the Nissan X-Trail, are quite modest in size and frugal to boot. What people are looking for is something different that has height and road presence and gets them away from often dull saloons and hatchbacks. And they will be getting both with the Kodiaq.
More importantly, they will be getting what they want at a keener price overall, which is where Skoda has traditionally come into its own. Price and standard equipment have been the big selling points, plus practicality. Ask any taxi driver which boot they would like attached to their car and the answer is likely to be that of a Skoda Superb - a car that also featured the innovation of being a saloon with a hatchback function.
However, although the price of the Kodiaq - €28,795 for the entry level 1.4 petrol - does pitch it lower than competitors, Skoda prices are no longer quite the bargain basement offers they once were. In fact, the entry diesel with a 2.0 litre engine already well proven in the Volkswagen family costs €35,495. It has 150 horse power on tap and an automatic gearbox - even allowing for the extra capacity and the automatic gearbox, it would seem to me that the X-Trail 1.6 diesel at €29,995 would be a more appealing option for many.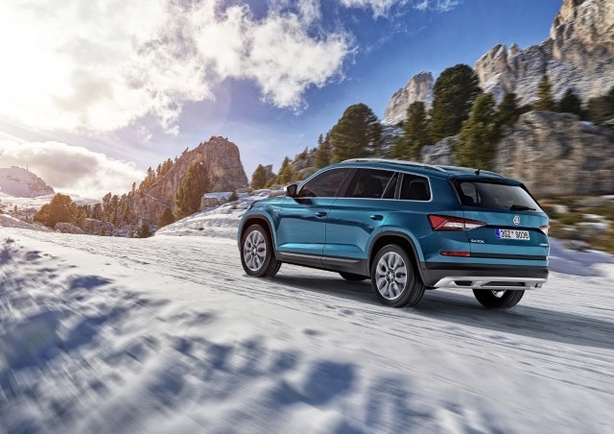 Good value, a proven reliability record, an SUV design and seven seats tick most, if not all, the boxes for some people.
Below the 2.0 litre diesel option. sit four petrol engines that are both turbo-charged and have direct injection, so a diesel option is pitched higher than one would have expected. One very significant advantage the Kodiaq has 'though is the option of seven seats and this is going to be a key attraction for many potential buyers, coupled with the fact that the extra seats come in at only €1,000 Euro extra.
Good value, a proven reliability record, an SUV design and seven seats tick most, if not all, the boxes for some people.
The Kodiaq's styling is rugged but it is not a head-turner, as a new Land Rover might be. It looks like it's built for the off-road job and that's all that matters for most people, who will never have it off-road to begin with. It does also have clean lines and a nicely sculpted finish. Fashionable, it is'nt but then Vollkswagen is'nt given to letting Skoda steal the limelight from its own star offerings.
So, what's the Kodiaq like behind the wheel ? In short, it's very, very good. The interior is familiar from other Skoda offerings - good, strong seats, no-nonsense instruments and switch gear and practical in every respect. One would have liked to see something a bit more innovative 'though to give the Kodiaq a distinct quality finish. I personally think the investment would have been well worthwhile and made the Kodiaq a real stand-out from the others.
You are high off the ground, with great visibility and oodles of head and legroom. Skoda seem to have managed to create a feeling of space everywhere - the boot is huge and with seats folded will take anything you can throw at it. Bear in mind 'though that with the last row of extras seats lifted up, the space allowed by them is limited. They are, however, ideal for those trips when childrens' friends unexpectedly appear, as they tend to do.
I got a chance to borrow a Kodiaq for a skiing trip through the Ore Mountains between the Czech Republic and Germany - a place of high winds and swirling snow in February. The four wheel drive function that detects and reacts to slippage made the journey rather effortless and was reassuring when darkness fell. The one thing that you can say about the Kodiaq in such conditions is that it was far more surefooted and assured than I think other SUV's would have been and the kick-in of the system on slippage is probably as much as most people need.
Allowing for use of four wheel drive the consumption came in at about 8 litre per 100 km but a two wheel drive version should get it more to the VW 2.0 litre engine average of about 6 litres per 100 on longer journeys. We will have to wait to see what the 1.4 litre petrol averages, given the bulk of the Kodiaq.
Towing capacity, incidentally, is 2.5 tonnes.
Standard equipment on the Kodiaq includes 17" alloys, cruise control, Bluetooth, automatic air conditioning and smart phone integration for the infotainment screen. You have to move up to other more expensive levels for extras such as an 8" screen or a rear-view camera.
This is a car that offers a lot for a good price and one of the few SUV's capable of doing as much in the country as it does in the city and that, in turn, gives it a further advantage over some of the competition. Truly exciting it might not be but it's very practical. In fact, having driven SUV's with more bells and whistles than ability, it's my kind of car.