There's no doubt the latest Civic is more interesting and sporty looking than the car it replaces but it does represent a bit of a challenge for some, who might think the Civic is a car that should be reliable and sedate in styling and driving characteristics. The new car may just be a step too far, with an engine note that suggest more performance and an overall styling theme that suggests the same. This particularly noticeable at the front and rear.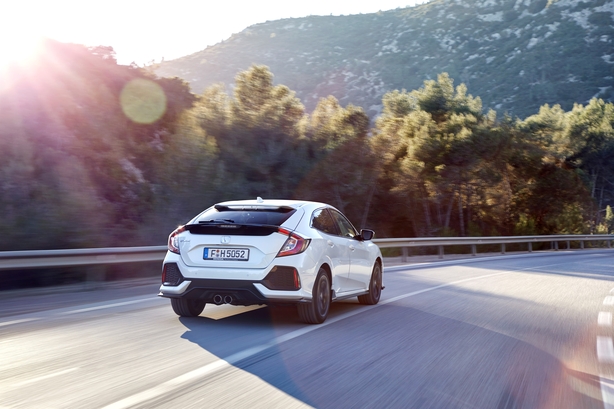 There are two versions of the new Civic on sale. Both are petrol and I wondered if Honda was the latest manufacturer to be favouring a return to petrol for its entry levels models. Apparently not. There has been delay in sourcing diesel engines and the diesel option won't be available until later in the year.
The entry level 1.0 petrol is a turbo with 127 horse power on tap. It costs €23.750, which might seem punchy for an entry level in the Ford Focus/VW Golf segment, but Honda does deserve credit for equipping the car with a really high end list of standard safety features. The starting price includes a braking system to mitigate collisions, a forward collision warning alert, a lane departure warning system (if you are drifting from one lane to another), the same system for road departure, intelligent speed limiter that recognises speed signs, adaptive cruise control and front and rear parking sensors. The standard screen is rather small five inch one. There are three other grades that offer more but you also pay more.
This is quite a standard list 'though. We have seen in recent times how car companies and bringing high end technology from much bigger cars to smaller ones and Honda has certainly gone much further than others have. It's a welcome move and one that will certainly put pressure on other manufacturers to do the same.
The second car for the moment is the 1.5 petrol, which has 180 horse power, and costs €28,550.
We will have a full review of the new Civic in the coming weeks.