You can't just road test a Bentley.
It's a brand that has a sense of occasion about it and the Flying Spur V8 Bentley makes its passengers feel like they're arriving at a red carpet event with every journey. You not only get head turns from passers-by but sometimes you stop people in their tracks too.
The Flying Spur is an elegant motor to be a passenger in but is also driver focused enough to have a go yourself. You'll pay handsomely for one, so why not enjoy it from the front as well as the back. It's the cake you can't eat…or can you?
In order to test the Bentley's sense of occasion, an event matching that of rolling out the red carpet was needed. A Wedding. The most special of days and one where Bride and Groom are the stars.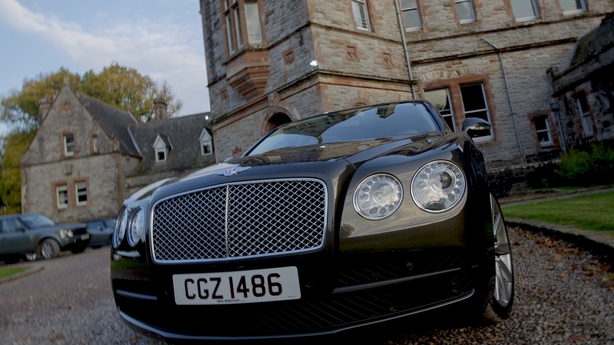 The venue is Castle Leslie, home of 'Rock n' Roll' owner Sir Jack Leslie who after 99 years of bringing new meaning to the word socialising (he famously held his 85th birthday on the island of Ibiza), passed away in 2016. The 1,000-acre Estate is adjacent to the village of Glaslough, Co Monaghan. It has welcomed stars and writers such as Paul McCartney, Mick Jagger and WB Yeats. No better venue to match the fun yet highly regarded standards of the Bentley brand.
Bentley was founded in London in 1919 by W.O Bentley, he wanted "to build a fast car, a good car, the best in its class."
Nearly a century later the Bentley name continues to represent luxurious high-powered cars. Every car that leaves the factory has been hand crafted by experts. For example, the leather used to trim and upholster each Bentley is passed through a rigorous grading procedure, carried out by both human and electronic eyes, both of which have to learn what parts of the hide can be used and where. Workers study at the Bentley Training School before becoming production line trainees.
This 2016 Bentley Flying Spur V8 is made up of not only quality multi-function leather seats but updates include an increase in engine power to 521 hp, sharpened throttle response, optional unique Mulliner Driving Specification 21-inch black and bright machined six-spoke alloys, a three-spoke sports steering wheel, a knurled gear lever and gear shift paddles, gorgeous V8 S headrest stitching. The list goes on but is not endless.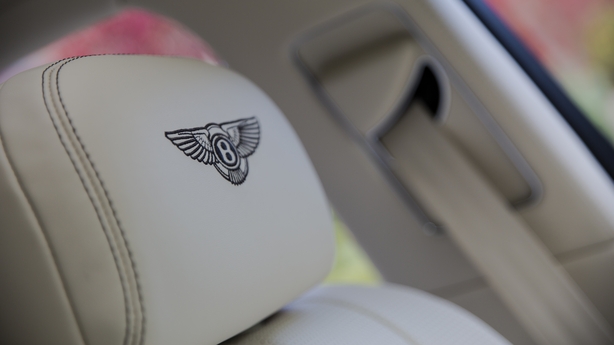 For example, the first thing someone like myself does is look for the USB port to charge and connect a phone. While connecting via Bluetooth is seamless, charging your phone is still done using an adapter with the 12v plug situated under the arm rest.
The Flying Spur isn't breaking any moulds with its in-car technology.
When using the Sat Nav, it had a nasty habit of re-setting once the engine was turned off. I'm sure there's probably another setting hidden in the menu to stop from interrupting the journey after every pit stop but who has the time to play around with the touch screen menu's when you've got a wedding to get to and a Flying Spur delivering the goods.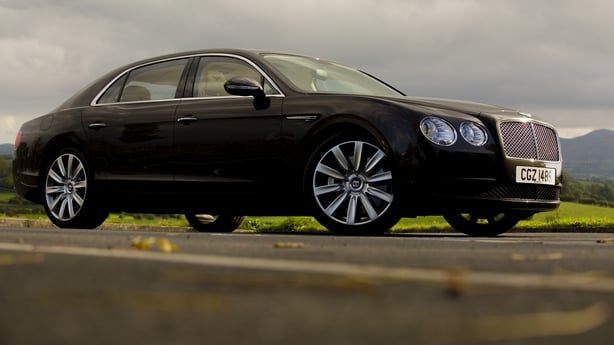 There is a cool little controller (Touch Screen Remote) for the back seat passengers which they can use to control radio, air-con settings and see vehicle data such as speed and trip information. This is more of a cool gadget as opposed to tech necessity. It doesn't offer full access to the settings menu. Probably a good thing, as the driver should always be in full control of the vehicle, at all times.
The 'smoothed over square-ish' design on the outside features an upright grille, large jewel LED headlamps (looking better here than on the Bentayga), sharp fender wing vents, a wide body and the Flying Spur's familiar design lines which infuse the classic Bentley image and hint at the 4.0 V8 muscle underneath.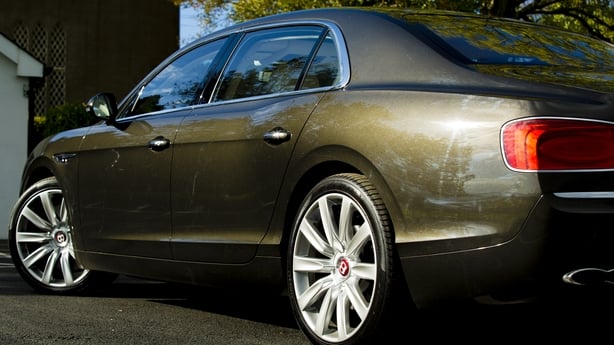 The Bentley delivers all that a special occasion requires and then some. The Flying Spur has incredible presence (it would want to at that price).
It's more characterful than a 7 series or an S class, you feel special in it. Where an Audi A8 or BMW 7 Series are full to the brim with technology, they've paired it down in the Bentley. There's no confusing MMI to wreak havoc when looking for something as simple as changing the radio. It's simple and easy to get used to (apart from the Sat Nav needing to be re-planned every time you cut the engine). You can feel very conscious that what you're driving is quite possibly considered 'attention seeking'.
In Ireland that isn't a good thing, in America it's expected when one has wealth. Interesting side note, Facebook's Mark Zuckerbucks drives a homely Golf GTI. It's a shame that nice things aren't always appreciated for their quality and effort and the time it has taken to create them. But on we motor, for a limited time in all the Luxury that the Flying Spur has to offer.
The V8 offers a similar level of performance to that of the W12 but with the added benefit of higher fuel efficiency - with an exhaust growl you want to listen to, repeatedly. The 4.0-liter twin-turbo V8 model produces just over 500 horsepower and 487 pound-feet of torque. It's capable of accelerating to 100kph in 4.9 seconds and hitting a top speed of 295kph.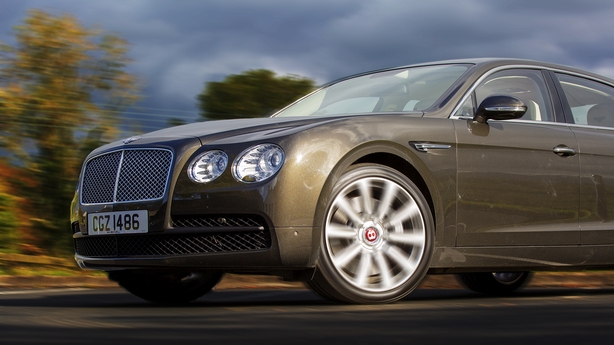 Power is sent to all four wheels through an eight-speed automatic transmission, and it rides on air suspension. The suspension has four modes: Comfort at one end, Sport at the other, with two middle settings accessed via a switch and then touch screen. While basic and simple to operate, you need to take your eyes off the road and may need to prod the screen repeatedly before actually hitting the required section.
An issue with touch screens across the automotive land. Design wise, there's a move to reduce buttons on the dash but it needs to be married (yeah I went there) to a reduction in touchscreen presses. Ideally, there'd be quick button access to radio, climate and other primary functions before secondary options are offered via a screen.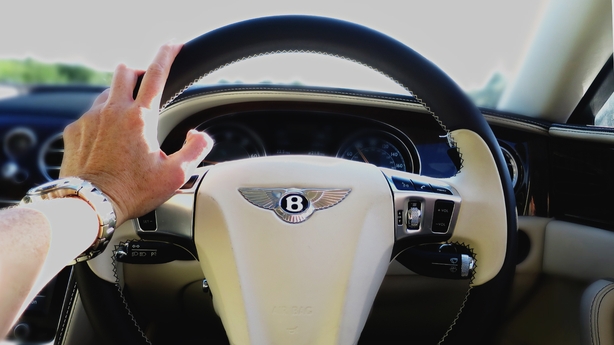 It's a simple car to run around town in, easy to manoeuvre considering it's size. You don't notice how big it is until you have to deal with other traffic. As longs as there aren't any badly parked cars, you'll easily waft down main street. The minute you meet oncoming traffic on small windy roads, you suddenly realise just how large this car is. Breathing in and hoping for the best is not advised. Neither are some of the rural routes which the sat nav insisted we take.
It would be a great addition if Sat Navs could be told the size of the vehicle they are guiding so that it could advise the best route. This is where common sense needed to take over and manually pilot the Flying Spur back to it's home in Belfast, safely using main roads and avoiding the smaller, rutted country roads it tried to guide me down. I just kept hearing "you break it, you bought it" over and over. Therein forcing me to think for myself and take the 'main road only' routes. Not that a car of this calibre can't be fun to drive on a B road, but you'd need to close the road to other traffic, pedestrians, cyclists, errant wombles just to be sure there wouldn't be any close calls.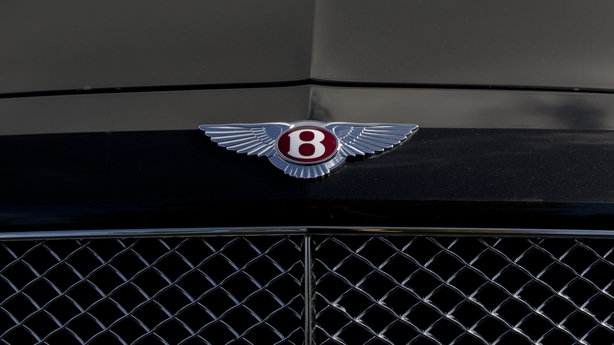 And so we got the Bride to the Church on time, despite the numerous requests to just keep going (in no part was this to the Groom's detriment). The Bentley turning anything from the menial milk-from-the-shops trip to Bride-to-the-church drop-off an occasion to be savoured. Star for a day she was (the Bride too!) and how everyone appreciated that this was a special car, to be admired, in a class above the S's and the A's. But you pay handsomely for the privilege.
The Spur feels, as its €149,894.59 (not including import tax) price suggests it should, a cut above top-end luxury cars from more mainstream manufacturers. The Flying Spur combines the opulence, refinement and fine craftsmanship expected of cars in this league, with an almost infinite range of bespoke finishes to suit the deepest pockets. It's a fine example of what luxury can be.