After party season, the joys of Christmas and the festivities of New Year's Eve, going back to work in January can be tricky – even for the most positive among us.
The weather is grey and wet, it can seem like there's nothing to look forward to – and many of us would much prefer to be on the sofa watching festive movies, rather than getting back to the grind.
If you're finding the return to work tough, there are a few things you can do to boost your mood and make the transition easier…
Establish a routine
We need your consent to load this Instagram contentWe use Instagram to manage extra content that can set cookies on your device and collect data about your activity. Please review their details and accept them to load the content.Manage Preferences
For many, the period between Christmas and New Year's is a bit of a black hole – you don't really know what time it is, what you're doing, or why you're eating Celebrations for breakfast.
After such a delightfully sluggish period, going back to work can be a bit of a shock to the system – which is why Lesley Cooper, wellbeing consultant and founder of WorkingWell, recommends establishing a solid routine from the get-go.
"When you are already lacking energy, you will struggle with emotional regulation in the face of pressure. One of the best ways to embed this into your day-to-day life is establishing routines which support healthy and sustainable performance," she advises.
She recommends breaking up the day with exercise, as well as: "Taking regular breaks – at least 10 minutes every 90-120 minutes – scheduling social time you can look forward to after work, at least 15 minutes wind-down time at the end of the day, and any other activities which serve to create some distance between the pressures of work and everything else."
Set the mood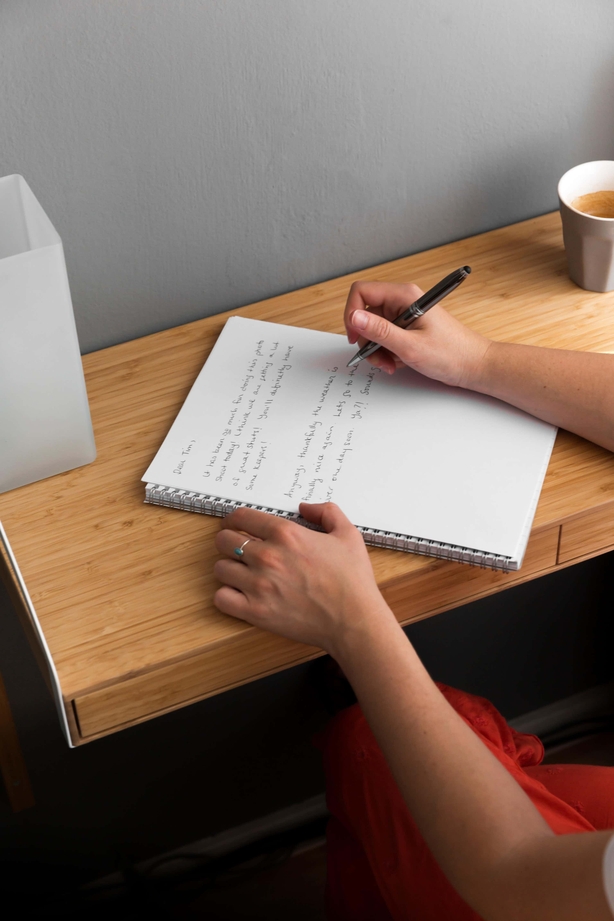 "Getting into the habit of setting your mood the night before can create a far more optimistic mindset and ease us into the new working year," says empowerment coach, speaker and author Taz Thornton.
"Every night, just before I go to sleep, I set my mood for the day ahead. I use a little mantra to say how grateful I am for the hours of sleep my body is about to receive, acknowledging that it'll be the perfect amount of time for my mind, body and spirit to reset, so I'll wake up feeling refreshed, joyful and ready for an awesome day.
"This works on the basis that the last thought before you go to sleep will be the first one your brain acknowledges when you wake up. That aside, you're creating more good habits to support an attitude of gratitude."
Thornton also recommends listing things you're grateful for in the morning to start your day on a positive note. "They can be really simple things – the smell of fresh coffee, fresh air, my cat's purr, boiling water at the push of a button, a bed to lie in… Simple stuff is fine."
Focus on the present
1/ Don't suffer imagined troubles

Seneca said, "we suffer more in imagination than in reality."

"Don't let your imagination be crushed by life as a whole," Marcus Aurelius reminded himself.

Focus on the present. Don't think about the monsters that may or may not be up ahead.

— Ryan Holiday (@RyanHoliday) December 28, 2022
This can be a very reflective time of year, as we think back on what happened in 2022 and set our intentions for 2023. As beneficial as this can be, it can get quite overwhelming, however. To help, master coach, reiki healer, and meditation teacher Gillian McMichael, founder of Full Circle Global and author of Coming Home, recommends focusing on the present.
"Most of us spend our time focusing on the past or the future, but very rarely in the present moment," McMichael explains. "But when we focus on the here and now – which is the only time we should be focusing on – we forget about past disappointments and instead we can rewire our mind to focus on the current moment.
"When we do that, we experience feelings of happiness, contentment and deep, long-lasting joy."
And if you are feeling nervous about what's to come in 2023, McMichael is all about overcoming your fears. "Fear is led by the mind, but it can take over everything – from how we feel, to what we want and can stop us from making the decisions we need to make.
"When change is present, we can feel frightened about what lies ahead," she explains. "The best way to tackle fear is head on."
Work on your sleep hygiene
We need your consent to load this Instagram contentWe use Instagram to manage extra content that can set cookies on your device and collect data about your activity. Please review their details and accept them to load the content.Manage Preferences
It's no secret that a good night's sleep will make you feel more energised, positive, and productive. But with the stresses of January looming, it might feel out of reach.
However, there are a few small steps you can take toward good sleep hygiene. "With the evenings remaining dark, you may want to adjust your sleep schedule and go to sleep a few hours earlier in the evening and wake up a few hours earlier," advises Martin Seeley, sleep expert and CEO of MattressNextday.
"You should also ensure your bedroom is a calm, relaxing and comfortable oasis that encourages you to enjoy a peaceful night's sleep, as opposed to a stressful environment – which will only add to your January blues."
This could also involve removing any tech from your bedroom. "Not just because the blue light emitted has an adverse effect on sleepiness, but also because you may find that late night doom scrolling or scrolling endlessly on social media scrolling makes you feel even worse", Seeley adds.
Embrace the blue feeling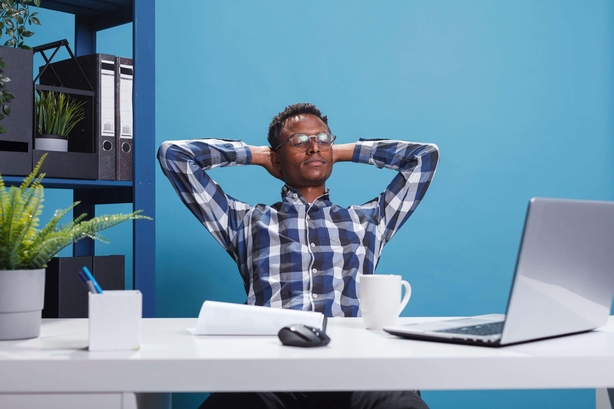 While there are plenty of things you can do to make going back to work feel more positive, Dr Lisa Turner, trauma recovery expert and founder of CETfreedom, also recommends embracing any blue feelings you might be having.
"Toxic positivity conditions us to reject negative emotions. Nothing bad happens because you have a bad feeling. Your negative emotions are a way of telling you if something isn't a good option for you, or a particular choice or action is not ideal, or to let you know that somebody is crossing a boundary," she explains.
"So rather than denying what you feel, embrace all feelings. It's important to feel all emotions."