Broadcaster Miriam O'Callaghan tells Elle Gordon about being inspired by her 94-year-old mother, – who she says has a better social life than her grandchildren – and refusing to sweat the small stuff.
When I call Miriam O'Callaghan, she's on her way into RTÉ to record Prime Time. She parks up, assuring me with a laugh that the car is best for a quiet place to chat today. "The minute I walk in the door, that'll be it. I am sitting here so I can give you my full attention."
I can hear rain pounding on the car roof as she recounts her summer with family. "We didn't bother going away. We just went, as ever, down to Dingle. My youngest boy has just turned 16, and then three others are in college, some of my girls were around too, so it was just lovely doing very little. People always say to me, 'Oh you are so busy' but my happiest time is when I do absolutely nothing. I am good at doing nothing!"
How has she found the last two years? "I was working on a panel discussion recently, and I was saying. 'Do you think we will ever forget about Covid?' Everyone agreed that 'No, you won't ever forget it' because so many people, as we know, ended up losing people close to them, or they couldn't go to the funerals of the people who mattered so much to them. I was incredibly lucky that didn't happen, but I do think it was a very strange and scary experience. Strangely, there were plusses to it… I think many people slowed down in life. For me, I got to present the Late Late Show twice, I got to spend a lot of time with my family, and I still got to work, so I am grateful for those things."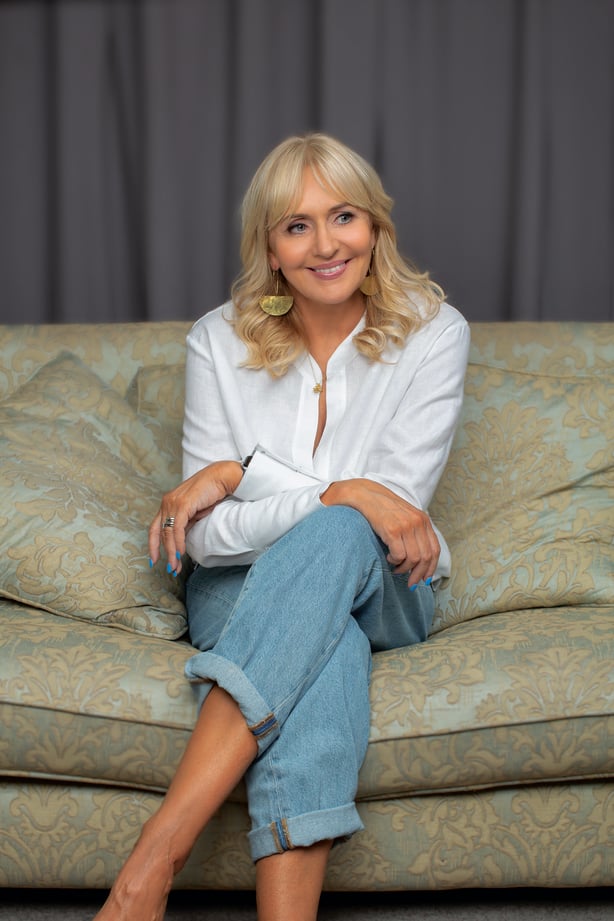 Is she introspective about the passing of time? "I am not like that. My life has been very similar since about my mid-20s; becoming a mom and having babies, and then you're working away.
"This is my life. I have this thing about life which is doing everything the moment you think of it. You know the way people long-finger things? When I get something to do, I do it immediately. People ask what the secret is of having a so-called successful life, a busy career and a lot of children. I say, 'Do things immediately. Don't procrastinate, just do it.' Then I don't have to worry about waking in the middle of the night going 'Ah! I forgot about that.'"
She has always struck me as someone who seems unflappable. "I am unflappable about everything except the health of my children. One of my boys was very sick a couple of years back, he got an injury on the sports field, and he ended up being critically ill. I wasn't great then. I really do think that old maxim is true: your health is your wealth. I never understand why people sweat the small things. I am probably unflappable because I realise that most things in life don't matter that much. All that really matters is your health, your happiness, and that you are kind to people. That's about it."
Perhaps Miriam knows this truth because she lost her sister Anne in 1995, at age 33. "People say that time heals, but you are not meant to get over something like that. I remember when I first met my beautiful husband Stephen, we worked together on BBC Newsnight. He was my producer; and I was a reporter. He worked in Belfast, and I worked in Dublin. His mom had died from cancer when he was four years old, and it only came up in conversation at the time, because my sister had so recently died. We talked about how people talk about how much they miss the person who is gone, but that really, it's so unfair on them. It's so unfair on the person whose life has been snuffed out. I feel sad for them that they're gone too quickly."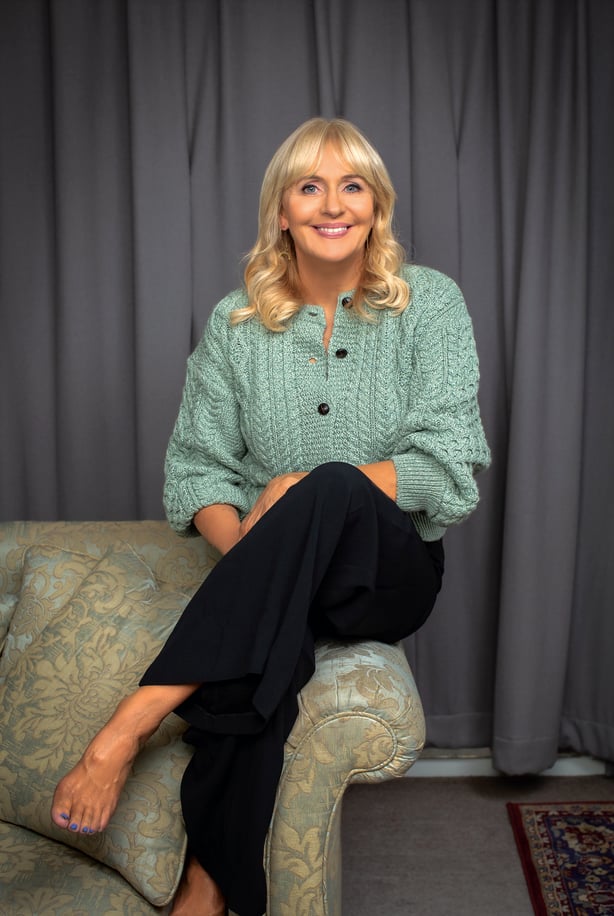 Have she and her husband figured out the elusive formula to having it all? Currently, they have a long-distance relationship due to work commitments. "No one can have it all. I don't know anyone who has it all, and anyone who says that they have it all, I don't know what they are talking about. I am constantly chasing my tail. I am often late for things. If you try and do too many things, you let people down, but that's life."
"Life doesn't have to be perfect. In the case of Stephen and I, I am so glad that he has his glorious career now, because when I first met him, I came back to Ireland, my sister got ill, and I stayed here. He had to come over because I had tiny kids from my first marriage… I was separated. So, he gave up his job at the time."
"For me, it's just a beautiful circle of love and he's now probably in as senior a role as he would have been if we had stayed in the BBC. I think this is our only life. I hang onto the notion that there is a heaven, but assuming this is it, and that this is our only life, you should just live it to the full. So, I want him to have his career. If I had said, 'I don't want this' there is no way he would have done it, so I am delighted for him and I am happy. Anyway, the house is so busy. It is like Heuston Station, as my mother would say. Busy, busy, busy."
Speaking of her mother, Miriam has said many times just what an inspiration she has always been. "You know the way they talk about 'If you can't see it, you can't be it?' My mum is a phenomenon. She always worked out of the home so for me, she was obviously a role model."
"Of course, it goes without saying that working in the home is one of the hardest jobs you will ever do. She still lives in the house we all grew up in. She is the hardest working woman I have ever met. She is also incredibly stoic because when my sister died, my dad dropped dead eight weeks later, going to get her Mass card printed. Most people would be floored by that, losing your beautiful daughter, then your husband, but she is incredibly stoic."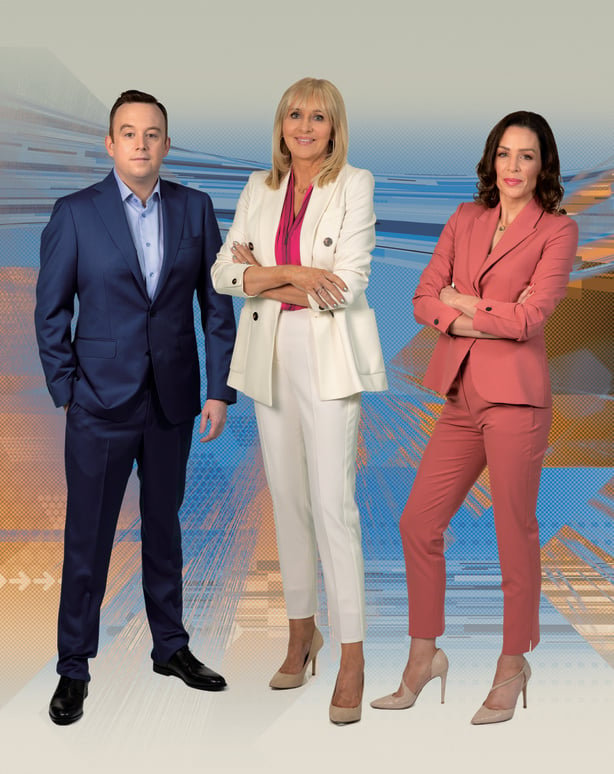 Miriam's radio show, Sundays with Miriam, enjoyed excellent numbers in the latest JNLR listenership survey. Miriam says, "I feel very happy for my producer, Cora Ennis; we are a small team and so being one of the top shows in the country, and only an hour on a Sunday, means a lot. I had this plan always that the show should be a little oasis of happiness and inspiration. So far, touch wood, it has worked."
She's a Granny now too? "I am. My eldest daughter Allannah has a little girl called Ava Anne. The Anne is, of course, after my sister."
Advice for anyone reading this? "I never plan my life. I just don't. Sure, I used to be a lawyer. I am an accidental tv presenter. Be kind, work hard and enjoy yourself."