When getting married, there are many traditions to symbolise your commitment to your partner. It might be exchanging rings, taking one or the other's surname, or – like for Briona Reynolds and Shane Hunter – donating one of your kidneys to your spouse-to-be.
Newlyweds Briona and Shane joined The Ray D'Arcy Show to share their incredible story of love, as they married in August, not long after Shane donated his kidney to his wife-to-be.
Despite knowing Briona's older sister for years prior, Shane never made a move on his future wife until 13 years ago on a fateful club night. He knew then they were a match, but the couple could never know how close a match they were until recently.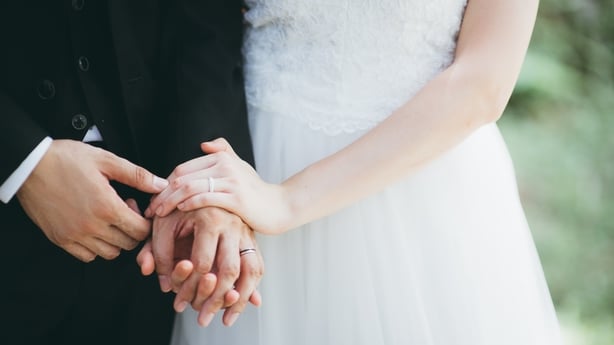 Shane was able to give Briona one of his kidneys, after a long-standing kidney issue led to her needing a transplant. Seemingly not one for too much romance, Shane quipped to Ray, "Well, I had two."
Briona found that she was getting extremely fatigued during college and working, while everyone around her was rushing around balancing jobs, assignments and more.
"I used to have to take every Monday off and sleep for the day, so I started to notice that wasn't normal", she says. After having bloods done, doctors found that something wasn't right, but "there was no reasoning for it" from what they could see then.
Years passed as her kidney function dwindled, until she finally needed a transplant or dialysis. Faced with joining a transplant list, Briona started looking for someone in her life who might be willing to transplant a kidney. Both her mother and Shane went forward, and were a match, which she says was "very fortunate".
"I just always assumed that I'd get one from somebody and I never realised what the other people are going through waiting for years and years for a donor, which is quite tough, especially if you're on dialysis. It can be a very lonely place", Briona says.
As for Shane, he says he seemed the most promising donor, as young male kidneys are slightly stronger. Briona says it has obviously strengthened their relationship in a truly unique way.
"We were always very close, myself and Shane, and I think it gave Shane a feeling of being able to help me, because he felt he couldn't help with the kidney failure", Briona says. "It just made us stronger again, and you don't sweat the little things because you know there's harder things to have to deal with."
We need your consent to load this Instagram contentWe use Instagram to manage extra content that can set cookies on your device and collect data about your activity. Please review their details and accept them to load the content.Manage Preferences
"The big thing for us is the outcome rather than how we got there. This isn't something that we are very comfortable talking about but we know the benefits to the Irish Kidney Association by highlighting it", Shane says.
The transplant took place two years ago, and went off without a hitch, something that they're both grateful for.
As for what's next for the couple, they say planning for a family was a key part of pushing for a transplant. "Not that it's not complicated now, it is a conversation we are able to have", Briona says.
To listen to the full interview, click the link above.