As Jacqui Hurley gets set to host the Women's Euros, the broadcaster talks to Janice Butler about the growing popularity of women's sports, why she's glad she stayed with RTÉ after a career disappointment and how her family seize the moments.
"This has probably been my best year professionally. Getting to do the things that I'm doing now; I couldn't have envisaged it when I started out in 2006," says Jacqui Hurley ahead of a hectic summer season of sport. It's certainly been a busy year professionally for the broadcaster.
There were the Tokyo Olympics last summer, where she spent almost three weeks; mostly in a hotel or reporting from a rooftop (due to Covid restrictions) with David Gillick. Then the European Football Championship; and this year she took over the helm of RTÉ's rugby coverage and is looking forward to Up For the Match and in the coming weeks, the Women's Euros.
As she says, Jacqui began in the RTÉ sports department in 2006; a massive fan of all sports which was nurtured by her parents and encouraged during her childhood in Cork and in Canberra, Australia , here the family lived for seven years. Looking back on those early days in her career, she remarks that it was a very different landscape for women's sports coverage in the media.
"I remember when we showed the Women's Grand Slam in 2013, when Ireland won; apart from doing the Camogie final, that was really the first thing of significance in women's sports that was covered," she recalls. "If you fast forward ten years to what we've done since then, it's unrecognisable from the department I worked in back then.
"Professionally, it's great because you want to be working on major sporting events and I love that people now are identifying the Women's European Championship as a major sporting event."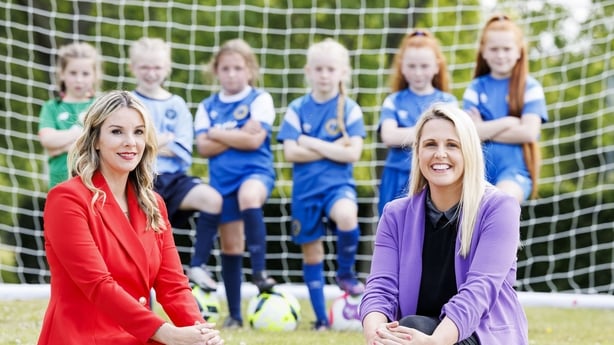 She admits that when she started out in broadcasting that she wouldn't have been forthcoming in fighting for women's sports to be covered but that has since changed as she's grown in confidence.
"When I started out, I didn't have a big aim to promote women's sport. just wanted to work in sport and have a prominent role in doing that," she says. "I never really thought about what my role might be in enhancing the coverage of women's sport. I guess maybe early on I was cautious because you're trying so hard to just be normal and fit in, because there wasn't so many women working in it. But as you get more confidence in what you do, you realise your own role in it, you see the growth in women's sport and you're proud to play even a small role in that," she adds.
Her own favourite sporting moment involves one of the finest female athletes Ireland has ever seen; Katie Taylor beating Amanda Serranoin in the iconic Madison Square Gardens in New York in May. When it comes to women in sport, no one has left more of an impression than the world number one from Bray.
"It was unbelievable, it was genuinely the best sporting event I've ever attended – and I was in London when Katie won her gold in 2012 and that would have always been my favourite sporting moment, until New York," she recalls. "Only she could surpass it, because that's the kind of person she is. I can't think of a person who has done more for this sport than Katie Taylor; she has single-handedly brought women's boxing to a global stage."
While she's had a front row seat to some of the best sporting moments and amazing opportunities throughout her career in broadcasting, it hasn't been without challenges. Jacqui admits that not getting the hosting job on The Sunday Game (it went to Joanne Cantwell in 2019 after the retirement of long-time host Michael Lyster) was probably her biggest disappointment and it resulted in her almost leaving RTÉ, something she opened up about in a recent podcast interview with Doireann Garrihy.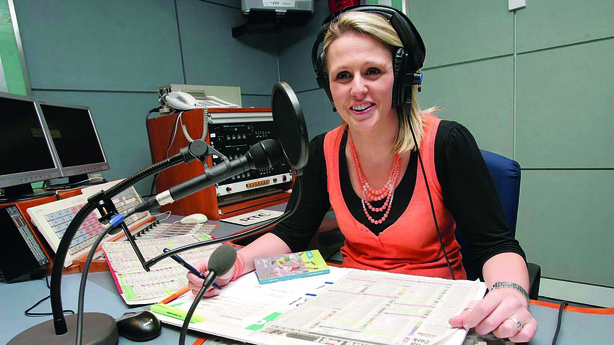 Reflecting on it now, is she is glad she stayed with RTÉ?
"That's definitely been the hardest part but I think you also have to realise with age and the more you learn in the job, you can't have it smooth sailing the whole way and I don't think anyone's career is that way. With the benefit of hindsight, that's probably how I feel now, but at the time all I could see was this disappointment when you have a long-term goal and dream of something. The disappointment for me was I could see it and I felt I was being led in that direction and then when it didn't happen, that was difficult," she says honestly.
She was convinced by senior staff and colleagues to stay and she admits that while it was a difficult decision, she has no regrets.
"I really wrestled with it, I had effectively accepted another job, I was leaving. I have to say now though, hand on my heart, the best decision I ever made was to stay. I would have missed out on all the opportunities that have come my way since."
One of her biggest opportunities this year has been anchoring RTÉ's rugby coverage, including the Six Nations. Jacqui hopes to be involved in the Rugby World Cup next year if RTÉ get some of the rights.
"That's the stuff of dreams; the thing with the rugby is it was never on my radar because it was always somebody else's job; Tom Mc Gurk was there and then Daire O'Brien came in so it was never something that I thought was going to be available."
"I never put my eyes on it, even though I'd probably go to more rugby in my life than any other sport; my husband is a huge rugby fan as well. So it was a complete dream to get it, but I have to say it was a bolt from the blue," she says.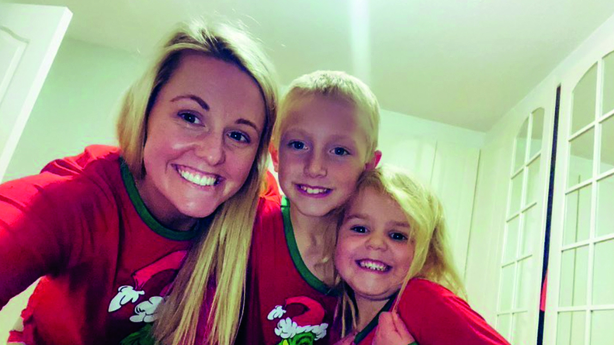 With these new opportunities has come more time away from her family: husband Shane and their two children, Luke (8) and Lily (5). Jacqui has worked more weekends this past year than ever before and she admits that finding their groove at home has been difficult but they make it work.
"There's no point in saying it's not difficult. I think it's the same for anyone who works, especially on the weekends; it's incredibly difficult when you're not there for stuff," she says. "We've just gotten very used to it because I've been doing it for 15 years. This year has definitely been the most challenging for me with the weekends because the rugby has been in the mix, so it's been more than 30 weekends at work.
"I'm lucky in the way that I drop my children to school every single morning and I love that. We walk to school and spend time together and not every family gets to do that. And then two or three afternoons a week I get to pick them up from school. Every family has its own challenges to deal with on the work front and for us, we just make it work."
Jacqui and Shane celebrated their ten year wedding anniversary recently. She laughs that it's "flown".
"We were looking back through pictures and had a good laugh at all the memories. You think of what you've packed in, in the ten years, even with the kids, watching them live their lives and the craic we're having with them. It really flies by."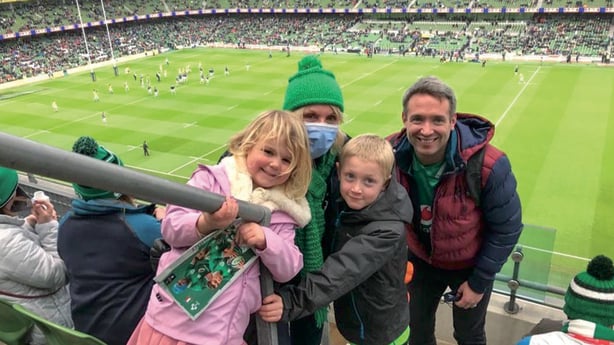 Jacqui has spoken in the past about the sudden death of her brother Sean, who died in a car accident in November, 2011. She believes Sean's passing gave her and her family a sense of perspective and a desire to always seize the moment.
Following Sean's death Jacqui, together with family and friends, completed his charity bucket list, which included running a marathon and driving a digger. She says that sense of perspective has filtered into her own family.
"Both Shane and I have been pretty good at learning to appreciate the moments. My family knows that more than most. Every family doesn't have to go through something like that to realise what's important, but I'm sure it does make you do that. When you have that perspective you make decisions pretty quickly and easily."
One thing the family didn't hesitate to do recently was a home renovation, which they're in the middle of now. I's a stressful project as they've had to move out of their home while it's being done but Jacqui's certain it will be worth it…she hopes. "We wanted to do it to enhance our lives and we went for it. We're hoping to be back in November, hoping," she laughs.
She was acknowledged for her work in media in May with the Jimmy Magee Award for Sports Journalist of the Year. While she doesn't like the attention turned on her, she remarks that it meant a lot to her to receive such an accolade.
"It was very unexpected. I'm used to presenting awards, not getting them. It was an unbelievable moment and means an awful lot to me. You don't do this job for any acknowledgements, but when you are, it's so lovely. I wouldn't be brilliant for celebrating my moments."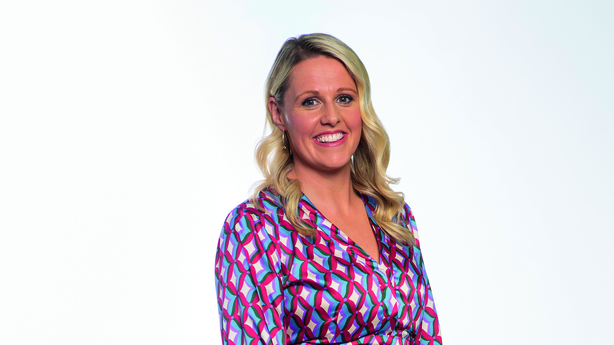 Another big box ticked for Jacqui two years ago was her debut book, Girls Play Too, a chronicle of 25 successful Irish sports women that was a commercial and critical success and was followed by a sequel last year. Has she any more in the works? "It's been so wildly busy, so I wouldn't have had time to do another book this year, even if I wanted to. I really enjoyed the Girls Play Too series and never say never that I'll do another down the line, but I need a break from it for a while."
With a lot of great memories behind her and plenty more to be made ahead, Jacqui says she's at a very good point in her life, professionally and personally.
"I'm really living the dream, not to sound clichéd about it. It's been beyond my wildest dreams and staying in the job has been the greatest decision of my life," she concludes. "I'm in a really good place, it's been an incredible year and life is good."