Dublin's Phoenix Park burst into colour this week as Bord Bia's Bloom, Ireland's largest gardening festival, kicked off once again.
Taking place from 2nd-6th June, the festival showcased innovative and spectacular designs from gardens across the country, but one garden is always given particular pride of place: the winning design from RTÉ's Super Garden.
Mary Anne Farenden was crowned this year's winner for her lusciously designed Enchanted Playground, a vibrant and inventive fairy garden creation filled with easy-to-maintain flowers, herbs and fruits.
We caught up with Mary Anne at the festival to hear all about her inspiration and building her magical garden.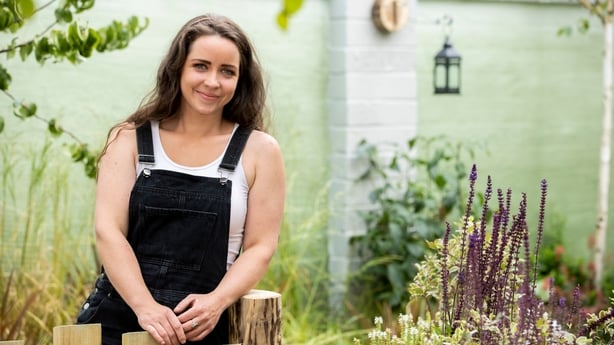 "I'd actually not seen the show before", she tells RTÉ Lifestyle. Having studied architecture and then moving into horticulture once she realised she wouldn't be happy cooped up in an office all day, every day, she found out about the competition from her university College of Agriculture Food & Rural Enterprise (CAFRE) in Greenmount, Co. Antrim.
Although she loved her architecture study, which she said thought her about "treatment of space and how to cultivate a design and make it work in different ways", Mary Anne says she "always struggled with [how] in architecture you have to leave it by the time it gets to planting and making it look pretty. This is way more fun!"
Says she "hit it off" with her family, Shannon and Kevin Devine and their three children, from the moment they met. "We had the same sort of vision for things. One of the things she said to me was she wanted a festival fairy garden kind of feel, and I was like, got you", she says.
By the time she made it to Bloom, however, she found she needed to "Bloomify" it, swapping out a log sofa in the family's home for a piece of felled wood.
"It was a lot harder to build it with no family there", she says. "Having a family to build it for, knowing they were getting it at the end, really spurred me on before. Where as here it's like, who is this for?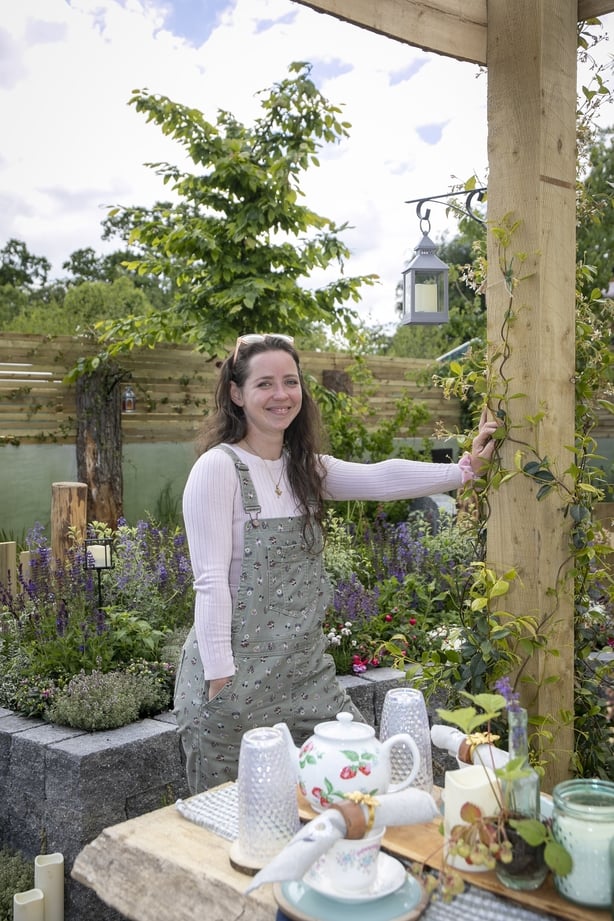 "It was lucky that we were on a very similar wavelength because everything I started to do, Shannon was just like, 'this is going to be amazing'. She could see what I was doing, and that spurred me on."
She also added in what she calls "life-sized fairy furniture", such as a rustic wooden table and chair set in place of a picnic table for the Devines.
Her creation is filled with adaptable plants that can be added into any garden, which was part of her vision. Heucheras, which she used in a range of colours across the garden, are especially versatile as they suit sunny and shaded areas and can handle being brushed off of at edges of beds.
"If you hate looking at your lawn and you don't like it and you don't use it, rip it up and try and recreate something green with different types of grass", she says. "If you go into any garden centre you've got carexes, you've got stipas, you've got miscanthuses. You've got soft ones, you've got structural ones, you've all different types of green.
"It makes such an impact in a small space." All her plants are Irish-grown, too, with a fruit patch filled with apples, pears, blackberries and more.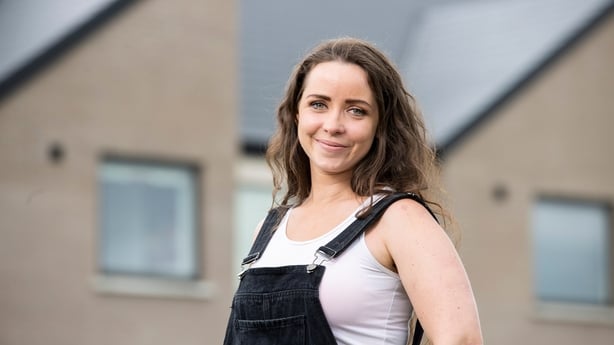 As well as this, she heartily recommends that budding gardeners start adding trees to their creations. "I think there's a notion that trees rip up your garden and tear up your house, and it's just like, no.
"A tree can be one of the biggest assets in a garden. If you keep on top of them, keep them cut at the top and from getting too out of the way, then they can be an absolutely beautiful addition for the birds."
"Herbs, as well. Big fan. Big, big herb fan. They don't just have to be food." Her garden features herbs planted along the wood bench so when your feet brush off them you get whiffs of thyme. The grassy knoll even included mint plants so you get the same aroma. "Dog eat it and they have minty breath. Everybody wins."
As for where she draws her inspiration from, family is central to that, too. "My grandma is a very big inspiration to me. She was very into horticulture and flower arranging and her garden and I just remember her rhubarb patch when I was a kid. She had a big orchard, as well.
"It was after she passed away that I started it as a career. I feel like she is guiding me."