Earlier this year, 26-year-old Pamela Uba was crowned Miss Ireland, making her the first Black Irish woman to wear the crown since the competition began in 1947. To mark Black History Month, Pamela is sharing insights into her upbringing in direct provision and why she believes education is a superpower.
---
My story is that of a young girl that never gave up hope. Hope that she would someday become something amazing and make a difference in the world.
My name is Pamela Uba, and I am Miss Ireland 2021. I am proud to say that not only am I miss Ireland, but I am a frontline worker that has been working in the HSE as a medical scientist having earned my master's degree holder from TCD.
It feels somehow unreal to even say that now, knowing my background and what it took to get here. My story stems from that of a little girl who moved to Ireland with her family at a very young age and grew up in a direct provision system, a system that can be very hard on the people that experience it.
Going through this experience - living in a caravan, existing in limbo, yet still somehow surviving through sheer determination - is really quite something. Through the efforts of my mom, I was able to get a third level education which is something you don't always see for children living in these systems.
We need your consent to load this rte-player contentWe use rte-player to manage extra content that can set cookies on your device and collect data about your activity. Please review their details and accept them to load the content.Manage Preferences
Listen back: Pamela joined Ray D'Arcy on RTÉ Radio 1 to discuss her win
Looking back, I knew even then that I couldn't let my circumstance define me as a person. I paved my own way through it. I believe this was because I saw education as a tool, and I used it as my superpower to get me through the tough times.
Now, with my current reign, I hope to instil that same drive for education to our children through my Beauty with a Purpose project.
Education is a force to be reckoned with; it creates our doctors, teachers, actresses, engineers, entrepreneurs and medical scientists. It takes regular people and turns them into superheroes with the power to change lives, nations and even the world.
I would say my overall aim with all that I am doing now, is to make a way for our youth and for minorities in both Ireland and across the world. I want to ensure that we all have equal access and rights to third level education.
I think the reason my role is so important in today's society is because I have a voice that can be used to create positive change for a community as a whole.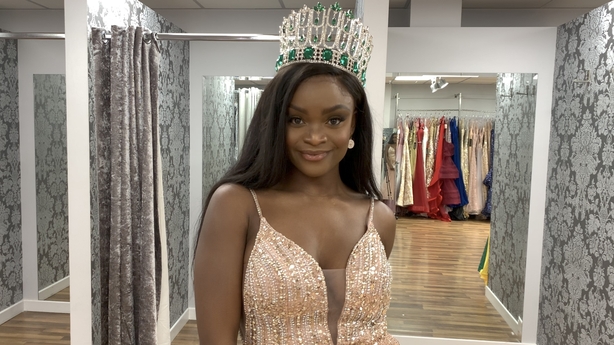 Being a woman, there are already many obstacles set to deter me and prevent me from pushing forward. Now add the fact that I am a black woman and it tends to multiply these obstacles. But I choose to not let these boxes, that society has created, keep me enclosed.
I see outside this box and I actively find ways to create my space in society. When people ask me about things such as black history and what it means to be black today? Well, I think that black history month is a chance for us all to celebrate and share the rich heritage of various cultures, promoting understanding and diversity, ultimately breaking down the walls of fear and ignorance with knowledge, love and understanding.
It is a time where we not only celebrate the great work of those who came before us but also recognise what other black people in our present time have and are achieving.
My Ireland is a diverse, beautiful land, rich in culture and individuality. Once we tap into this and tap into the many different people that we have here the opportunities for growth, education, love and understanding will be endless.
As I embark on my journey to the miss world stage this November, I will carry all that culture all that diversity and show the world exactly what is means to be black, Irish and proud.