What is the secret to a good relationship? Donal O'Donoghue talks to Sinéad Moriarty about her latest novel, her hopes to raise a feminist family and overcoming her darkest days.
Recently I was elbow deep in a book when my wife happened by. "What are you reading?" she asked. "It's About Us'" I said. "Really?" Well, not really. "That's the title, I said, brandishing the cover, a vivid orange affair sporting a pink couch on which the word 'Us' sat awkwardly.
As with her 14 previous novels, About Us's author, Sinéad Moriarty, once again explores a topical theme (previous novels have featured fertility, euthanasia, cyber bullying and eating disorders) in a book about that most universal of subjects, relationships. So while this tale of three couples who engage a therapist to sort out their intimacy issues is all about them, in a way it's about all of us too.
Sinéad Moriarty is at home when I call. It's mid-morning and most likely the prolific author has already tapped out her daily quota of 2,000 words (she's currently working on her latest novel about a blended family). I begin mischievously, asking what it was like to write so vividly (and at times humourously) about sex in a narrative where we get a sexagenarian attempting to master the intricacies of fellatio (a banana is used) and we hear of a romantic encounter in a wheelchair accessible toilet.
The writer laughs. "If you're writing a book about relationships and intimacy, then sex is going to be part of the conversation whether you have none or too much or not enough or whatever."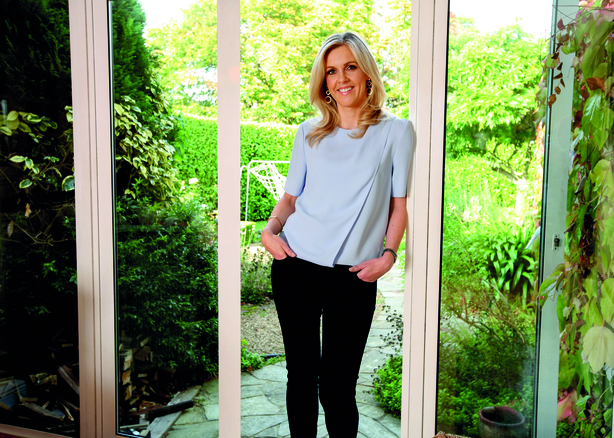 Of course, sex is just part of the story. "About Us is about relationships in all their messy complicated glory," says Moriarty who lives in Dublin with her husband, Troy, and their three children. "I thought it would be interesting to explore that subject at three different stages in life. Relationships can ebb and flow. You can lose your way and try and find your way back, so the book is about whether you can do that."
Her novel is prefaced with a quote from an unknown author: 'a true relationship is two imperfect people refusing to give up on each other.' "I always like to start my books with a quote and when I found that I thought it was perfect," says Moriarty. "It says exactly what I was trying to say in the book."
Sinéad Moriarty seems to be a very nice person. Thoughtful too, beginning this interview by asking about my family. So how are her three - Hugo (16), Geordy (14) and Amy (12)? "I'm in that teenage, no-one-speaks-to-me stage," she says and laughs.
If reading About Us can prompt the reader to consider their own relationship, did writing it prompt Sinéad to reflect on hers? "Not really," she says (she and Troy, the son of Bill Cullen and Jackie Lavin, first met as undergraduates at Trinity College). "This is my 15th book and I'm pretty good at removing myself from the situations I write about. And while I started writing the book before Covid, the book has nothing to do with Covid. It's completely Covid-free."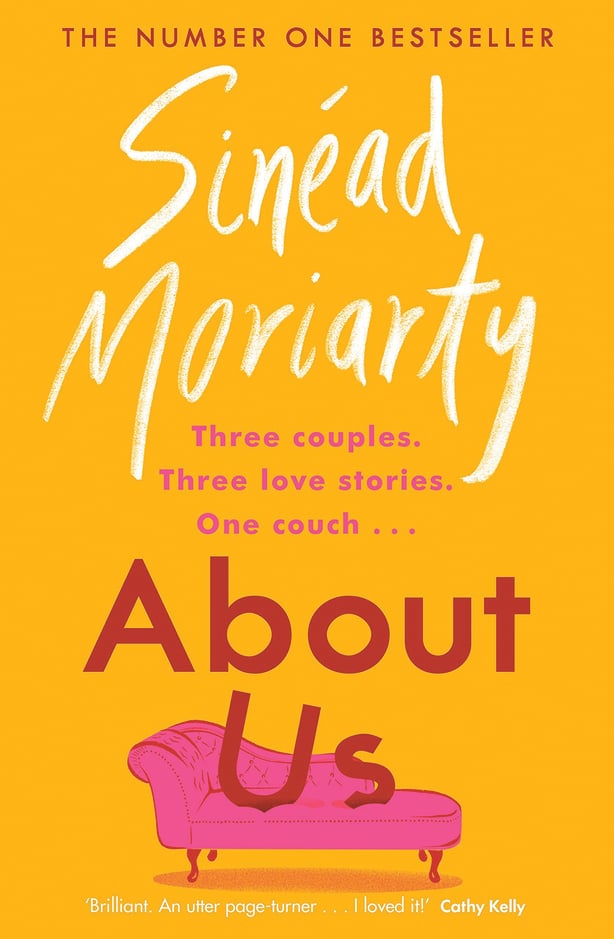 But the pandemic did have an impact. Usually Moriarty completes a new novel every year or so. About Us took nearly 18 months. "I began writing in it in January 2020 but my concentration was all over the place when the pandemic started. I found it hard to read and write, my head full of Covid numbers and hospital admissions, but eventually I got down to it. Some said 'but you must be used to working from home' but I wasn't used to my whole family being around: they wanted to use the printer, the Wi-Fi was down, they were hungry and the rest. I didn't have that quiet beautiful time you're used to, so it was an adjustment but it's important in life to be flexible so I learned to be flexible."
About Us teases out many topics, not least the myth of the supermum, with thirty something stay-at-home Alice tortured by the thought that she 'was not the super mum she planned to be'. "Some women, if they are not working, put a lot of pressure on themselves to be the best mother they can be," says Moriarty. "But I also think people are getting more honest about how difficult it is being a mother, whether you work full-time or part-time or whatever."
Another strand of About Us, the story of sexagenarians Ann and Ken, resurrects the subject of Moriarty's debut Baby Trail (2004) which loosely mined her own struggles with fertility as the character of Orla is crippled by vaginismus. "Vaginismus could be described as like a female version of erectile dysfunction," she says. "I discovered it is a lot more common than we might imagine."

A feminist perspective informs Moriarty's fiction ("being penetrated is not the definition of a woman" is a line that the therapist gives to a despairing Orla in About Us). So how strongly feminist is Sinéad?
"I'm trying to raise feminist men and women in my household," she says. "I think that is really important. So yes, I would consider myself a feminist. I'm the daughter of a strong woman just as I'm the grand-daughter of a strong woman. It's important for me that my boys are raised as feminists as well as my daughter. That is something I'm trying to instil in them as I think it's important to teach girls and boys to be feminists. And children these days are so open-minded and curious and non-judgmental and I believe we truly underestimate them."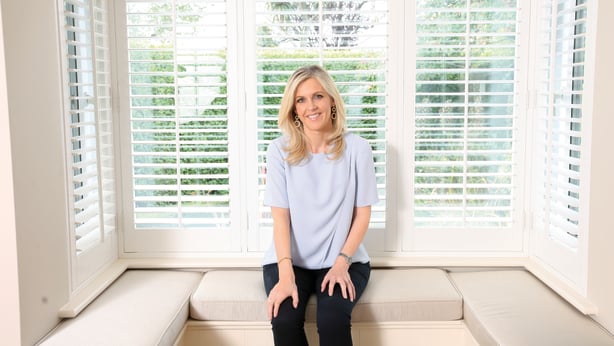 Researching the book involved much reading on the subject matter as well as consulting a friend who is a professional therapist. Did she ever consider going to a session herself as part of her research? "Not a bad idea but no I didn't," she says. This is just one of the questions that I thrust at Sinéad, all effectively parried.
Does she secretly lust after Aidan Turner? "God no," she says and laughs. "Of course he is extremely attractive and I have seen a few episodes of Poldark but I thought that he would work well for the character of Alice." And when Ann says how if she had her time back she'd do things differently, is there anything she would do differently?
"Not really," she says. "I turned my great passion into my career and that is a very privileged position to be in. I always think, don't look back, look forward."
Moriarty, an avid reader, is co-host with Rick O'Shea of Eason's Must Read 'Book Club'. "Have you read Still Life by Sarah Winman? You must! It's amazing!" She is also eager to give out a shout out to talented emerging writers (Jamie O'Connell, Naoise Dolan) just as Cathy Kelly, Maeve Binchy and others once supported her. A letter from the late, great Maeve is still proudly pinned to a cork board above her desk. Before The Baby Trail was published she completed two books. "They were turned down by everybody and there was a reason for that," she says. "They were not good enough. But they were my apprenticeship, where I learned to find my own voice and trust it. They got me to The Baby Trail."
Since then her voice has blossomed, apart from one dark period in 2016 when she feared for her future as a writer. Diagnosed with rheumatoid arthritis, her confidence was shattered. But she has since put the pieces back together again. "I'm in such a good place at the moment," she says now.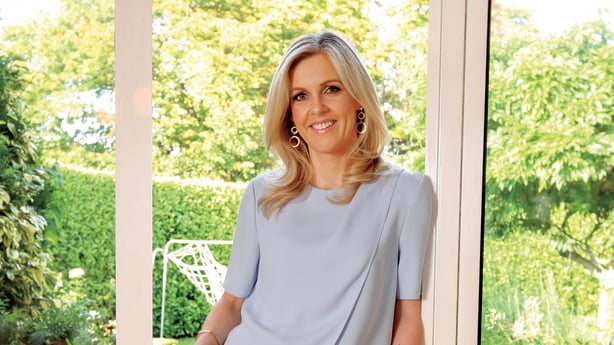 "I'm pain-free and I have my life back. That's thanks to trial and error with lots of different drugs and injections. Of course, my consultant tells me that you can never say you're in remission because you're not and you ever know when it might flare up again. But for the past two years I've got my joie de vivre back which I never thought would happen. So, I feel good and I talk about it to let others who have it know that this too will pass."
Today she works with Arthritis Ireland to promote awareness of the condition. "A lot of people ring me when they are diagnosed and I'm happy to talk with anyone about it. It is a very lonely place when you are first diagnosed so it's important to get the message out there that you will get better."
Writing also helped following diagnosis. "Writing is my mindfulness, it's where I disappear, my happy place" she says. Does she worry about writing giving up on her? "With each new book people say to me 'you surely can't be nervous now?' but I'm always nervous about how my book will be received because I love this job and want to do it until I fall over. So, I won't give up on writing. But if it gives up on me? Well that's another story."
About Us by Sinéad Moriarty is published by Penguin Sandycove.