Donal O'Donoghue catches up with Aoibhín Garrihy, as she talks about her life away from acting, her wellness business, the imminent birth of her third child, and the importance of keeping fit through it all.
Aoibhín Garrihy has a happy voice: even when she's talking serious. Maybe that's because right now she's weeks away from the birth of her third child following in the wake of Hanorah (3) and Líobhan (2). Not that the former Fair City star, Dancing with the Stars finalist and businesswoman, is one for taking it easy.
The week we spoke the 34-year-old had been sea-swimming (she was more than seven months pregnant with Hanorah when she climbed Carrauntoohil) and thoughts of her business, appropriately called Beo (life or living), are never far away.
As we talk her phone pings with missed calls ("it's my mum, she's worried for me") but nothing's likely to dampen her mood or that bubbly lilt.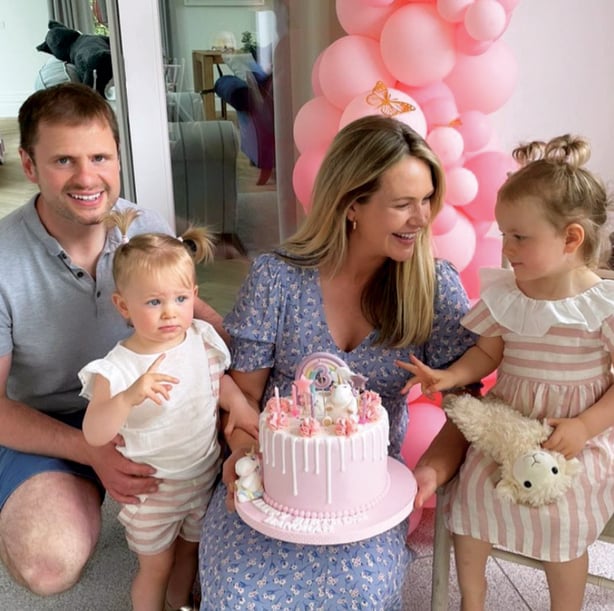 Aoibhín is at home in Ennis where she lives with her husband, hotelier, John Burke, their two daughters and dogs. "The time has flown and the other two babies under three are keeping me busy as well," she says of the past nine months. She must be a glutton for punishment? She laughs.
So, is three the magic number? "Well I come from family of three (she has two younger sisters, Ailbhe and Doireann) and John is one of three as well so yes maybe it was all part of the plan. And we feel so lucky and the two girls were a great distraction over the past 18 months or so. They are a blessing and so much fun. So more madness up ahead in the next few weeks but it will be all good."
Clare has always been a second home for Garrihy who grew up in the Dublin 'burb of Castleknock. Her father Eugene hails from Doolin, her mother, Clare, is from Ballyvaughan and childhood summers were spent under western skies.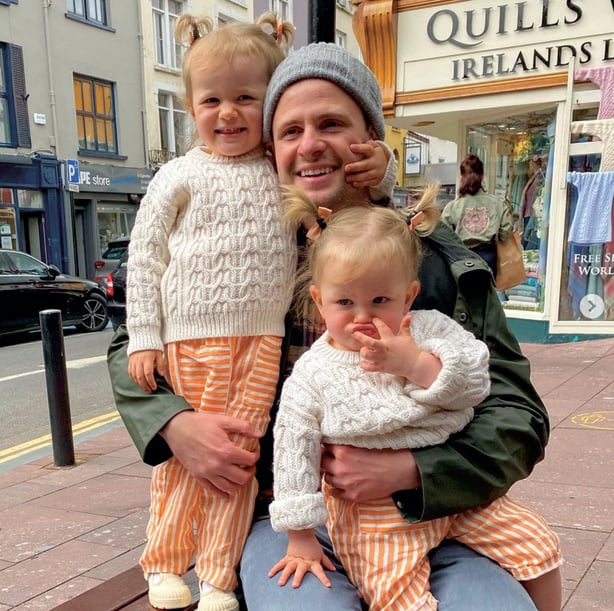 "My best memories are of the time spent down here in Clare or out on the Aran Islands," she says. Her husband is also a Banner man, from Spanish Point, their first date initiated by her matchmaker dad. That was in 2010 during a family wedding at John's hotel, the Armada in Spanish Point, when Eugene suggested the hotelier might ask his daughter out. The following day Aoibhín got a Facebook request and that was that.
They married in September 2016 (John proposed on the Cliffs of Moher) which was followed by a rollercoaster period in which Aoibhín competed in Dancing with the Stars and John fulfilled a lifetime ambition by summiting Everest in May 2017 (Aoibhín hiked as far as Everest Base Camp).
Hanorah was born in June 2018 and Líobhan arrived in December 2019, and the Dubliner was effectively in the second act of her life even if today she is still invariably described as the former Fair City actress. But it has been eight years since Garrihy bid adieu to the popular RTÉ soap after more than three years as Neasa Dillon, the Scarlet Lady of Carrigstown.
Back then in 2013 the 26-year-old had plans to move to LA and break into Hollywood. Today she has swapped showbusiness for business, co-founding Beo Wellness in 2017, with Sharon Colleran. "I came to a crossroads where I had to make a decision," she says of the career change.
"I still love to act but it was the industry that took its toll on me, the highs and lows, the rejections and having to pick yourself up and dust yourself off and go again. When I was in the West with John the pace was slower and life could be enjoyed more. When I got out of the fast lane in Dublin, I saw things more clearly."
Beo Wellness, a health and wellness brand, was inspired in no little way by Garrihy's own experience. "I wanted to put my own wellness and mental health first. I could also see that there was a wellness movement across the country and women in particular were guilty of burning the candle at both ends, putting themselves way down the list of priorities. I knew so many who were doing that and suffered burn-out as a result. So we set up Beo, which is all about health and well-being for women."
The business has also raised over €30,000 for youth wellness, working with Jigsaw, the national centre for youth mental health, and the Elevate Foundation.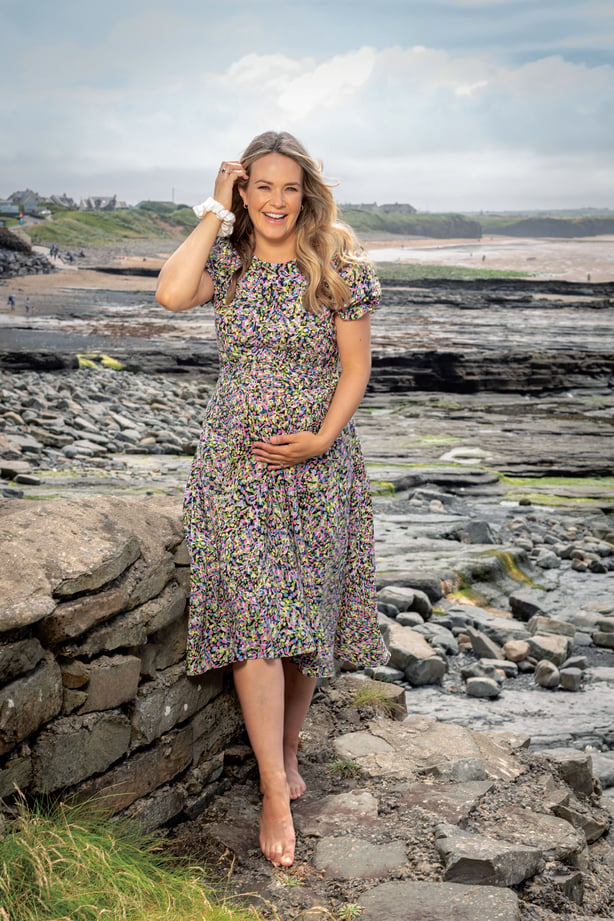 Yet people will see her on the cover of the RTÉ Guide looking totally glam, thinking she has it all. "I'm a firm believer in dreaming big but life is a juggle and that is the reality," she says. "I have great support with John and family but I've struggled too like so many others with high days and low days over the past 18 months."
On social media she has also shipped some flak (one post criticised her hike up Carrauntoohil while pregnant). "Social media is a minefield," she says but she's unlikely to quit any time soon. "I take the good with the bad and as an actor I had to learn how to be resilient and toughen up."
In a recent interview she stated that if she were Taoiseach, she'd "take New Zealand's lead and give automatic paid leave to mothers and their partners who have experienced miscarriage or still birth". "Yes, I do believe that I think it started a conversation," she says. "For so long women have been suffering in silence in this country over a range of different topics and matters related to their health and well-being and their bodies. The less stigma and shame attached to certain issues the better and the more we discuss these matters the better." Any interest in politics? "I have a thick skin but I don't think it would be thick enough for politics," she says.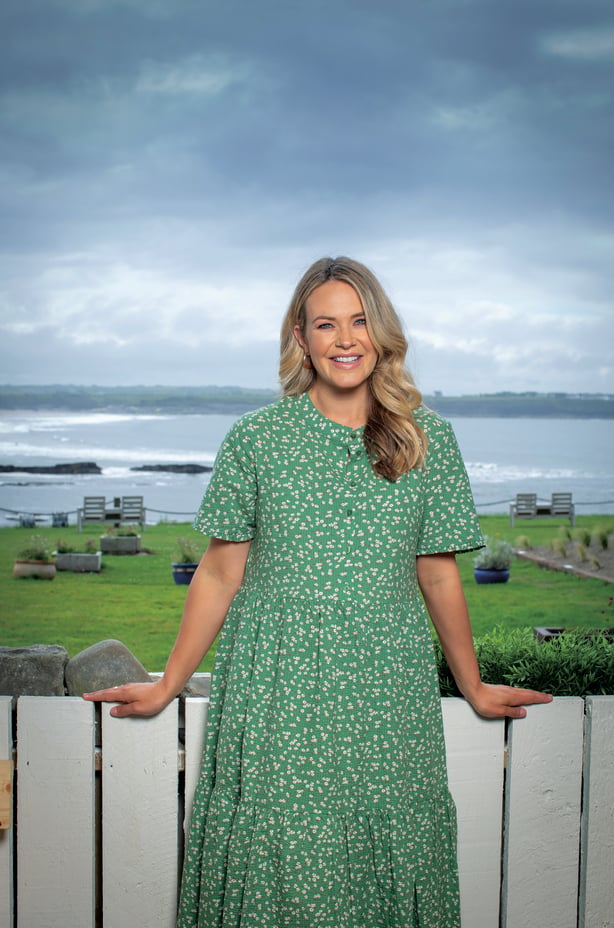 During the past 18 months she missed her family, especially Ailbhe and Doireann. "They are my best pals and full-time counseling service," she says. "I'd be lost without them." And she never doubted that the 'baby', Doireann, would make it as a comic and actress.
"Doireann was always going to making people laugh," she says. "She says it's down to having two older sisters and having to prove herself worthy of our time and our affection. So she wanted to make us laugh all the time and she did with her impressions of teachers or whatever. Like me, she went to Trinity and did drama and had just graduated from college when I heard this ad on the radio. I suggested she apply and she got the job. And I'm still not on any commission!"
Her parents are her heroes. "They always believed that a problem shared was a problem halved," she says. "Growing up, whatever was on our mind was discussed and dealt with. If I can give my own girls that trait to open up and share their problems, I'll be doing well." Her treasured possession is her wedding ring but otherwise she's "not sentimental" about possessions. Her husband is another story. "I call him a hoarder as he keeps everything in boxes."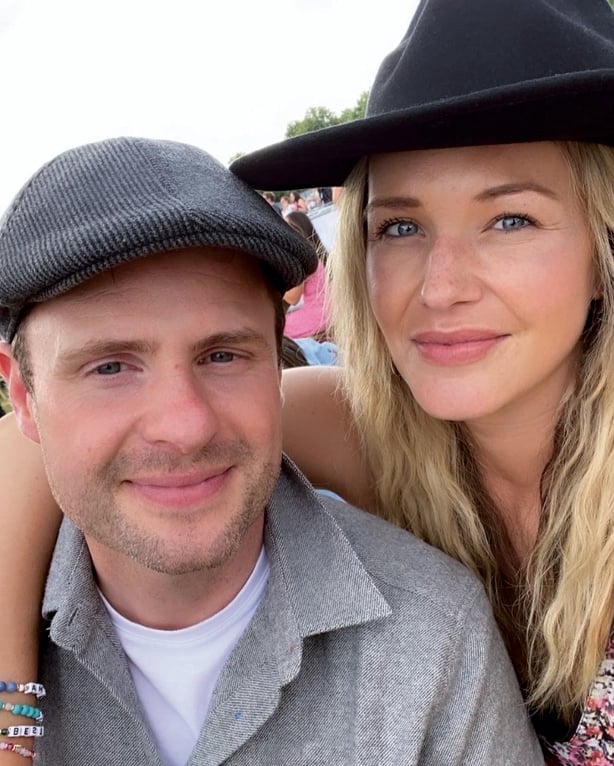 Keeping fit is important and she still hikes as much as she can. "For my sanity," she says. "We're heading off in a camper van tomorrow to Connemara. It will be the last hurrah before the birth I reckon. And we've just come back from Dingle in the campervan. I love the outdoors and getting up hills."
In the spring of 2017, she hiked to Everest Base Camp, accompanying John, who would go on to the summit of the world's highest mountain. "It was after Dancing with the Stars and it was just what I needed after all the madness of that," she says.
"I was very fit as well. I was also focused on John and what he was about to endure. He was there for three months and that expedition was 10 years in the making. But it was hard saying goodbye to him at base camp and leaving him there." She descended and had to wait for word as he pushed for the summit. "It was tough, waiting to hear and not knowing what was happening."
By all accounts Aoibhín is a religious person, even if she contests the extent of that. "I have a strong faith and I do pray," she agrees. "I pray to those I've lost and loved (most recently her grandfather, the great Clare traditional musician, Chris Droney) but religion is a strange one. Like when we were in Nepal, we got a lot of comfort from the spirituality of the Sherpas and their respect for the mountain gods."
"Many of us look for something greater than ourselves, particularly in times of need. Once, when John was climbing and I hadn't heard from him in a week and didn't know what to do, I went to the Poor Clares in Ennis and sat with Sister Bernadine and prayed."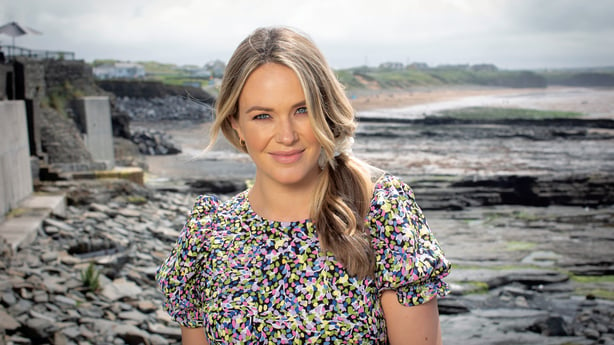 If family and business are priorities right now, Aoibhín Garrihy hasn't completely given up on acting. "I haven't fully hung up the boots," she says.
Just as her husband is also dreaming of faraway peaks. "These days things have grounded him a little bit but he will always climb," she says. "It's his passion and you can't hold back the tide."
And while the tide brings in a new addition to the Burke-Garrihy clan in a few weeks, Garrihy is also alive to the possibilities and potential for Beo, on the eve of a pop-up in Arnott's and a series of live events.
"People opening up about their health and personal life has brought me more joy than any acting role because you feel that it is making a difference."