RTÉ Prime Time reporter, Louise Byrne, talks to Janice Butler about raising twins with her partner Charlotte, her experience growing up gay in Ireland and how she hopes her story can help others.
When you're interviewing a fellow journalist, you often encounter some reticence on their part; they're used to being on the other side of the table and are not completely comfortable being asked the questions.
This was certainly the case for Prime Time reporter, Louise Byrne, who admits that it was in fact her partner, Charlotte, who convinced her to do the cover story in the RTÉ Guide's first Pride issue: "Sometimes, you need that person to push you," she says.
Louise tells me that it was important to her and her partner that her story was told in the hope that it helps others. What makes her story so different, I wonder? For starters, Louise and her partner, who had to postpone their wedding last May, have twin boys, Matthew and Will (4); not so unusual, but as a gay couple, Louise and Charlotte had their babies through IVF, making their journey a little "less conventional," says Louise. However, it is a journey that is becoming a more common part of the patchwork of modern Irish family life.
Louise was 11 weeks pregnant with the twins when the couple attend the celebration of the marriage equality referendum result; a joyous occasion at Dublin Castle on a very sunny day in May, 2015, when the vote came in that Ireland said yes to same-sex marriage. It was an emotional day for them on all levels, as no one knew yet that they were having not one but two babies.
"Being there when it came through was very special, knowing that the boys would be born into a country that had made such a profound statement about who their parents are was very important."
"Because of that referendum, we now know how Ireland feels and that's fantastic. There's still some level of prejudice, it's still different and not the norm. I think it's important that it's considered as normal as can be, so I suppose me having a family and children and talking about that, helps to an extent to normalise things," she adds.
Louise is Dublin born and bred and now lives with Charlotte and the boys not far from where she grew up in South County Dublin. She's the youngest of four children: "I think it's quite common that the youngest goes on to work in some creative, leftfield job," she laughs.
She remembers being an extremely curious child or "nosey" she admits; however, the idea of working in the media as a journalist didn't come to her until she was in Trinity College studying politics and business. She got a work experience job at Today FM and was bitten by the bug.
From college, she took a job in Midlands 103 radio station before taking the leap to become a freelancer and subsequently joining the news team in RTÉ, working on radio with Morning Ireland and TV, with Prime Time.
She describes herself as competitive but not overly ambitious in that she doesn't have grand plans for her own show (not that she's going to admit).
"I think that with the nature of the job, you have to be a competitive person because you want to get the best story or interview. I'm competitive about the job I'm doing as opposed to competing with other people. I'm my biggest critic," she remarks.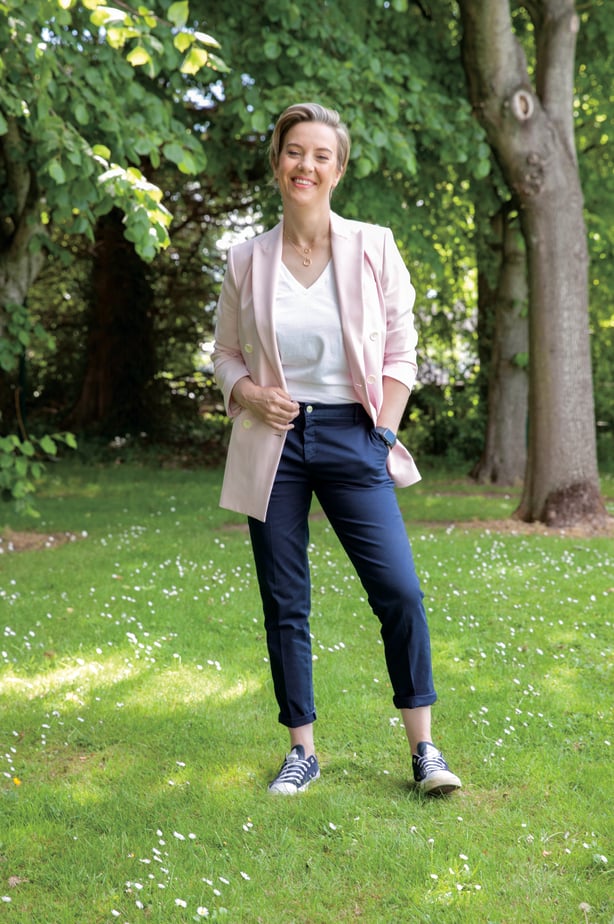 However, 2020 was a big year for Louise career-wise, as she went from her reporting role with Prime Time to take on the main hosting gig for an extended period while the show's producers were looking for a replacement for David McCullagh (eventually Sarah McInerny and Fran McNulty took on the roles).
She admits to being nervous stepping into that role. "Of course, I was nervous and anyone who says otherwise is lying, especially for the first time. It's a big studio, lots of cameras and lots of crew. And it's live – the light goes on so if you go there with the 'what can go wrong' mindset, you'd never turn up."
"Professionally, it's been a very challenging year and a half, but in large measures, in good ways; it's been great to be challenged at a time when people want to watch the news and Prime Time – and it coincided with me standing in as presenter for the first time," she adds.
Life at home during lockdown was hectic, as it was for many families. The twins had started junior infants in September, only to be home-schooled after Christmas for three months as the country went back into level 5, although Louise laughs that she can't take much credit for the home-schooling duties. "I'm not a good teacher. My partner is a lecturer so she's the educator in our house; it wouldn't be my forte. But they're only in junior infants so nobody's career was depending on me being a good home-schooling teacher."
She had a mix of working from home, "setting up a makeshift office and eventually buying a decent chair," with days going into the Prime Time studio. "Your job is to be able to help people find their voice and tell their story and ask the right questions, and I hope we've done that during this difficult time."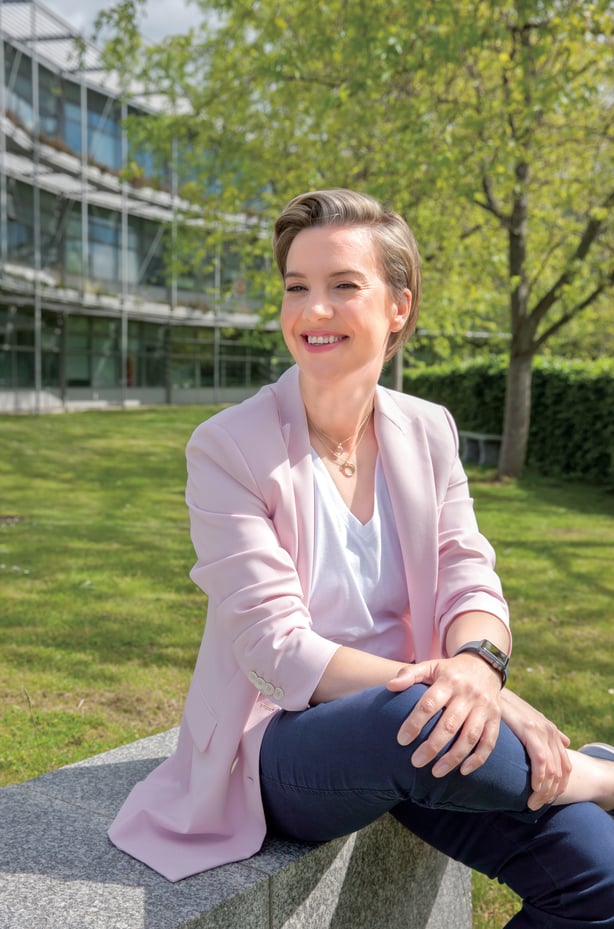 Louise met Charlotte 15 years ago on a night out in Dublin. Was it love at first sight? "There was definitely something at first sight," she laughs. Their meeting coincided with her moving to the midlands for her first radio job, so they had a back and forth relationship for a year before moving in together when Louise came back to Dublin.
"We haven't looked back since. I feel very lucky to have found a partner and have two amazing children. If I had come out maybe a decade or two earlier, that might not have been possible or conceivable for me and I don't take that lightly. I think we're the first generation that has a lot more opportunities than the previous generations. It's sort of obvious, but it's important to say that because there' still challenges, it's still not easy to come out but I think we stand on the shoulders of giants. It was much much harder for those who went before."
She describes her own experience of coming out to her family as a "positive one," but that she didn't feel comfortable in herself to do it until she was in her early 20s and almost finished college.
"I think coming out is difficult, but I didn't have a difficult experience coming out to my family. Everyone was extremely accepting to the point where you're thinking 'What was I even worrying about?'" she says, adding, "but I don't think it's necessarily about other people's perceptions. It's kind of how you perceive yourself. I was very lucky when I came out. It was unconditionally accepted but to get to that point where you accept yourself, I found that hard."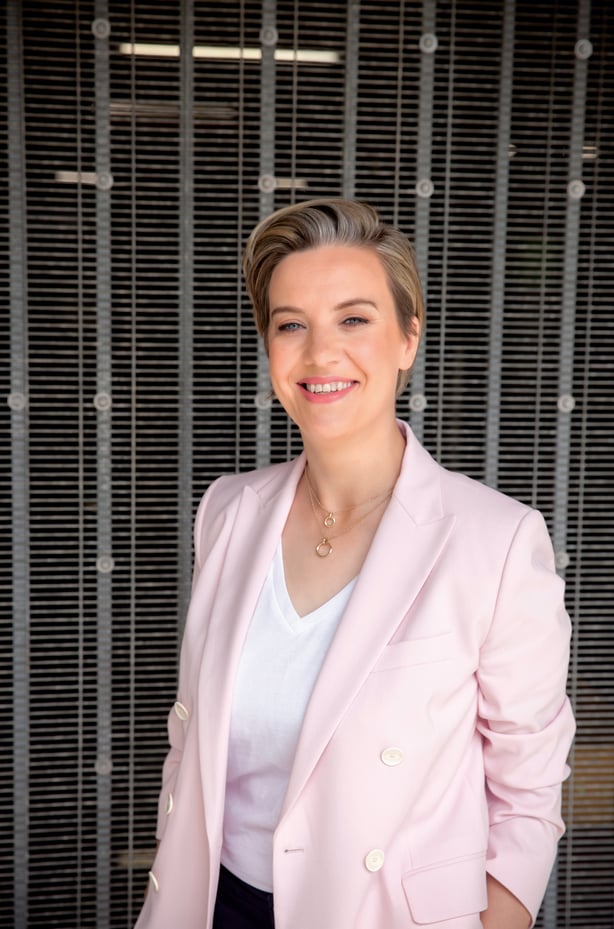 Getting married and having children wasn't something she felt was on the cards for her as a young woman, because she couldn't see it in the world around her. That level of diversity didn't exist then, especially not on Irish television. "Growing up in the '80s and '90s in Ireland, being gay was a bit invisible, especially as a woman. As they say 'If you can't see it, you can't be it', so I didn't know what I was and what I was going to be because there wasn't really any benchmark.
"That's why doing a piece like this, while talking about myself isn't my favourite thing to do, is important because there weren't many people talking about themselves when I was growing up. So if somebody who's in their teenage years can find some common ground reading this, then I think that matters and hopefully, that makes their path a bit smoother."
She and Charlotte brought the twins to the museum at Colins Barracks recently, "an ambitious task," she laughs. She was struck by an exhibition containing the wedding dresses of former minister Katherine Zappone and the late Ann Louise Gilligan.
"It was just very striking to see the dresses and think of what they did at that time by taking the court cases that they took. It was so huge and so brave and wasn't in the public consciousness. We're so lucky now to be able to get married and our dresses won't be in a museum because it will be par for the course."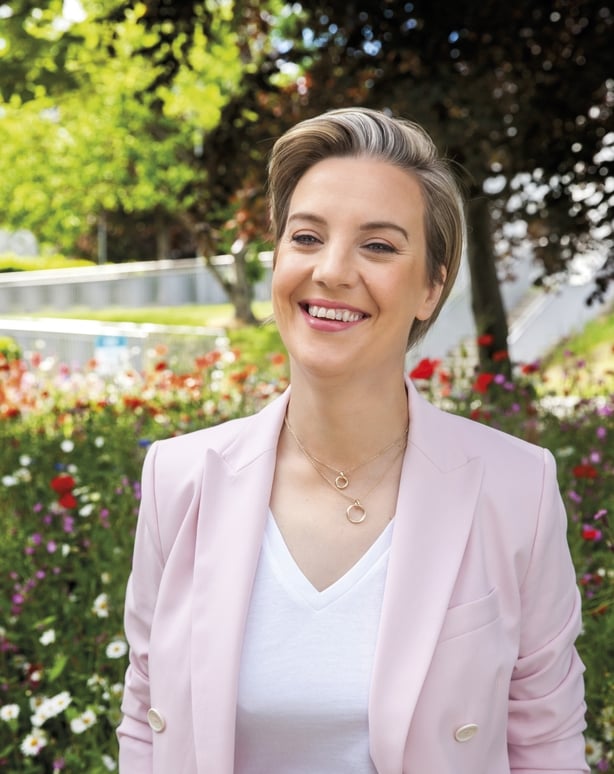 The couple's wedding was due to take place last May, a small restaurant affair that they've yet to reschedule in fear of having to cancel it again. The twins will be page boys and Louise will probably be in search of a new outfit as she admits to not being enamored with her purchase from last year any more. "It didn't cost a bomb, so I might rethink it."
She's very chilled about the whole affair and grateful for the position she and Charlotte are in. "In a way we're lucky because this is a celebration for us, a party, as opposed to the beginning of our relationship. For a lot of people, the wedding is the start of things for them."
As the month of Pride events goes virtual this year, Louise, Charlotte and the boys will get involved in some way she says, but laughs, "the pre children pride festivals versus the post children are very different, as you can imagine."