There is something very satisfying about gathering elderflowers at this time of year and returning later in the summer, for he elderberries. I use these to make a great tonic, though do be sure to leave plenty of berries for the hungry birds.
Right now, our farm is covered with elderflowers, so I'll harvest just enough to make a delicious cordial and some elderflower fritters, dusted with icing sugar for a real summer treat. Later, I can use the cordial to make an elderflower lemon sorbet to enjoy after long walks. Add a few sprigs of blossom into gin for a very elegant summer drink or adding a few tablespoons of homemade cordial when making panna cotta will wow your friends.
Catherine
www.ballyknocken.com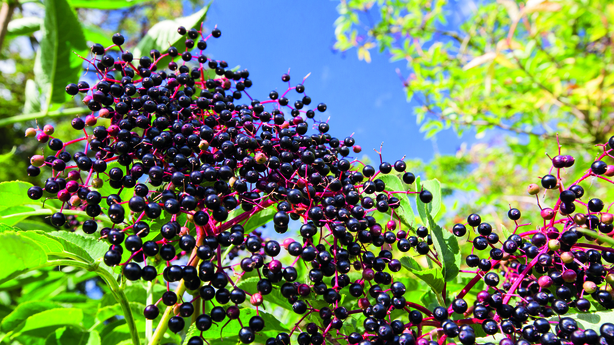 Homemade elderflower cordial
850g caster sugar
1 litre cold water
9 fresh elderflower heads (no stems)
Zest of ½ a lemon
10 lemon slices and 3 tbsp citric acid
Place the sugar and water in a large saucepan and gently heat until the sugar has dissolved. Tthen turn up the heat and bring it to the boil, stirring from time to time until a light syrup forms. Remove from the heat.
Fill a bowl with cold water and dip the flowers in to wash them. Place the flowers on a clean tea towel to drain and dry. Add them to the hot syrup. Stir in the lemon zest, slices of lemon and citric acid. Cover and leave for 24 hours.
Strain using a colander lined with a clean tea towel into a large bowl. Ladle into a jug and pour into sterilised jars / bottles.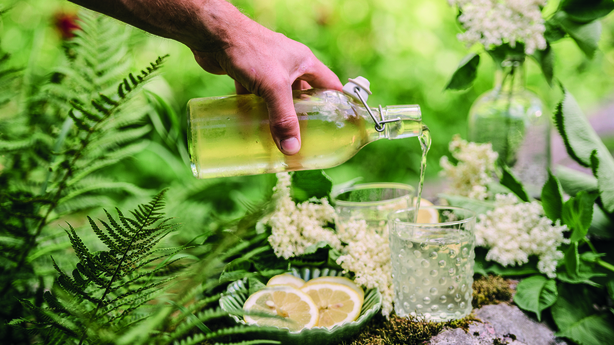 Pink or white elderflowers?
There is no difference in the taste. You can't eat them raw but cooked and made into a cordial is all good. The pink cultivated variety is the most beautiful tree, with intense pink flowers and dark almost black lacey leaves. Ensure that the bunches of flowers are very well washed before using them. When harvesting any elderflowers, choose blossoms that are away from traffic pollution and don't eat the stems. Find a cultivated variety at arboretum.ie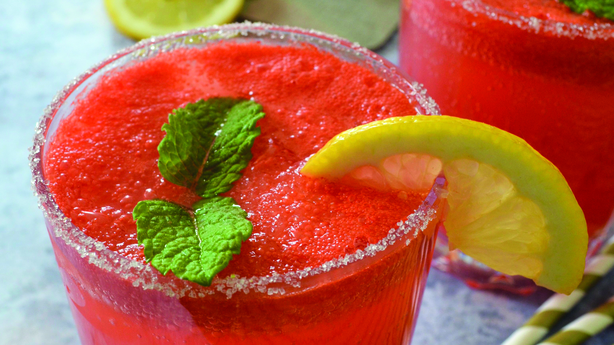 Elderflower melon spritzer
Watermelon just equals summer! A very delicious, refreshing drink that the entire family will enjoy. Adding lemon or lime enhances the watermelon flavours
Makes about 800ml
400g peeled, diced watermelon
Juice of 1 lemon
100ml elderflower cordial
200ml to 300ml chilled sparkling water
Ice cubes
Lemon slices, to decorate
Mint leaves, to decorate
To sugar the rim of glasses, wipe the rim of the glasses with half a lemon or lime and then dip them into a plate of caster sugar. Leave to dry.
Place the diced melon in a blender and puree until very smooth. Strain it through a sieve as this will extract the black seeds. It is always a good idea to sieve it into a jug.
Add the lemon juice, elderflower cordial and stir well. Add a few ice cubes.
When ready to serve, place ice cubes into the glasses. Fill the glasses just over half with melon puree and top up with chilled sparkling water. Decorate with lemon slices and mint leaves. Serve immediately.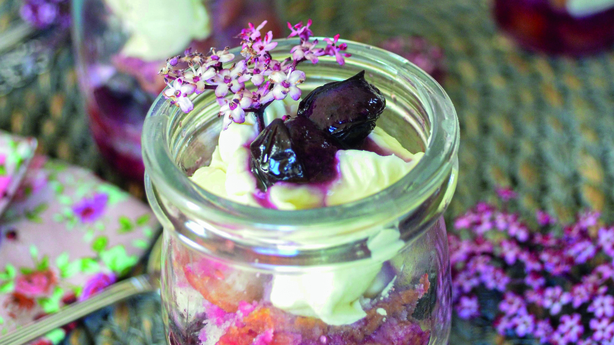 Individual elderflower berry trifles
If you don't have a pink elderflower cordial, the one made from the white blossom will work just as well

Makes 4 small jars or glasses
For the compôte
100g blueberries
100g strawberries, hulled and quartered
60g caster sugar
½ tsp vanilla bean paste
½ orange, zest only
For the filling
150g mascarpone
2 tbsp natural yoghurt
4 tbsp cream
½ lemon, zest only
3 tbsp icing sugar
50ml pink elderflower cordial
2 tbsp water
120g vanilla sponge cake
Sprigs of elderflowers or mint leaves, to decorate
To prepare the compôte, place the berries, caster sugar, vanilla bean paste and orange zest into a saucepan with 2 tbsp of water.
Bring to the boil and then reduce the heat to low. Simmer for 5 to 6 minutes, stirring from time to time. Leave to cool completely.
To prepare the filling, combine the mascarpone, natural yoghurt, cream, lemon zest and icing sugar together and mix well. Set aside.
Pour the elderflower cordial and water into a bowl and stir to combine. If you want a darker colour, add 1 tsp of syrup from the compote; this will give you a deep shade.
Slice the sponge cake into 1cm thick slices. Soak this in the cordial, turning them to absorb the liquid. Place into the base of each of the jars or glasses.
Spoon the filling into a piping bag with a plain nozzle and pipe over the sponge.
Spoon in cold compôte and add another layer of soaked sponge, ending with mascarpone filling.
Spoon a few berries from the compôte on top and decorate with sprigs of pink elderflower or mint leaves.
This will keep in the fridge for about 6 hours.