Baking during the summer months conjures up easy, light desserts and cakes which are full of gorgeous summery flavours. Laden with fruit, they tend to be slightly healthier and they take minimal time to create.
Years ago, a wonderful friend who bakes like a dream told me that she spends an evening at the beginning of summer, adding three or four new summer recipes to her repertoire, very often fruit-based ones. She tries them out before sharing the results with family and friends and she changes them as the season progresses, depending on the fruit available.
I think this is a great ethos to keep developing and honing our skills, which we may have the chance to pass on to our children and grandchildren, a lovely way to celebrate what's fresh in season.
And what better way to green your kitchen than enjoying fresh seasonal local produce!
Catherine
www.ballyknocken.com

What to compost from your kitchen
Apart from leaves, pruned stems, grass cuttings, add loose tea, crushed egg shells and cardboard egg boxes, shredded brown paper bags, your vegetable and fruit peelings and coffee grounds. All these will make for a great compost to feed bulbs, top dress the garden beds, spread over the lawn and especially around your fruit trees.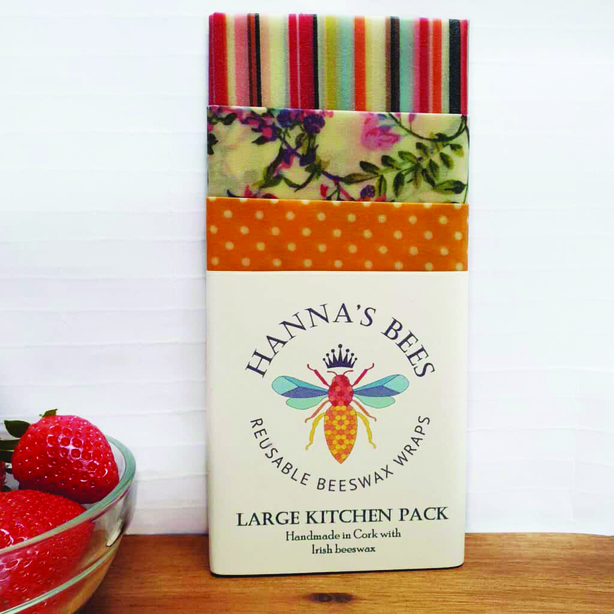 It's a wrap!
Beeswax wraps are the best: they mould around items and keep baked goods fresh. By just holding them, the warmth of your hands moulds the wrap into shape over the food. They are long lasting and eco-friendly. Blue Floral Wrap (4 Pack), €16.95 + postage, irelandbeeswaxwraps.ie
Summer fruit pizza
"This is a pizza style base made of biscuit dough and great to serve as dessert at a barbecue. The fruit topping is, of course, any fruit you fancy and any amount you like arranged over the top"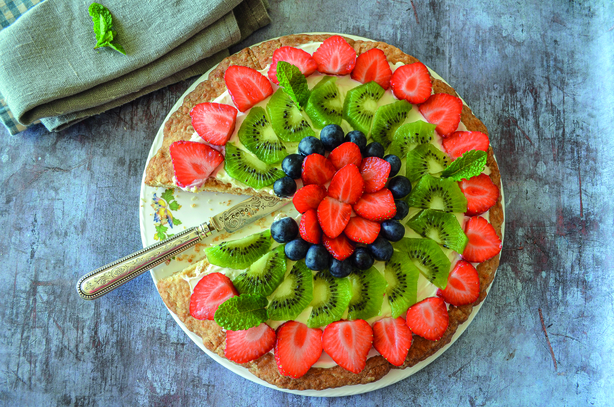 Serves 10 slices
For the shortbread base
200g plain flour
2 tbsp cornflour
3 tbsp oat flakes
½ tsp sea salt
3 tbsp orange juice and zest of ½ an orange
80g caster sugar
½ tsp vanilla bean paste
100ml olive oil (not extra virgin olive oil, it is too strong in flavour)
For the topping
150ml Greek style natural yoghurt
2 tbsp maple syrup
1 orange, zest only
Strawberries sliced, for the top
Blueberries, for the top
Kiwi, peeled, sliced and halved, to decorate the top
A few small mint leaves, to decorate

Method
For the biscuit base, place the flour, cornflour, oat flakes, sea salt and orange zest into the bowl of a mixer attached with a K beater.
Add sugar and vanilla bean paste and pour in the oil when mixing slowly until a rough dough forms.
Tip out onto a clean floured surface and knead together into a ball. Flatten the top with your hand. It will feel slightly oily at this stage.
Wrap in parchment and leave in the fridge to rest for 40 minutes.
Pre-heat the oven to 190°C/fan 170°C/gas 5. Draw a 20cm circle on a piece of parchment and turn it over so you can roll out the biscuit dough base on it. It should be rolled out to 1 cm thick and not too thin as it will break when you move it. Shape it into a circle by pressing in the edges and working around the edge of the circle. Using a sharp knife divide the circle into 10 slices by carefully cutting ½ way through the dough. Ensure that it is still in a neat circle. This will enable you to cut it easily when serving.
Move the biscuit dough parchment onto a baking tray and place in the preheated oven for 30 minutes to bake until cooked and golden. Reduce the oven temperature after 20 minutes to 180°C/fan 160°C/ gas 4.
Leave the cooked base on the parchment lined tray until cooled before moving onto a platter.
When ready to serve, mix the yoghurt, maple syrup and orange zest together and spread over the top leaving a 1cm edge.
Arrange the fruit over the top and decorate with sprigs of mint.
Lemon seed loaf
"A delicious healthy-ish cake to enjoy with a cuppa in the garden. Choose any of your favourite seeds, if you are using a lot of chia then add a little more liquid as they tend to absorb extra liquid".
Makes 900g loaf
For the loaf
100ml rapeseed oil
120g caster sugar
1 lemon, zest only
½ tsp natural lemon extract (depending on the strength of the extract)
3 eggs
150g spelt flour
150g plain flour
3 tbsp ground almonds
3 tbsp assorted seeds (add 3 of your favourites - chia, flax seeds, sesame, sunflower)
2 tsp baking powder
60g natural Greek style yoghurt
3 to 4 tbsp water
For the glaze
80g sifted icing sugar
1 to 2 tsp lemon juice
3 halved lemon slices, to decorate
3 sprigs of rosemary, to decorate
Method
Pre-heat the oven to 180°C/fan 160°C/gas 4. Line a 900g loaf tin with parchment.
Pour the rapeseed oil, sugar, lemon zest and natural lemon extract into a mixing bowl with a whisk attached. Whisk for 3 to 4 minutes until light in colour and fluffy.
Add the eggs in together and whisk for 2 minutes.
Sift the plain and spelt flours into the egg mixture. Add the ground almonds, seeds and baking powder and fold in with the yoghurt and enough water to form a soft mixture.
Pour into the lined loaf tin and bake in the preheated oven for 28 to 30 minutes or until golden and cooked. Insert a skewer into the centre of the cake to check that it is fully cooked, the skewer should come out clean.
Leave on a rack to cool completely before decorating.
Sift the icing sugar into a bowl and add just enough lemon juice to make a thick paste.
Spread this over the top of the loaf and leave to drip down the sides.
Arrange the lemon slices on top and sprigs of rosemary.