Ahead of Darkness into Light 2021, we sat down with Pieta House to find out more about the event and how we can support those struggling with their mental health.
Darkness into light is a huge fundraiser for Pieta House, how did COVID effect the event?
We were unable to gather for organised walks and that remains the same in 2021. However, working in partnership with Electric Ireland, Darkness Into Light raised €4m on 2020. This was down to the generosity of our supporters. This year we are even more prepared for Darkness Into Light 2021 as we had a year of working and living with Covid restrictions.
Why do you think Darkness into Light is so impactful?
The foundation of Darkness Into Light is the local communities and families who get behind it every year and have helped us to grow. It's more than a fundraising initiative – it's also a commemorative event and every year people across Ireland have a time and place to come together and shine a light on those impacted by suicide. It is a moment that provides hope and helps people see light ahead.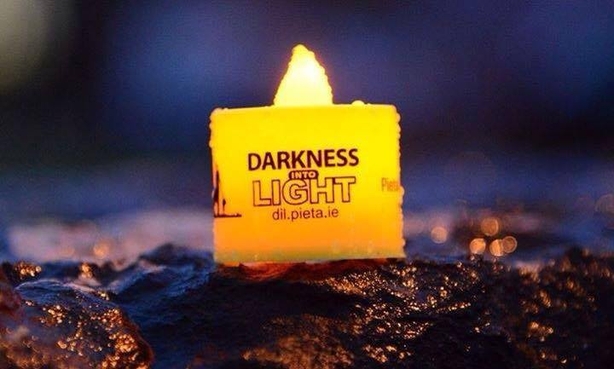 The last year has been incredibly hard on people's mental health. Have you seen this reflected in your work?
For many families that have lost a loved during this pandemic as a result of Covid or otherwise, people have not been able to go through many of the rituals that we in Ireland are familiar with due to the restrictions that had to be put in place in the interest of public health.
It is possible that this could interrupt or delay the grieving process for many, given that a lot of people were unable to see and be with their loved ones in hospital / care facilities but also not being able to be with family and friends in the same way during and after the funeral.
Our crisis helpline stayed open throughout and continued to receive calls and texts. We worked hard to adapt our counselling services, bring them online and ensure they were available to everyone who needed them.
37% of people who accessed your services talked about dealing with feelings of loneliness - how can we better connect with people over the coming months as we wait out restrictions?
While we have all been asked to physically distance and restrict our movements, we have not been asked to psychologically distance. Staying connected with loved ones and friends is hugely important to our overall physical and mental wellbeing.
Find safe ways of connecting for example there are many ways in which we can still have face to face conversations with loved ones and friend on Zoom, Whatsapp, etc. If you have a loved one in your life that you feel maybe struggling reach out to them. Sometimes sharing how your feeling can be hugely helpful to another person who may be feeling the exact same way but fearful of saying it.
What are some signs we can look out for in loved ones we are worried about?
If you're worried that a friend or loved one is suffering or thinking of suicide – here are some of the key warning signs to watch out for:
What to listen for:
Talking or writing about hurting themselves, dying or saying that they want to die
Talking about ways to die or having a suicide plan
Saying that they are 'trapped' or have no options in their life
Saying they have no purpose in their lives, that they feel hopeless
What to look for:
Engaging in self-harm or reckless, risk taking behaviour
Giving items away or saying goodbye to people
Becoming more inward looking and withdrawing from family and friends
Changes in their sleep patterns – too much or too little sleep
Extreme emotions or dramatic changes in mood
Increasing their use of drugs or alcohol
If you recognise one or more of these warning signs in a loved one's behaviour, don't wait for someone else to do something. Contact Pieta. Pieta is Ireland's suicide prevention charity. Our professional counsellors specialise in suicide prevention and tackling self-harm.