As the first Official Partner of the Women's Six Nations, Guinness has teamed up with Ireland International and Leinster rugby player, Sene Naoupu and former Ireland captain, Fiona Coghlan as part of their 'Never Settle' campaign which aims to make rugby a more inclusive and accessible game for everyone.
As it stands, just 25 percent of women participate in sport compared to 43 percent of men. The reasons for the "gender play gap" are varied but research suggests that capability, fear of judgement, and society's existing gender equality issues could be at play.
A number of campaigns have been pushed out in recent years to shorten this gap such as This Girl Can in England, which encouraged women to get active no matter the activity or their appearance.
In Ireland, the 20x20 campaign aims to see 20 percent more media coverage of women in sport, 20 percent more female participation at player, coach, referee and administrative level, and 20 percent more attendance at women's games and events.
Now, the 'Never Settle' campaign hopes to break down the barriers of gender, race and sexuality when it comes to playing rugby in Ireland.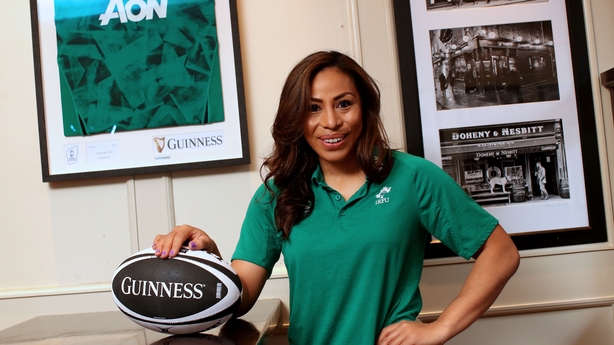 "I'm proud to launch this new campaign," Sene says over Zoom. "It's a pledge to never settle until everybody belongs in rugby, and to ensure that media coverage for female athletes in Ireland increases."
"We're driving the momentum to ensure that there is a change in attitudes and perception, for women's rugby in particular. It's something I'm really excited to be a part of."
Currently, a whopping 94 percent of sports media coverage in Ireland is centred on men's sport, leaving just 6 percent of sports coverage dedicated to female athletes and teams. This lack of coverage, as well as the shortage of data on female players, needs to be tackled quickly if there is any hope of closing the disparity.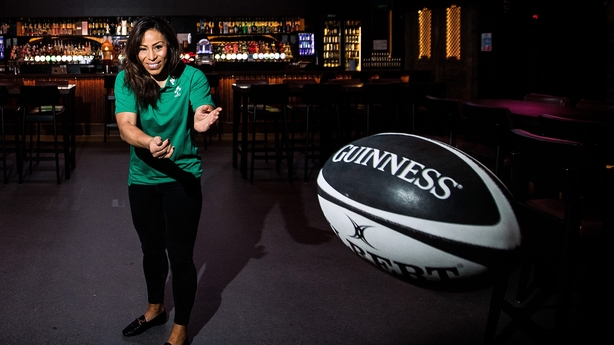 As well as having more coverage, this campaign aims to improve the overall visibility of female athletes - both on and off the pitch. As well as working with Wikipedia to "boost" the profile of the Irish squad online, the initiative hopes to see female athletes' Twitter and Instagram profiles verified.
On a larger scale, Sene hopes to see stakeholders working together to support women's rugby and for representation and visibility be brought to the forefront so as to inspire future generations of athletes.
"The collaboration is what will make it sustainable," insists the Irish centre. "There are roles that others can play when they're ready to. It's been fantastic to see the work done by the 20x20 campaign, and the momentum from this campaign can bring it all to the next level."
"It's important for people to understand what the numbers look like so that they care about it," she continues. "Once you genuinely realise the disparity there and what that might look like for generations to come, and the emotional attachment that some will have when that reflects on their daughters, nieces, cousins, mums, and those who might miss out on opportunities because they haven't had a chance to see it and be it."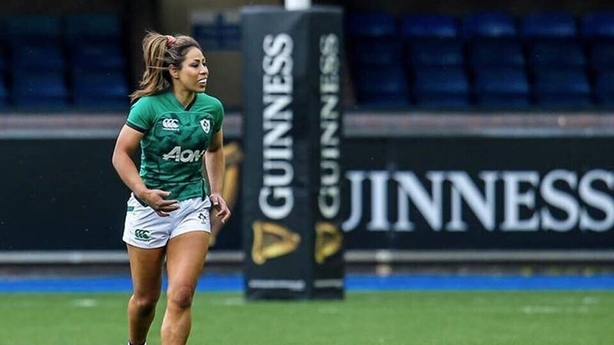 Having played with North Otago and Hawkes Bay in her native New Zealand before continuing the game in Ireland, Sene says she grew up with a keen interest in sport and always felt comfortable in taking part:
"I was immersed in a community where sports was a natural thing. It meant that as a young girl I felt comfortable in my physical literacy and so I felt comfortable to take part in all sorts of sports and athletics."
In Ireland, there seems to be much more of a disparity when it comes to getting girls involved with sport. Earlier this year, Sport Ireland released the Adolescent Girls Get Active Research Report, which showed that by the age of 13-15 many girls have labelled themselves "not sporty", citing the feeling of not being "good enough" as the most powerful barrier in taking part.
As part of her work with the campaign, Sene says that she and her tight knit group of team mates are hoping to attract and inspire the next generation boys and girls to get involved and get active - no matter their gender, race or sexuality.
"We dedicate so much of our time and energy to having the opportunity to play a sport that we love, and part of our aim is to inspire the next generation. It's important that they see it. Not just the girls but the boys; it's about ensuring visibility to everybody."