Shawna Scott is a sex educator and owner of Ireland's multi-award winning, sex-positive online boutique www.sexsiopa.ie.
If there's one thing we've learned from a year of living in a global pandemic, it's to expect the unexpected and that all our long term plans have been completely and unceremoniously thrown out the window for better or worse.
However, there were two things that I knew I could count on - that my asthma-suffering actor boyfriend would be out of work for quite some time and environmental events that cause people to stay indoors, which up until this point had just meant the usual rain or snow, tended to be good for the sex toy selling business. I wasn't prepared for just how much of an understatement the latter would turn out to be.
In the early, heady days of Lockdown 1 when we were all scrambling to organise Zoom activities, start DIY projects and pouring over pages of the newly updated ASOS loungewear collection, I was in my boyfriend's room in a shared house with five people, surrounded by stacked boxes of dildos and vibrators, working at a breakneck pace for 12 hours a day/6 days a week to get orders out on time.
Big News - Myself and @chizmund are finally moving to Sligo in a few weeks! We've paid the deposit and get the keys on the 10th!

— Sex Siopa (@SexSiopa) June 30, 2020
Fortunately, those days are behind me. In between lockdowns, we made the move from Dublin to Sligo in order to have the space I needed for Sex Siopa and to save money. I'm still seeing as many orders come in as I did a year ago, but I've reconfigured certain aspects of the business to make them more efficient, and that has helped give me the time and breathing room to reflect on what has happened to me and my business after a year of months long lockdowns and the occasional meltdown peppered in for good measure.
Even though sex toy sales exploded worldwide during Covid, as any small business owner can attest, that does not quell anxiety or feelings of uncertainty. It has often made them worse, because for all those rainy, snowy days where business was good, there were also summer heat waves over the years where business dried up.
I've spent the past 12 months squirrelling away as much money as I possibly could, unsure of when or whether or not a global recession was on its way. When folks would ask what was next on the horizon
for Sex Siopa I cackled at an extremely inappropriate volume, not only because the idea of forward planning itself was ridiculous, but also it's been so long since I've seen other humans I've lost the ability to communicate with even the barest minimum of finesse.
Like the most faded and cliched inspirational posters, my canned answer is that I just have to take everything one day at a time, one order at a time, one email at a time.
"Make your colour-scheme pink like A*n S*mmers. Women feel more comfortable buying sex toys when they see pink." https://t.co/bLDbINlh5a

— Sex Siopa (@SexSiopa) August 29, 2020
And I've gotten a ton of emails - the most frequent being "What's the best sex toy for beginners?" followed by "What's your quietest vibrator?"
The sheer volume of these questions has given me some fun insight into where we are as a nation in terms of stigma around sex toys. The idea of owning one or five is still fairly new to a lot of Irish people. However it's clear that when it comes to satiating our unpredictable libidos during the biggest global disaster of our lifetimes, not even the paper thin walls of our childhood bedrooms can stop us.
Customers are also spending more on toys. While bullet vibrators have always been a mainstay for first-time buyers, I've noticed a lot more people investing in rechargeable vibrators and higher quality toys. The biggest example of this being that last month my best selling toy, which has always floated between two types of mini vibe, was outsold by the Womanizer Liberty, the air pressure "sucking" vibrator for whom Lily Allen is the spokesperson.
I'm really excited to reveal something I've been working on with one of my favourite brands @womanizerglobal... My very own sex toy! The Liberty is available everywhere now. Womanizer changed my life, and I wanted to share my experience. https://t.co/i7ebnhXUXt pic.twitter.com/uLLghHEZs1

— LILYALLEN2.0 (@lilyallen) October 22, 2020
What I find even more fascinating and moving are the emails from folks who are using the lockdown experience to reclaim and rediscover their bodies and sexuality like a reset button after an abusive relationship or assault, after giving birth, recovering from surgery or coming to a place of acceptance of a chronic illness or disability.
Despite being pegged as a frivolous novelty or even worse, something to "spice up your sex life," this year especially has shown that sex toys can be an impactful gateway to understanding our own pleasure and how to communicate and advocate for that.
Though I've also struggled with the recent sharp increase in the commodification of that personal journey, thanks in no small part to social media, and wondering where I fit as a cog in the wellness industrial complex. I think I've landed somewhere on "You've been in the industry almost 10 years, you do your research as best you can, and you refer folks onto healthcare professionals when necessary. Give yourself a break!"
But it's so difficult not to question yourself, your motives, and marketing strategy when the people who write the algorithms on these platforms are stacking the decks against your community behind the scenes. While I've always prided myself on being able to grow Sex Siopa organically based on its own merits, Facebook, Instagram, and TikTok have yet again gone through round after round in 2020 of censoring what they consider to be adult content. This has been happening for years.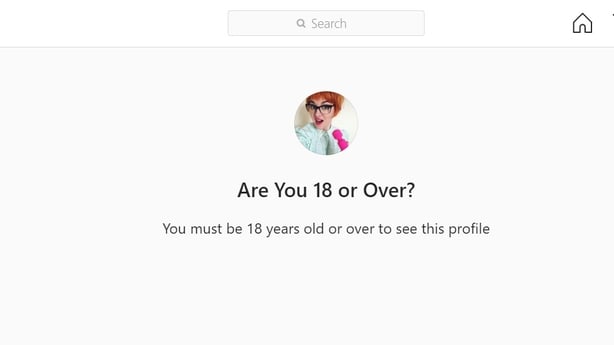 On December 20, 2020, Instagram updated its Terms of Use which further clarified their definition of sexually suggestive content and solicitation. Likewise, its parent company Facebook updated their 'Sexual Solicitations' section of the Community Standards, the message being that users cannot offer or ask for pornographic materials.
A Facebook spokesperson told Refinery29: "We want Instagram to be a safe environment for everyone, and have strict rules against nudity, sexual activity, and sexual solicitation. Under these rules, we don't allow people to share links to porn websites on Instagram."
The problem is the way these policies are being carried out practically also include the use of sexually suggestive language, even if it's used in an educational or health context and any image they deem to be "sexually explicit", even if it doesn't include nudity.
I wrote about this for RTÉ two years ago and since then the restrictions have only gotten worse and are not policed equally. It has become all but impossible for many folks within the sex industry, especially queer, POC, plus sized, and disabled folks to have their voices heard without very deep pockets.
However I do see a hopeful light at the end of the tunnel. Minds are being changed about sex and they ain't going back. People are much more receptive to trying and experiencing something new. Intersectional feminism is exploding within Gen Z on TikTok and Instagram.
Covid has shined a massive glaring light on how sex workers are treated and stigmatised, and so many more people than ever before have become allies for sex worker rights. There is still a lot of uncertainty and complications both in the macro and for myself personally, but even with all that my outlook on the future of sex positivity is one of optimism and joy.
The views expressed here are those of the author and do not represent or reflect the views of RTÉ.