The Irish Government's new Climate Bill, which locks in a target of making Ireland completely carbon neutral by 2050, is among the most ambitious climate action initiatives of any country globally.
Environment and Climate Minister Eamon Ryan has said the new law, if passed, would change Ireland dramatically, and for the better. And now key industry leaders have responded to the government's agenda for change with positivity and enthusiasm.
Barry Kilcline, Director of Offshore Wind Development in Ireland at SSE Renewables, said the company is ready to deliver when it comes to Ireland's 7 per cent per annum carbon reduction targets.
SSE Renewables, the leading developer of offshore wind energy in the world, have their sights set on transforming the energy market in Ireland. "We've been leading the development of renewable energy across this island from the outset, and we are proud to be the leading developer, owner and operator of onshore wind in Ireland," he said.
By 2030, SSE Renewables intends to at least double their generation portfolio, installing around 2GW of new offshore wind energy generation at sites in Irish waters over the course of the next decade.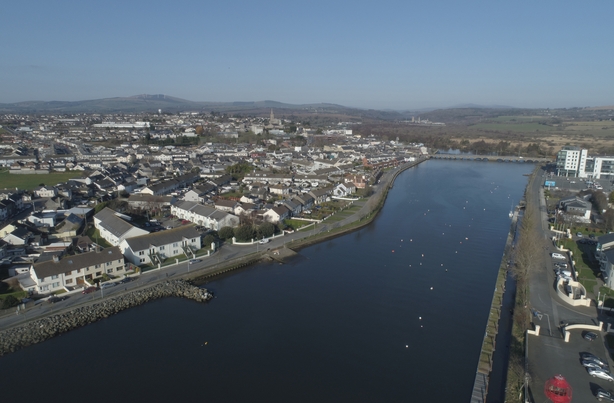 Mr Kilcline said currently in Ireland, their wind farms have an installed renewable generation capacity of over 892MW, powering more than 600,000 typical Irish homes and offsetting almost 650,000kg of CO2.
He said they intend to increase this contribution over the next 10 years and beyond.
"By 2030, we intend to at least double our generation portfolio, installing around 2GW of new offshore wind energy generation at sites in Irish waters over the course of the next decade."
In the short term this means the delivery of Ireland's first offshore wind farm of scale with Phase 2 of the 520MW Arklow Bank Wind Park due to be completed by 2025.
"We will invest between €1 billion and €2 billion to deliver the project, which will help meet the nation's interim renewable energy target of 1GW of offshore wind by the mid-point of the decade. In turn, the project will decarbonise our environment by 1 per cent annually, making a significant contribution to the annual 7 per cent carbon reduction targets committed to in the Programme for Government," he said.
The Arklow project will also contribute to Ireland's green economic recovery from the coronavirus, delivering much needed jobs and investment. It will deliver €860 million gross value-added (GVA) to the island of Ireland, €430 million of which will be delivered to Wicklow and north Wexford directly.
More importantly, Mr Kilcline said the Arklow project will put Ireland on the map when it comes to offshore wind energy. 'Of far greater significance for our country and our industry is that [Arklow Bank] will finally kick-start the offshore wind industry here. It will send the clearest signal possible to the global offshore wind energy sector, which is hot with competition, that Ireland is finally open for business for offshore wind energy," he said.
SSE wind farms supply over 600,000 homes with green, renewable wind energy in Ireland.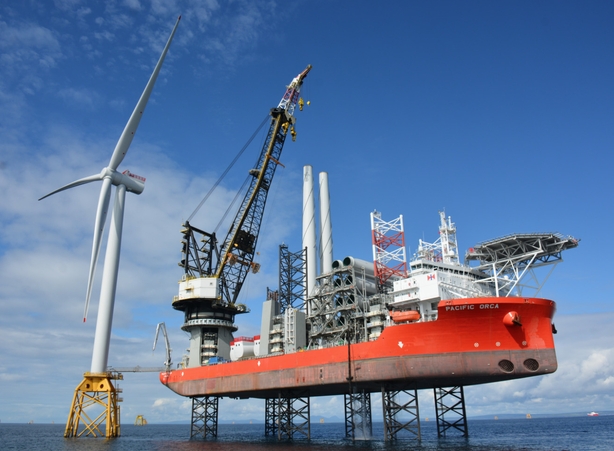 "Indeed, Arklow Bank, as a front-runner project in the Irish Sea will act as an offshore wind test case for the State, for the grid and our indigenous supply chain in the first half of this decade."
Looking further ahead, SSE Renewables have two further Irish projects -- Braymore Wind Park off the port of Drogheda in the north Irish Sea and Celtic Sea Phase 1, off the Waterford and Suit Estuary -- both set to fuel Ireland's push towards its 2030 climate action targets.
This year SSE will be a principal partner for Cop26, the annual global United Nations climate change summit which takes place in Glasgow in November. Cop's goal is for the world to achieve "net zero" or carbon neutrality by 2050. This means any carbon emissions are balanced by absorbing an equivalent amount from the atmosphere.
"We will use our position this year as principal partner for the UN's COP26 summit to continue to promote a green recovery as a core strategy to underpin efforts to tackle climate change. Because we share the ambitions of the countries in which we work, and our people live." Mr Kilcline said.
"We're ready to play our part."