While many of the risks associated with childbirth have been significantly reduced by modern medicine, for many women around the globe bringing a child into the world is still a dangerous endeavour.
Habiba Maalim works as a nurse midwife coordinator in Trócaire's hospitals in Somalia, helping to deliver babies in a country where women are more than 150 times more likely to die in childbirth than in Ireland.
These are her words...
---
When I read about how frequently women in Somalia die in childbirth, I knew I had to go there to help.
I'm from Kenya but I moved to Gedo, a remote and hot part of Somalia, to start working with Trócaire. Gedo is an incredibly poor area and has been affected by decades of conflict. Ravaged by conflict, drought and hunger, Somalia is one of the poorest and most fragile countries in the world. Life expectancy here is only 57 years, and over two in every three people live in poverty.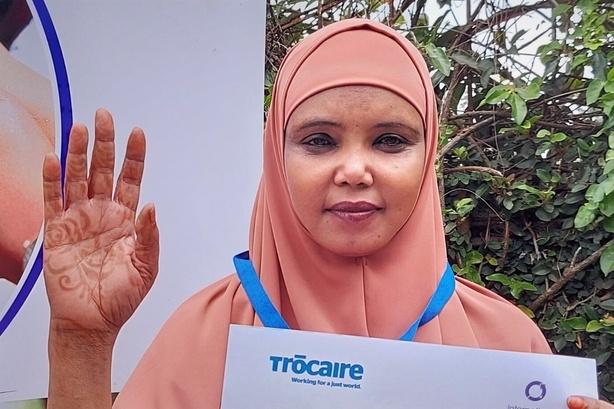 I have spent the last three years living and working in Somalia was a nurse midwife coordinator. My husband and five children are back in Kenya and that is of course very difficult. But I grew up in a poor rural area experiencing hardship and this has given me perseverance.
In Somalia, women are over 150 times more likely to die in childbirth than in Ireland. It breaks my heart that so many women and children are dying in ways that can be easily prevented with safe caesarean sections or with proper nutrition and medicines.
In the years I have been here, there have been a few outbreaks of fighting close to me. A few months ago I was working in Belet Hawa hospital and fighting broke out between different armed groups. For 24 hours, we had no way to get out as mortars were exploding around us. I was very afraid. The sound of gunfire was constant. When the fighting stopped I went straight to the hospital to work.
Altogether 80 people lost their lives and there were many wounded. I had to be strong, there was much work to do to try and stabilise patients.
I'm inspired by Florence Nightingale who treated wounded soldiers in the Crimean war. I think of her as my role model. Yes, it can be difficult and sometimes dangerous, but I really love my work. If I can help save the life of a mother who is experiencing complications, that day is a bright day. I do my work, I find joy, I find happiness.
We are having a real impact on lives here. More mothers are surviving, more children are surviving. However, the challenges are many, and on top of everything we also now have to face Covid. None of our frontline staff have been vaccinated. This presents a huge challenge.
The Trócaire team of doctors and healthcare workers support 19,000 people each month. When one staff member has to quarantine, this can affect thousands of people. In the last year, we have had 22 members of our team infected with Covid, who have had to then self-isolate.
At one point we had eight nurses from the same hospital who all had to self-isolate at the same time. It is hard to keep delivering babies safely when that happens. Fortunately, all of our staff who got Covid are doing fine now.
Thankfully the first vaccines have just arrived in Somalia, with 300,000 doses to be rolled out soon to vulnerable groups. This is a good start and gives us hope, but we still don't know when the vaccine will be widely distributed among Somalia's 15 million people. It could take years. I don't think it's fair how vaccines are being distributed unequally across our world.
It is not right that healthy young people in wealthier countries will be vaccinated before vulnerable people in poorer countries like Somalia.
It is not fair for Somalia to be at the back of the queue. I would like to see the international community step in to make the situation fairer. If the World Trade Organisation waived intellectual property rights, then countries like India and Brazil could ramp up manufacturing of generic Covid vaccines.
That way all countries could get access to supplies more quickly, rich countries wouldn't have to fight each other for what's available, and poor countries wouldn't have to sit waiting for the scraps.
I will be so happy the day I see my team of nurse midwives receive their vaccines, and even happier when vaccines reach all of the people of Somalia. For now, there's much to be done, so I will continue to do my work. I am so grateful to the people of Ireland that they have provided so much support and solidarity to Somalia over the years.
I am proud to work for an Irish organisation because you show so much empathy and so much care. There are never enough funds to meet the huge needs here, so please don't forget us and please continue your amazing support.