Niamh Delmar is a Counselling Psychologist and Mental Health Freelance writer. Here, she shares her advice for those coping with the stress of parenting in a pandemic.
I would like to be writing this from a position of calm and positive parenting while working, writing, cleaning, pseudo-teaching and a myriad of other tasks, but I can't. Some days flow, while others cave in.  
Getting outdoors has been our familial antidote. While eustress (good stress) helps with motivation and performance, negative stress puts a strain on daily functioning, including parenting. Stress occurs when the demands of, and changes within, our environment exceed the resources we have to meet them.
Our stress levels are influenced by our internal resources including our coping mechanisms, personality, and history as well as our external resources such as finances, living conditions and relationships. As with all crises, people respond differently. Parental stress is when you feel overwhelmed and that you can't cope as a parent.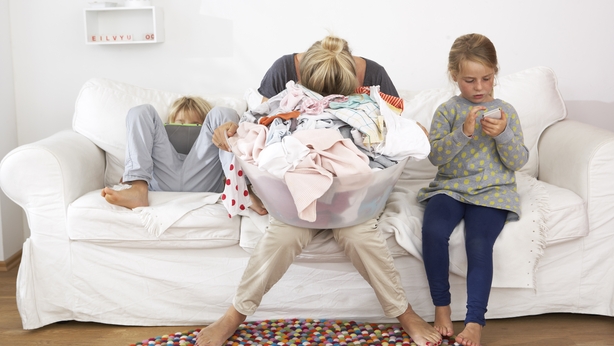 Overreaction, snappiness, impatience, fatigue, physical symptoms, disrupted sleep and eating habits and unhealthy coping methods are signs that you are stretched to the limit. Although psychological well-being has been impaired within all demographics, studies have found that parents with children at home have more stress. And parents are not all in the same boat.
Emotional support, financial security, resilience levels and even the amount of space in the home can mitigate the effects of the pandemic and its restrictions. When closed, schools vary widely on their educational input. Parents of children with special educational needs are under even more pressure.
Parental 'recharging' stations, such as the gym, meeting up with family and friends, childcare and exercise classes are not available. Parents in therapy with me and others are also handling their own life and mental health challenges.
Online mental health support, exercise classes or courses are not feasible with young children around. Most modern day parenting styles are highly intensive and involved in childrens' education, extra -curricular, nutrition, physical health and wellbeing.
The Economic and Social Research Institute reported that 46% of parents in Ireland were extremely or very concerned about the effects of educational disruption. On top of all this, we have been trying to 'normalise' life for them and buffer them from the global crisis unfolding.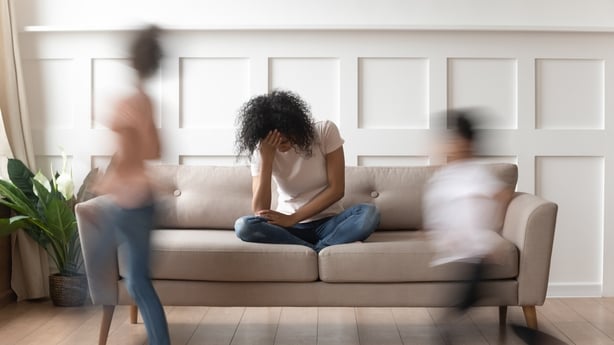 And then there are the children, often not heard. They have a range of varying needs, resources and demands that also determine their stress levels. Their usual outlets are gone too. Childhood stress presents differently to ours, and often trickier to identify.
Behavioural issues get exacerbated. Physical manifestation, such as tummy aches, may be reported and regression may occur or difficulty concentrating and sleeping. There may be a formation of new habits, fears and changes.
For children, it is not only about experiencing adversity, but how they are supported in it. The combination of parental stress and childhood stress all under the same roof can lead to an unhealthy family dynamic.  Many parents and professionals report that when parental stress is lowered, their children's levels also abate. 
So what can help stressed parents cope better? 
Thoughts. As with any crisis, developing a healthy frame of mind is powerful. Fostering hope, not dwelling on negativity and keeping thoughts helpful and accurate. In stressful periods, thoughts race and usually get out of hand. Monitor your thought processes and practice letting go of ones that infuse.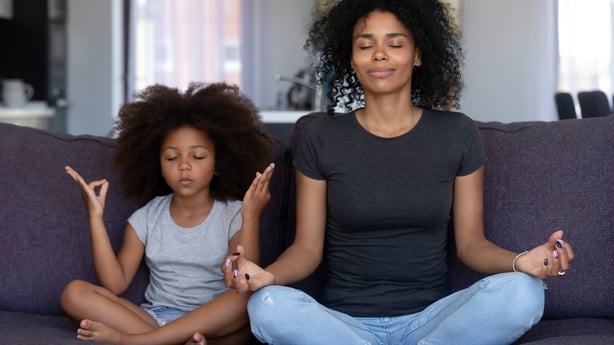 Parenting 
Stress disrupts "brain-to-brain" synchrony, which is when you and your child tune into each other. When synchronised, you share a moment and feel on the same wave-length. Sensitive responsive care boosts children's oxytocin levels and has a positive impact on their development. We are their emotion coaches and role models for resilience and problem-solving.
Lowering stress involves limiting your expectations of yourself and others. Work on shrinking that inner parenting critic and avoid comparisons with others. Keep a log and identify triggers and create ways to minimise fall-out.
Pause to assess whether it is the child's issue, yours or both. Be aware if you are panicky parenting or in a stressed state and go to your mental or physical bunker, even if it is the bathroom! Self-awareness as parents mean we can embrace our parenting strengths and admit to areas in need of change.
Many parents report parenting guilt. Take action instead and apologise, repair and move forward. If school work is contributing to stress, discuss with the teacher an individualised learning plan. Know your limits. If you feel you are falling apart, reach out for help with parenting or for your own mental health.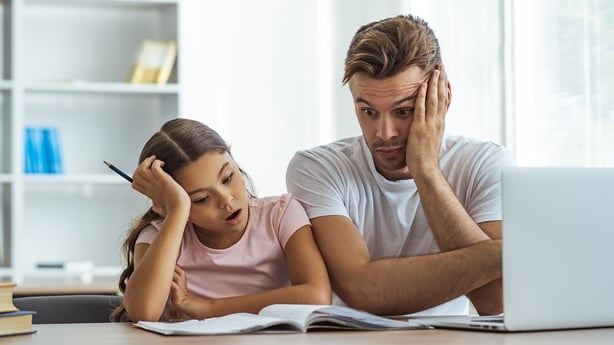 Division of labour
Partners need to step up to the plate and offer time off if they see the other struggling. A system with defined roles can be agreed upon to ensure a fair distribution of chores, work and childcare. A healthy family dynamic is democratic, fair and arrangements are agreed on mutually. Age appropriate chores can also be delegated. Give yourself permission to communicate your needs clearly. 
Work
It is not possible to work from home fully if there are children being home schooled or online schooled and being cared for. Employers need to allocate flexible working hours and provide parent friendly practices and support. While being self-employed offers some flexibility, many have been forced to cut back.
It is grossly unfair that some parents have to use annual leave to replace school. And the extra demands on health care workers, teachers with young children at home teaching and others is detrimental to wellbeing. Organisational structures need to adapt further to a world turned upside down. Parents working from home tell me they feel bad not being fully there for children. However, it is quality, not quantity that matters. Taking a few moments to talk about a drawing they did, to acknowledge how well they are doing and every now and then checking in on how they are doing matters.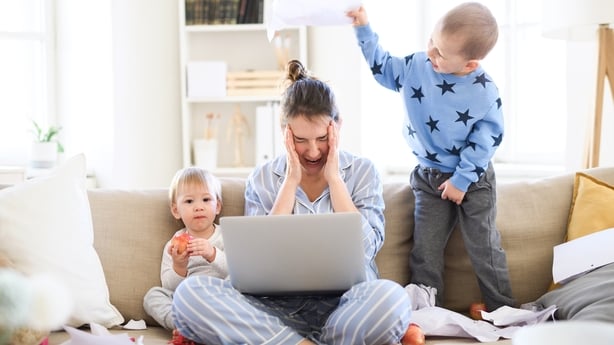 Family
Everyone in the dynamic is impacted in different ways in a crisis. Each member has specific needs. Identify the familial stressors and red flags. Focus on what you all can do. Families need a bit of fun and laughter and to prioritise what really matters. If the day is turning into a disaster, try to get outside for a while or engage in some healthy distractions to break the negative cycle.
Routines and weekly family meetings can clear the air and allow everyone review what is working and what needs to change. The familial mood can be lifted by introducing practices to help others and fostering gratitude.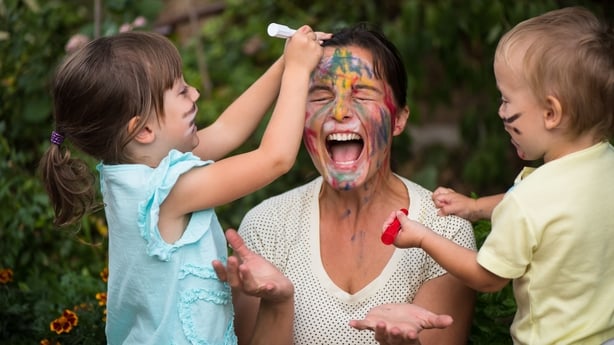 Society
Social empathy can help parents. Validation and understanding within communities is so beneficial. The RAPID-EC study found that emotional support can alleviate stress levels for families. If society cares for the children, it needs to care for their parents.
While extended families and friends are apart, they can find ways to help out such as being involved in virtual bedtime story telling, making videos, sending surprise parcels, cards and other ways to stay connected. Community initiatives can be a beneficial resource. We don't always need physical presence to feel supported. 
Parenting pandemic stress is a negative contributory factor of mental health difficulties and, if neglected, can have a long term impact on adults and their children. Support is needed within the family and community, from work, organisations and policy. While we are parenting in a pandemic and the restrictions, it is also an opportunity to bond, build resilience and foster independence.  
If you are struggling as a parent:
Discuss with your GP.
Contact Parentline 1890927277
Barnardos has a national database of parenting courses.
Túsla provides information and booklets for parents www.túsla.ie
You will find a wide range of supports for children and parents during COVID-19 on www.citizensinformation.ie